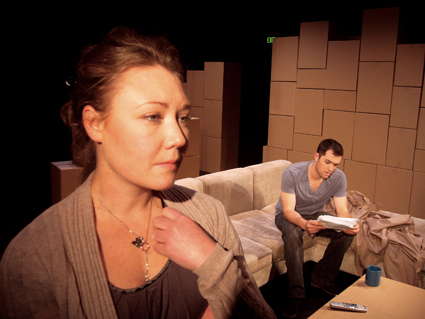 photo Tim Williamson
Zoe Ellerton-Ashley, Brad Williams, Dying City
ONE OF THE AXIOMS BY WHICH WE SITUATE A WORK OF ART IN RELATION TO OUR WORLD IS ITS ATTITUDE TOWARD DEATH. THIS ISN'T RESTRICTED TO GENRE—A COMEDY THAT NEVER EXPLICITLY ADDRESSES MORTALITY CAN STILL CONVEY A MORE 'SERIOUS' UNDERSTANDING OF DEATH THAN A DRAMA WHICH MAKES IT AN OVERT SUBJECT. BUT, PERHAPS UNCONSCIOUSLY, THIS ATTITUDE IS A FRAME THROUGH WHICH WE DEFINE FOR OURSELVES WHAT IT IS WE ARE APPROACHING.
Two independent productions which recently played Melbourne put this notion into relief. Do Not Go Gentle… was the first full production of a remarkable play by Patricia Cornelius which had been circulating for half a decade. It was a risky work, perhaps too dangerous for the mainstage, which was eventually mounted by a solid cadre of theatre professionals working outside the usual channels (and special commendation should go to venue and producing partner fortyfivedownstairs, who provided much support for the premier production).
Part of the threat of Do Not Go Gentle… is the presence of death in its very fibre. It features a roster of characters who are almost all in their 80s, and the nearing horizon of finality cannot but be recognised in every moment. At the same time, the work itself is less interested in death per se than in grieving at life—at lives wasted or unrealised. It takes a brave writer to create thoroughly original characters in their twilight years whose sadness is not evoked by referring to their impending passing but through a distressing depiction of the regret than can take hold—that age needn't beget wisdom or understanding or even acceptance.
Christopher Shinn's Dying City takes a less nuanced position, as may be apparent from its title. Death is again a constant here but figures as presence rather than absence. A woman entombed in her New York apartment after the suicide of her husband in Iraq is visited by his identical twin brother; in between their exchanges we are provided flashbacks to her life with the dead man. It's one of theatre's most enduring dynamics— establishing a fictional death in order to magically reverse it. In Shinn's play, however, this attempt at producing pathos through reference to death is partially undermined by the perpetual presence of the dead figure or his simulacrum. Even when his widow is alone, the other's arrival seems imminent.
The shortcomings of Shinn's text were more than compensated for by the two performances—Zoe Ellerton-Ashley proved once again that she is a formidable addition to Melbourne's stages and Brad Williams simply astonishing in his ability to play the brothers (I wasn't the only attendee to wonder if real twins had been cast). It's one of those rare occasions when a production was worth catching purely on the strength of its actors—and, certainly, I'll be looking for more from this pair.
Do Not Go Gentle…, writer Patricia Cornelius, director Julian Meyrick, performers Paul English, Jan Friedl, Rhys McConnochie, Terry Norris, Anne Phelan, Pamela Rabe, Malcolm Robertson, design Marg Howell, music & sound design Irine Vela, lighting Richard Vabre, fortyfivedownstairs, Melbourne, Aug 6-29
Dying City, writer Christopher Shinn, director Matt Scholten, performers Zoe Ellerton-Ashley and Brad Williams, designer Kat Chan, lighting Tom Willis, music Ben Keene, Hoy Polloy, MIPAC, Brunswick,August 6-21
RealTime issue #99 Oct-Nov 2010 pg. 42
© John Bailey; for permission to reproduce apply to realtime@realtimearts.net