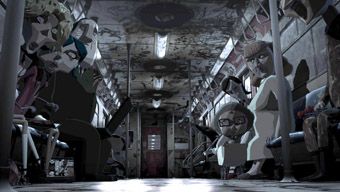 Ephemeral
FESTIVAL FILM VIEWING IS A VERY PARTICULAR EXPERIENCE. WATCHING THIS YEAR'S SELECTION OF 15 SHORT AND MEDIUM LENGTH DOCUMENTARIES, FICTIONS AND ANIMATIONS COMPETING IN THE DENDY AWARDS AND SERVED UP IN QUICK SUCCESSION OVER ONE DAY OF THE SYDNEY FILM FESTIVAL, I SENSED THE PHYSICAL EFFECTS OF FILMIC TIME.
The day opens with Stefan Moore's 52-minute brisk and informative The Cars That Ate China. Interspersed with a range of music, the slick style holds attention as the accumulating seriousness of the subject matter creeps up on you. Alarming statistics fly by in text on the screen (forget 1 million bicycles, by 2020 there will be 140 million cars in Beijing!). Moore and his team manage to convey the complexity of the crisis with a mix of humour and pathos amidst the madness. He also ranges wide for his subjects. A social activist conjures an ugly metaphor of Beijing as "a raped city—and the girl is still taking bookings" to express his powerless disgust at the destruction of the hutangs (older parts of the city) for roads.
The Chinese are "intoxicated by aspiration," reports a knowing American adman. "Not all will own cars but all aspire to and that is enough." To get rich is now glorious. And why not, you ask yourself as you watch the cheery members of the VW Golf Car website organise their first wedding; people running trucking and carwash businesses in the city returning to visit relatives in villages where cars are still mysterious machines. We enter a gated community where residents (almost entirely celebrities) glide around in Bentleys. "You wouldn't be seen dead in a Japanese car," says the Chinese entrepreneur while bored women drape themselves on car bonnets in that enduring and meaningless conjunction. Meanwhile savvy car hoons scramble through traffic. The film ends as one young man pauses to consider for a minute what might be happening to China and then moves swiftly on.
Director Rhys Graham fills the 27 minutes of his film Skin with intriguing detail, recounting the tale of Geoff Ostling who on retirement from his teaching job, decided to embark on a full body tattoo. What makes the time seem short is the filmmaker's comprehensive approach to his subject matter and a couple of details: the tattoo is composed almost entirely of Australian flowers and the tattooist is the artist eX de Medici. As well as the subject and his partner, we hear from an assortment of experts including doctor, botanist, a taxidermist and the curator of a Japanese tattoo museum to which Geoff Ostling would like to donate his skin when he finally runs out of time.
At 26 minutes, Rare Chicken Rescue, directed by Randall Wood also flies by on the strength of its idiosyncratic subject matter. Mark Tully is a complex character—a poultry fancier and breeder who lives with his parents and occasionally takes to the road to attend gatherings of mostly male fanciers or to visit other breeders on the lookout for that elusive azeel or Sumatran. Tully speaks to the off-camera filmmaker and along the way introduces us to a range of rare breeds both animal and human, the former artfully displayed against coloured backgrounds in extreme close-up (my favourite, the Transylvanian Naked Neck) all of this set to wild klezmer music. As the endearingly depressive Tully confesses his true regard for the ducks and chickens that saved him from himself, you can feel this film pleasing the audience (the timing of sighs and laughter is near communal). As one whose childhood chores including feeding one scary bunch of hens, I kept my distance but the film won Best Documentary.
An odd collection of three films vied in the category of Most Innovative. The animation Ephemeral (director-producer Tony Radevski, Jongshu Oh) was a worthy winner. Set in the closed world of a train carriage, it focused on the collective imaginings of a motley collection of passengers held captive to the movements of a rolling drink can on the carriage floor. Rendered entirely in tones of black, grey and white (with the can the only red), the physiognomy of the John Brack-like characters had me musing on just how far animators can extemporise on the body and still have us recognise it as human. Though the claustrophobic atmosphere and muted palette took some concentrating at 15 minutes, the endlessly inventive play with perspective kept this film rattling right along.
In Spirit Stones, director Allan Collins follows a group of Noongar elders from Australia's south-west corner as they recount their mysterious tale of stones falling from the sky which each had experienced in the oppressive times of the 1940s and 50s. These stones (sometimes hot) moved through tents, walls and tables without leaving a mark. Here time slows, reflected in two distinctive formats (HDTV and Super 8) alternating colour and grainy black and white to echo shifts between past and present in the still vivid memories of the elders as they move through the haunting landscape.
Like the distracted children at its centre, I lost myself altogether in the 8-minute abstraction of Keri Light's Wanderlust/Wonderlost.
In the Fiction category, 3 films competed for the prize.
Ali and the Ball, (director Alex Holmes, 15 mins) was a neatly constructed short featuring an impressive performance by Ali Soummaka in the role of an optimistic boy living with his little sister and distraught mother in the dead zone of a detention centre. The Sound of Cry, directed by Michael Mier (9 mins), cast unfamiliar light on a community of Maori Queenslanders through the story of a white boy who shows up uninvited at a traditional Maori funeral to bid farewell to his friend.
I would willingly have spent more than the 12 minutes with the third film, Summer Breaks. Writer-director Sean Kruck shows promise aplenty in this easygoing observation of indolent youths skating close to trouble in the sweltering suburbs. This film was selected from the Dendy finalists to receive the Rouben Mamoulian Award.
The CRC Award is presented each year by the NSW Government's Community Relations Commission to a film whose content reflects the multicultural experience in Australia. Rachel Landers' powerful A Northern Town reveals a complex picture of race relations in Kempsey, the town that famously returned the largest no vote in the 1967 Referendum to recognise the rights of Aboriginal people. Anchored in an indigenous owned and operated aged care facility housing both black and white this film takes its time to uncover a shared and troubled history.
In style, Ten Pound Poms (director Lisa Matthews) is pretty familiar fare, making the most of some interesting archival material along with first person reflections from nine Britons who migrated to Australia in the post-war years and variously stayed put or not.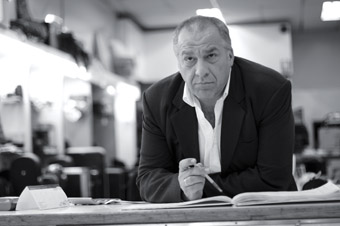 Tony Niholakopoulos, 296 Smith Street
The prize went to recent VCA graduate John Evagora for his short and sweet fiction 296 Smith Street. Competing with two 52-minute documentaries, Evagora's film is a stylish short fiction, shot in black and white and focusing on the daily grind of Ahmed (Tony Niholakopoulos) a suburban pawnbroker dealing with sellers, the occasional buyer along with neighbourhood eccentrics and violent blow-ins. Dialogue is sparse and idiosyncratic, characters deftly drawn. It's spare but hits the mark with its careful timing and consistent mood. We read between the lines to build a picture of this community as Ahmed calmly takes care of business and everything in between.
Even though late in the day seemed somehow untimely for the Animation selection I was intrigued by Dennis Tupicoff's sophisticated mixed means animation Chainsaw (25 minutes), and less so by the charmingly cute Lucille (director Tali Gal-on, 6 mins) and Glen Hunwick's endearing if predicable Mutt (8 mins) which picked up the Yoram Gross Animation Award.
But it's late in the day and I've experienced nine films, nine locales, and inhabited nine different time zones. I arrived in the bright morning and shuffle out into chill night.
–
Dendy Awards 2008, Sydney Film Festival, 13, State Theatre, Sydney, June 13
RealTime issue #86 Aug-Sept 2008 pg. 22
© Virginia Baxter; for permission to reproduce apply to realtime@realtimearts.net