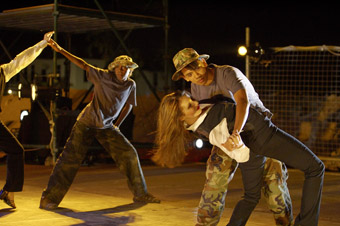 photo Peter Eve
Tracks, Mr Big,
Darwin has, almost by accident, become Australia's great multicultural experiment. By virtue of its location (desert on one side, tropical South East Asia on the other) and its population mix (young and transient with strong South East Asian, Aboriginal and Greek communities, as well as Anglo-Saxon), the Top End capital has quietly evolved into a unique place that, as one recently arrived Southerner put it, "feels like you're not in Australia." Enter Progress: now in the midst of a resource-fuelled property boom, and with a giant waterfront development underway, Darwin is about to change forever. Mr Big, the latest work from Tracks Dance Theatre, is both an ode to the old town and a celebration of the influences that have contributed to the character of modern Darwin.
At sunset, against a city backdrop of cranes, cleared earth and rising apartment buildings, Mr Big begins back in the 'old' Darwin, a frontier town of cowboys and outback pubs. A barmaid wipes her bar and surveys the horizon for signs of life. Come evening the bar is full—and friendly—with all welcome for as long as they can keep pace with the drinking. From here develops a series of vignettes about the evolution of a city where people of different cultures live cheek by jowl. A place where the locals, as Marilynne Paspaley says in the program notes, "are more comfortable in a multicultural gathering than they are in a white Anglo-Saxon one." Joining the cowgirl/boy (Vera Tabuzo), there's the soldier (Erwin Fenis), the hippy (Corina Nichols), the Southerner (Kelly Beneforti), Bob the Builder (Imanuel Dado) and the Asian Princess (Karajayne Handberg). Some of these characters emerge from a group (the soldier from a marching, khaki-clad regiment, the hippy from a gaggle of afro-topped tree-huggers, the builder from a group of tradesmen) while others arrive alone (the Southerner and the Princess). Either way, as they strike out on their own, each is transformed by the influence of others and the spirit of the place. As the show progresses this is, most literally, demonstrated in costume exchanges—soldiers swap their caps for Asian peasant hats, builders don hippy tie-dye t-shirts—and a melding of dance styles where hip hop meets line dancing meets traditional Asian dance.
The Southerner's transformation from high-heeled city girl is particularly remarkable—Beneforti dances a frenzied metamorphosis that calms to a mesmerising tango à trois with the Builder and the Soldier. All the lead dancers—also credited as youth choreographers—are strong. Fenis and Dado are the show's hip hop dynamic duo with requisite handstands, headspins and somersaults; Handberg—graceful, balletic and with a mean karate kick—is every bit the exotic princess;and Tabuzo and Nichols are engaging. The entire ensemble of 30 dancers, drawn from regional Darwin and the remote Aboriginal community of Lajamanu, is tight and energetic. They dance with relentless joy to a soundscape that ranges from a Wild West cowboy lament (Chris Isaak) to Japanese rap.
Mr Big is non-stop action, and by the 50-minute mark the lead characters are clearly pushing their physical limits. Indeed, at an hour's duration, the show is perhaps 10 minutes too long: the otherwise clear narrative descending into a show of repetitive group dancing reminiscent of a school rock eisteddfod. The set, too—a chain-metal fence of the type used to mark off construction zones—seems a little gratuitious. At the point where it is moved and reassembled by the dancers it does not particularly further the narrative.
Mr Big is a collectively devised piece, performed by people who evidently feel as if they own it. This is everything community theatre can be: not the domain of petty tyrants, weekend drama queens and teetering sets but a collaborative effort unleashing local creativity and expression; a living story created by people with a real connection to their audience.
Tracks Dance Theatre, Mr Big, director-choreographer David McMicken, director-designer Tim Newth, choreographer Julia Quinn, guest choreographer Nick Power; Shell Terminal, Darwin Festival, Darwin, Aug 11-19
RealTime issue #75 Oct-Nov 2006 pg. 39
© Jane Hampson; for permission to reproduce apply to realtime@realtimearts.net