TWO RECENT PERTH PRODUCTIONS HIGHLIGHT CONTRASTING WAYS IN WHICH DANCE CAN CROSS AND PROBLEMATISE THE BORDERS OF COMPREHENSION. AIMEE SMITH AND BEN TAAFE'S FORAY INTO BORDERLINE OUTLINES THE STARK CONTOURS OF COMMUNICATION THROUGH MOVEMENT AND SOUND, WHILE DANIELLE MICICH (DIRECTOR) AND SUZI MILLER'S (WRITER/CO-DEVISOR) CONCEPTION OF OVEREXPOSED, WITH DRAMATURGY BY KATE CHAMPION, SHATTERS THE CERTAINTY OF UNDERSTANDING. BOTH BRING INTO QUESTION THE LIMITS OF PERFORMANCE: NEITHER GIVES DEFINITIVE ANSWERS.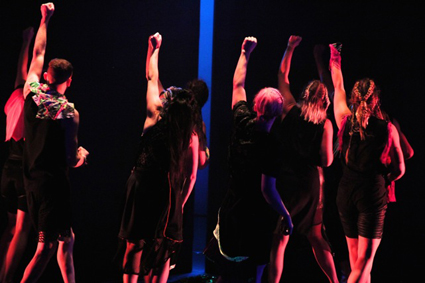 photo Emma Fishwich
Borderline, Aimee Smith
Borderline
Aimee Smith is a wizard at constructing penetrating images whose barbed irony agitates and/or needles into matters of environmental concern. Borderline continues to explore this crafting although, on this occasion, the movement pictures and their reverberations are locked in a pervasive sense of doom. Even the dancers' sometimes astounding wrestling with the demons of this age of herd obeisance, excessive waste and purported individualism bows to a bleak evaluation of human destiny. If the work is an anguished protest against the insanity of our behaviour in and for the planet, as I am sure it is, the cry is harsh and unremitting, seemingly devoid of any hope of rebirth. The gold glitter and hysteria-whipped bodies of the final image, indeed, act like incisive punctuation marking the withering of human imagination.
In three sections, the work begins with a weighty social organism lurching "Into the Fold." Random impulses for freedom and/or escape conveyed through individual dancer's unleashed limbs and torsos are crushed as the herd mentality re-ingests the errant body back within its turgid vortex. Choreographically impressive as it is, the tenacious grip of this community is born of containment not of support.
Hints of wasted social relationships become literal in "No Man's Land" as Laura Boynes tentatively advances across an empty space only to be submitted to a barrage of fabricated rubbish and dumped bodies hurtling around her. The debris amasses, leaving her poised like the Statue of Liberty or the feminine symbol of justice garlanded in a glut of grime and senselessness. It's a haunting image of silenced freedom and equity. The anti-visionary triptych concludes with "Trans Form," flipping the herd anxiety of the opening into a cult of individuals blindly chasing the glowing capitalist shrine of fulfilment. Even given the tongue-in-cheek voice-over of Ben Taafe's soundtrack, I couldn't dismiss the association of a trail of ever-smiling and vaporous 'selfies' supplanting their human originators. Pointedly, perhaps, the dancers only showed their backs as they advanced and recircled towards the edge of the illuminated madness. Was Smith and Taafe's message to turn around and face the terms of our own self-destruction?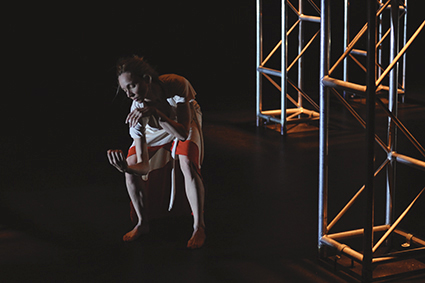 photo Ashley de Prazer
Overexposed, Danielle Micich
Overexposed
Surveillance in theatre enters into a double-bind or conundrum as the audiences of Overexposed watch, record and judge what transpires before them, for the most part, from the anonymity of darkness. However, if the topic of the performance is framed and bound to policing human behaviour, its secrecies, disorientations and lies are curiously turned back onto its audiences, who might find their normal privileged role eroded. Danielle Micich's Overexposed does not take this approach directly but the nett effect of its structure unmoors spectators from familiar logic and lands them in an alien territory of evaporated rights.
The promotional material indicates that the protagonist, Marisa, is inexplicably detained on her arrival into the home airport after a trip. What happens after this Kafkaesque premise occurs in two rooms. Obviously, surveillance is involved, which is playfully reinforced by a security check on spectators' arrival for the performance. For inexplicable reasons, some members are stamped red in this process, while others are given official clearance in spite of the tell-tale bleep signals at the metal detector archway. It turns out that the stamping is a lottery determining to which viewing room the spectator will be allocated, neither of which tells the complete story, if in fact a complete story is ever to be told.
With this strategy, Overexposed becomes underexposed. Whatever the source of the surveillance, you become aware that exposure to the work is but a semblance of truth, couched in fear and a weird logic which reduces the complexity of human behaviour to ciphers of blame. The filtered communication is further complicated by isolating the movement and text, commonly associated with a dance theatre format, into two halves, one to each viewing space. Text delivered by performer Humphrey Bower, so I later gathered, dominated one space, while movement permeated the near silence of my room, where performer Micich, chased by a roving spotlight, emerges from the audience and is led into the stage's imprisoning landscape of metallic towers. Her body, initially compliant, is soon subjected to invasive and unexplained interrogation procedures. The physical disintegration is painful and, till this point, eloquent in its delivery.
Time then stretches like a taut membrane over meaning, where both Micich's and my interpretation become wired into some sort of psychic realm in which her body appears to spin repressed dreams of agency. There were possible narrative hooks via projected text but from my vantage point—and corresponding with the production's logic—sight was obstructed by the towers. Left to my own devices in the alien interpretative space, I had to trust in a corporeal storytelling, in the performer's internal fantasies given some semblance of form. Pleasures of puzzling through Micich's sudden switch to expansive almost abandoned movement mixed with tensions of mis-readings. Had her disorientation pushed her over the edge? Is insanity the ultimate objective that surveillance inflicts on both of us?
I was still floundering when Micich exited and Bower, full-voiced with accusations, entered. The act provoked a powerful bewilderment, exacerbated when the back wall opened to reveal the other room where Micich, but more so the other audience, watch the watching. Bower's words, which now seem to admit guilt for accusations of infanticide fired at the accused, have less impact than being exposed to the watching of the watchers be they audiences, performers or the state. Inconclusive as this response may be, Overexposed conveyed a disquieting message, if always veiled and inconclusive, about surveillance's propensity to unhinge identity.
Borderline, devisors Aimee Smith, Ben Taafe in collaboration with dancers Laura Boynes, Bernadette Lewis, Storme Helmore, Jenni Large, Tyrone Robinson, Tony Curie, Isabell Stone, Ella-Rose Trew, music Mental Powers, Phil Stroud, Beppu, costumes Holly Boyton, lighting Trent Suidgeest, State Theatre Centre, 1-4 Oct; Overexposed, director, performer, co-devisor Danielle Micich, performer Humphrey Bower, writer, co-devisor Suzi Miller, dramaturgy Kate Champion, sound Kinsley Reeve, lighting Chris Donnelly, costumes Colleen Sutherland, State Theatre Centre, Perth 22 Oct-Nov 1
RealTime issue #124 Dec-Jan 2014 pg. 34
© Maggi Phillips; for permission to reproduce apply to realtime@realtimearts.net