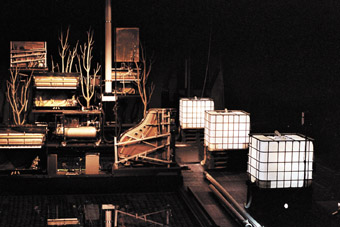 photo Dimitri Lauwers
Stifters Dinge
THE KUNSTENFESTIVALDESARTS' CENTRAL MEETING POINT IS BUZZING WITH PEOPLE, PEN IN ONE HAND, BEERGLASS IN THE OTHER AS THEY GATHER AROUND LONG TABLES COVERED IN PAPER. THE SCRIBBLINGS, DOODLES AND WINE STAINS INVITED BY COSTUME DESIGNER VALENTINE KEMPYNCK REVEAL AN ABUNDANCE OF LANGUAGES AND STORIES. PRESENTING 31 PROJECTS FROM 16 COUNTRIES, INCLUDING WORK FROM THE LOCAL FLEMISH AND WALLOON COMMUNITIES, THE 13TH EDITION OF THE PERFORMING AND VISUAL ARTS FESTIVAL PROMISED A MULTITUDE OF VIEWPOINTS AND VOICES, AND FOCUSED ON KEY CONVERGING THEMES: COMMUNITY, FESTIVAL OF LANGUAGES, END VERSUS BEGINNING. THE PROGRAMME ASKS, "WHAT, TAKEN TOGETHER, DO [THESE VOICES] HAVE TO SAY?"
Heiner Goebbels' Stifters Dinge opens the festival with a majestically breathtaking theatre installation that pays homage to nature through musical, visual, sculptural, elemental composition. Two technical assistants manoeuvre tubes and powder before leaving us alone with this pulsing, breathing creation: an automaton that at moments seems to move into its own quasi-organic rhythm. It faces us, three enormous shallow rectangular pools filled with water from luminous tanks. Bordered by rows of speakers, it emits both strange and familiar languages, as pipes clunk and lights cross-fade from murky greens through dusky sepia to crisp blues, and occasionally flash blinding white. The heart of this machine lies beyond the pools, sometimes obscured by screens that rise and fall reflecting ripples, picturing a forest. As its shapes are revealed, we can make out sheets of metal, bare branches and five grand pianos heavily rooted at unexpected angles and levels. Gutted, modified, hybridised, encased in scaffold skeletons, the exposed innards of these instruments are electronic circuits forming new nuclei to control its tendon strings.
Each element of this musical box is visible: sheet-metal flexed for bass and piano keys depressed to sound melancholy chords. This industrial landscape reconstructs rain, mist, a sunset inside its metal confines. A lone piano plays Bach as showers fall into the pools through icy blue light. Later, the whole sculpture creeps towards us as another piano hurls jagged notes that become increasingly frantic, chromatic scales running out of control to a filmic climax until it halts, towering threateningly above us just metres away. But this is not the danger of raw nature. Goebbels and his team exercise precise control over this shifting landscape, ironically underlining human inadequacy in any attempt to 'save nature' by making it our 'project': a tendency the festival program points up as symptomatic of our heightened sense of ecological responsibility.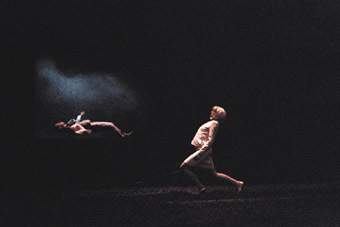 photo Catherine Antoine
End
Brussels-based Kris Verdonck's End presents a similarly bleak outlook: a visually stunning apocalyptic landscape, a world that has suffered nuclear holocaust. Black clouds travel at an unnatural speed across the backdrop screen accompanied by crackling static and rumbling, ominous thunder. Black snow falls, covering the ground as nine figures repeatedly cross this desolate territory from one side to the other, always in the same direction, always on the same track. Their journeys are uncomfortable, restricted, burdened and, as time passes, they become dishevelled, their smart office wear loosened, sweaty, discarded, blackened. One man strains to inch forwards pulling a heavy load far behind him on the end of a taut rope, out of sight. Another man crosses inside a glass case, live birds fluttering around him as he describes horrific images of this decaying world: bombing, mutations, soldiers forced to continuously stare because their eyelids have dropped off in the cold, the corpses of schoolgirls bent over water tanks. A platinum blonde woman dressed head to toe in white makes her journey in contorted slow motion movements, echoing the distortions the speaker describes.
A terrifying growling, glaring beast lurches across; a car engine suspended in the air. Loudspeakers on wheels pass by, amplifying shrill, chilling operatic voices. A solitary flame traces a line along the ground. These figures, trapped in some sort of cyclical post-Beckett dystopia, will not be offered any respite as they traverse this world, "relics of a past that was still intact a few days ago. " The images bore into us like a stuck record, stylus forever locked in the same groove, and feed our nightmares long after the show has finished.
The audience for Regarding, a collaboration between Brussels-based performer Isabelle Dumont, filmmaker Annik Leroy and writer Virginie Thirion, are initially left to find their own way around Meinhof, Leroy's three audiovisual installations based on the infamous leader of the Rote Armee Fraktion (a German left-wing post-1968 terrorist group) who was found dead in her prison cell. The cavernous space presents excerpts from her correspondence and slow, static films depicting images of isolation and incarceration.
Having circuited the screens, we gather on bare benches in another dark corner to watch Regarding. This three tiered performance slowly unfolds, interrogating our relationship with war photographs and deconstructing the way we view violent images. In further claustrophobic films from Leroy the camera looks down narrow corridors and hovers slowly over a war photograph. We can hear a female voice speaking Thirion's text, which intricately describes a photograph of an execution, recapturing the viewer's every thought as she envisages the moments leading up to the deaths depicted. In a rectangle at our feet Dumont lines up pots and tools, then gradually begins to apply pastes, liquids, chalk, earth to her body with surgical precision, transforming herself into a battered corpse lying before us.
Inspired by Susan Sontag's Regarding the Pain of Others (2003) this multilayered experience attempts to act as a remedy to a media-exacerbated, trivialised, disposable attitude to images of suffering. Like Goebbels' Stifters Dinge and Verdonck's End, this is a performance of duration and repetition, but rather than the engaged interactivity of the previous shows, this work demands a distanced contemplation of the processes we undertake while experiencing reality and representation.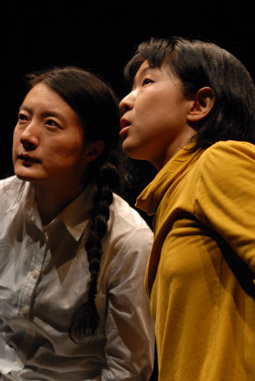 photo Lux Vleminckx
It is Written There
Tokyo-based Zan Yamashita's It is Written There is a more formal exercise in sophisticated communication and its processes. On the way into the theatre each audience member is given a large square book of one hundred numbered pages, some of which display one word in both Japanese and English, some showing sequences of words, some with diagrams or stick figures. The program informs us that these have been compiled from Yamashita's choreographic notes and Japanese pop lyrics, amongst other sources. Our task is to turn each page when its number is called. As we reveal a new page, four female dancers perform what we read. The translation from written to performed communication is complex and unpredictable: an arrow on the page triggers a sudden quick dash across the stage and we laugh in surprise, while "run" prompts a precisely executed slow motion sprint through a focused passageway of light, to the silence of the enthralled audience.
On page 21 there are raised white letters. Blackout, and the word is glowing: "STAR" appears on my lap, repeated tens of times throughout the dark auditorium. The relationships between word and image, static and time-based are examined with a playful energy, as charming, inventive ideas are presented to us page by page. Our books form a semantic barrier between us and the performers, interrupting our engagement with them, but also guiding us through a web of multiple interpretations: simplicity of physical composition and moments of stillness and silence leave room for an exercise in imagination. Despite the individual isolation of reading, the books bring the audience together as a community as we simultaneously turn pages and discover meanings. Could this distanced intellectual aesthetic provide some hope in the face of the destruction explored by the earlier performances? Perhaps contemplation and disengagement might allow an escape from a disturbing, cyclical future.
2008 Kunstenfestivaldesarts, Brussels: Stifters Dinge, concept, music, direction Heiner Goebbels, scenography, light & video design Klaus Grünberg, music collaboration Hubert Machnik, sound design Willi Bopp; Théâtre National, May 9-13; End, concept, direction Kris Verdonck, dramaturgy Marianne Van Kerkhoven, video Anouk De Clercq, music Stefaan Quix, light design Luc Schaltin, Kaaitheater, May 9-13; Meinhof, concept, realisation, camera Annik Leroy, editing Julie Morel, sound Marie Vermeiren; Regarding, concept, realisation Isabelle Dumont, Annik Leroy, Virginie Thirion, La Raffinerie, May 23-31; It is written there, direction Zan Yamashita, light design Asako Miura, sound design Mitsunori Miyata, book design Emi Naya, Beursschouwburg, May 9-13
RealTime issue #86 Aug-Sept 2008 pg. 54
© Eleanor Hadley Kershaw; for permission to reproduce apply to realtime@realtimearts.net