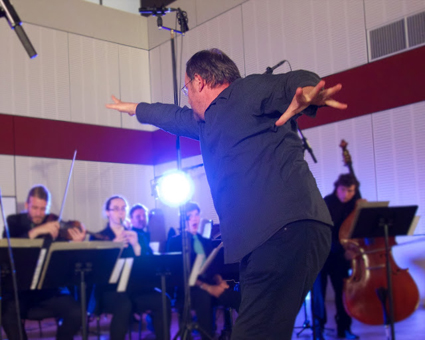 photo Keith Halden
Daniel Matej and ensemble, Graphic Scores, Soundstream New Music Festival 2012
DANIEL MATEJ IS A COMMANDING FIGURE IN CONTEMPORARY MUSIC AND THE DANIEL MATEJ IN PERSPECTIVE RECITAL AND GRAPHIC SCORES CONCERTS IN THE 2012 SOUNDSTREAM NEW MUSIC FESTIVAL PAINTED AN INTRIGUING PICTURE OF THIS SLOVAKIAN COMPOSER'S UNIQUE COMPOSITIONAL SENSIBILITY.
For the three works of the Graphic Scores concert, Matej conducted the Matej Ensemble—University of Adelaide Conservatorium students assembled for this event and performing on strings, wind, brass, percussion, keyboards, voice and electronics—with violinist Jon Rose soloing in the second item. The first piece was Polish composer Zygmunt Krauze's Voices for Ensemble (1968/1972). Inspired by the 'unistic' abstract art of Wladyslaw Strzeminski, Krauze's subtle music avoids drama and tension, the listener's awareness drawn instead to compositional nuances, timbre, texture, choice of instrumentation and the perception of time. A dreamy clarinet line threads through this absorbing music, which is punctuated by pauses, long enough for audience members to notice ambient sound and reflect on their listening.
This teasing opener readies us for Matej's Structures, Pages (…and Improvisations) (2010-2012). Here Matej gives each performer a printed chart listing five different hand gestures he will use while conducting, the movements correlating to specified musical material, dynamics and tempi. The material itself is drawn from other composers' manuscripts including US composer Earl Brown's December 1952 (from FOLIO; 1954), a seminal graphic score work using the simplest notation: horizontal and vertical lines of varying lengths and thicknesses. As the piece unfolds Matej gestures what to play, building the sound like a painter mixing paint directly on the canvas. Matej's conducting responded to soloist Rose's unique playing, resulting in a vibrant, heavily layered, multi-voiced orchestration of contrasting tone-colours, timbres and intensities. Matej cites Rose as a significant influence in his work.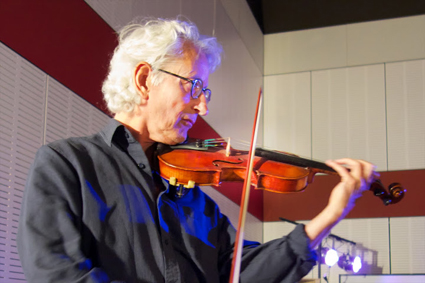 photo Keith Halden
Jon Rose, Graphic Scores, Soundstream New Music Festival 2012
In spontaneously shaping the ensemble's responses to fragments of other manuscripts into the overall sound, Matej expands the concept of the graphic score to encompass his own improvisation. The result is compelling conceptually as well as musically, acknowledging and extending Brown's achievements.
The Graphic Scores concert concluded with Four6 (1992), one of John Cage's last works, 30 minutes of enthralling sound in which this energetic ensemble, arranged around the perimeter of the auditorium, used time-brackets to structure their performance.
The Daniel Matej in Perspective recital, comprising works by Matej principally for solo piano, further revealed the extraordinary character and complexity of his composition, the music ranging from exquisite romanticism to comic buffoonery. The recital opened with Fragile (2009), subtitled With Prelude in E minor by Chopin, a fragment of which emerges late in the score. For prepared piano, it begins slowly and softly, the preparation muting some lower notes, building in intensity through repeated figures. There is a poignant moment when the Chopin passage reaches and then ends on the muted notes, as if Chopin himself is being muted and then paused. Perhaps Matej is lamenting the passing of pianism's great era. The program booklet indicates that the work is dedicated to a friend's family, and the pitch material is based on anagrams of their names and those of Chopin, Webern and Feldman (whose musical styles are all evident). This complex conceptualisation appears typical of Matej, but the result, in the romantically attuned hands of pianist Marianna Grynchuk, is enchanting.
photo Keith Halden
Daniel Matej and pianist Marianna Grynchuk, Daniel Matej in Perspective, Soundstream New Music Festival 2012
Grynchuk excels again in Matej's dramatic I Tried Them All and They Were Rotten (1995) inspired by Satie, and his wistful (Two) Lullabies (1995). The spell is then broken in Believe it, or Not! (from (three) Songs and Refrains), in which Matej jumps up and sings, accompanied by the piano, bawling out "Jesus loves you, oh he loves you…" to a rock beat, comically parodying religious zeal, the work evidently a response to fundamentalist evangelism.
Following two more dramatic solo piano works, Matej interrupts the pianist in his (when I'm) FIFTY (1997) by blowing across the necks of water bottles to produce resonant notes, playfully challenging the cultural authority of the piano recital. He then begins to whistle as Grynchuk plays, finally drawing her into whistling with him as she concludes the piece. In the final work, Bargain Happiness (2000), based on a Bach prelude, Matej again sings boisterously over the piano, and Rose, at the back of the auditorium, interrupts, firstly with his violin and then with his own comic song. Grynchuk is outstanding throughout in realising Matej's challenging music.
The influence of the Dada movement seems to be present to some degree in many of Matej's works, yet there is a powerfully seductive musicality throughout, with moments of great beauty and sensitivity. His acute awareness of musical history permeates his work and, although he appears to be repudiating musical traditions, he is creating new and interesting music that is built on them. This raises the general question of where composition is headed, but, in Matej's hands, it is musical, conceptually challenging and great fun.
The piano was central to this year's Soundstream New Music Festival, which also included an enthralling concert for two pianos (Paul Grabowsky and Gabriella Smart) featuring Stravinsky's Rite of Spring, and the landmark Piano Phasing concert, where 60 pianists simultaneously played 30 pianos and which featured a commissioned work from Elena Kats-Chernin.
Soundstream New Music Festival 2012: Graphic Scores, Matej Ensemble conducted by Daniel Matej, violin Jon Rose; Daniel Matej in Perspective, piano Marianna Grynchuk, violin Jon Rose, plastic bottles & voice Daniel Matej; Madley Performance Space, University of Adelaide, Oct 12 & 13; http://www.soundstream.org.au/
This article first appeared in RT's online e-dition Nov 20
RealTime issue #112 Dec-Jan 2012 pg. 39
© Chris Reid; for permission to reproduce apply to realtime@realtimearts.net