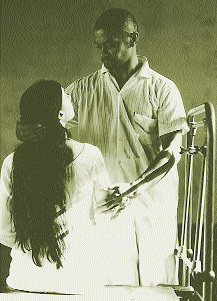 photo Ashley de Prazer
Fieldworks, Rites of Passage
In 1995 Stefano Tele spent five weeks as a teacher in the Ausdance Outreach program which travelled to the north-west of Australia. He was subsequently asked back to take up week-long residencies at Woodstock (a remote community near Kalumburu) in November 1995 and August 1996. Stefano explains to Tony Osborne how he came to be a dancing success with young people not normally exposed to Western performance dance forms.
TO Ausdance were excited that you'd been invited back after the initial Outreach program because someone in the remote communities—not necessarily involved in the arts—had recognised the value and the benefits of the workshops you gave as a potential catalyst for transformation for some of their people.
ST I only worked with kids and they varied from pre-primary through year seven to high-school. Being there for a whole week as opposed to doing a one-off workshop was important.
TO How do you think your teaching practice and your performance work inform each other?
ST You have to be able to impart the information in a way that is not too esoteric. For instance, if I'm doing a one-off class, if I don't know the students and I'm not sure how they're going to take the material, I'll use my warm-up to gauge what step to take next. I found that the kids in remote communities were so shy at first that I had to coax them to do things. They like to see what you can do first. So I improvised a little show with a talking drum. Once they saw me turning drum rhythms into movement the little kids started copying me. Then the older kids followed as the enthusiasm infected the group. It taught me an invaluable lesson in how to change my teaching style and not allow myself to be too limited by a rigid program. I can use that experience to change the direction of a workshop if I need to.
TO Do you regard yourself as predominantly a teacher or as a performer?
ST I would say a performer. I studied performance at the Victorian College of the Arts and my teaching skills were acquired at Two Dance Plus, a West Australian dance-in-education company. Since I left Two Dance Plus teaching has provided employment between performances.
TO I've noticed a real ease in the way you move in performance as well as the comedic aspect you bring to your work—a strong theatrical element. You seem very comfortable with a sense of the ridiculous and with satirical material such as your collaboration with Jon Burtt during Dancers Are Space Eaters at PICA and In the Blue Room last year.
ST Sometimes people take themselves too seriously. An anatomy teacher once told me that its good to twitch…as an antidote to the highly technical training I was receiving at the time. She saw dance, especially classical, as a form that was detrimental to the body and I believe that there's got to be a balance.
TO Do you think your ethnic background was an element in the connection you made with the kids up north—not another white-fella coming in to show them how its all done?
ST One foot in the door, so to speak. I was born in Western Samoa and my parents emigrated to New Zealand when I was about three. I came to Australia in 1985.
TO How did dance come to figure in your life?
ST Basically to curb my hyperactivity. But in my culture everybody dances and in a lot of ceremonies as well. If a visiting group comes to the community, then a performance will be staged and the men will be part of it. When my family realised I was doing white-man's dancing, such as classical and modern, they were really surprised. My cousins have only had a tiny exposure to white-man's dance.
TO Does white-man's dance appear to be a career rather than something that you do culturally? Was that the significance of their surprise?
ST They couldn't understand why I would want to do that. If I had become an actor it would have been quite different. Exposure to TV ensures that they would be quite familiar with what actors do, but not so with dancers.
TO What was the importance of the dance you took to the remote north-west as opposed to the dance people there experience as part of their community activities?
ST What I took to those communities was my 'zest for life', trying to impart in different ways that the dance I do is very important to me. I taught some of the kids to play the talking drum or played footy or basketball with them as the only way of connecting them with the group. Rather than just doing the job, I interacted with them and became a small part of the community as well as being their teacher.
TO Do you think it was important for them that you are a 'success' in the white-man's world through dance?
ST Because there is no role model here for Aboriginal kids, like the Bangarra Dance Company, I think it's important for them to see that there are fields other than sport.
RealTime issue #13 June-July 1996 pg. 38
© Tony Osborne; for permission to reproduce apply to realtime@realtimearts.net