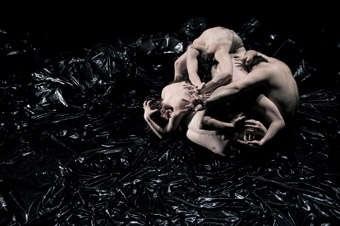 photo Alexandra Mein
Black Marrow, Chunky Move
THERE IS A SLICK OF MELTED BLACK PLASTIC SEEPING ONTO THE TARKETT IN THE CHUNKY MOVE STUDIO. ON ONE SIDE, THE WALL IS PLASTERED WITH BROODING IMAGES OF SKULLS, SHADOWY FIGURES AND DESOLATE LANDSCAPES. ON THE OTHER, A CLUSTER OF MOULDED PLASTIC HORSE SKULLS NESTLES AGAINST A PILE OF PLUSH DINOSAURS AND A TWISTED BLACK PLASTIC BACKBONE.
In the middle of this macabre scene, four barely clad dancers toil and sweat, contorting themselves into strange headless unions, sidling, scuttling, lumbering across the floor. French-Belgian choreographer Damien Jalet looks on. Icelandic choreographer Erna Omarsdottir works behind him with the actors Julian Crotti and Paulo Castro, observing them scuffle and clamber clumsily over each other's back. The disparity in their heights makes for strange couplings; sometimes they are figures from myth or legend, at others they are bar room brawlers. A CD player quietly emits high pitched yips and grunts in Omarsdottir's voice, mixed with squeaky, squelchy sounds and the noise of wind and water.
I am at a rehearsal for Chunky Move's Melbourne International Arts Festival production, Black Marrow. Belgian fashion and set designer Alexandra Mein has just arrived with a suitcase full of black plastic and the Australian lighting and sound designers are due to join the team in a few weeks. This commission by Gideon Obarzanek, on sabbatical from making work on his Melbourne based-company, marks yet another left-field move from this unpredictable artistic director.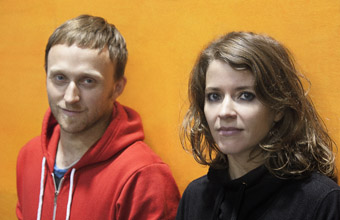 photo Byron Perry
Damien Jalet, Erna Omarsdottir
Whilst Jalet and Omarsdottir have long been seen on stage together with companies such as Les Ballets C de la B and both have significant independent careers as dance makers, they are a relatively new choreographic team, having made just one film and two full productions together. Obarzanek was impressed by their first piece together Ofaett (Unborn) and the short film The Unclear Age, both created in 2005. He invited them to run a Choreolab professional development workshop at Chunky Move in June 2006. Discussions about a commission began immediately, but the pair's busy schedules prevented them from even being able to come together to create another work in Europe for three years. In 2009 they created transaquania, a one off performance in Iceland's blue lagoon for the Iceland Dance Company. The collaborators on this project were visual artists Gabriella Fridriksdottir and Raven, who worked on Ofaett, and Iceland-based Australian composer Ben Frost, who is part of the creative team for Black Marrow and who also composed for Chunky Move's Glow and Mortal Engine.
"The Icelandic piece is related to this one", Jalet tells me as we talk during a break in rehearsals. "If you stuck a stick through the Earth, you would connect Iceland and Australia", Ormasdottir says. "There is something untamed in both countries. You feel the power of nature, a moving energy, something very overwhelming. Of course there are a lot of differences too. Iceland is a young country. You can feel the earth moving under your feet. Australia is more ancient. But in both countries, people live on the periphery of a desert. The glaciers in Iceland are a kind of desert. It's humbling. You feel how small you are as a human being. The earth could eat you up any minute. In both countries you can feel the origins of life. A lot of Iceland is a sort of primal soup. Here people still find huge dinosaur fossils scattered across the desert."
These images of early life are visible in the choreography I observe both in the studio and in archival footage of their previous collaborations. There is a gravitational pull on bodies, a sense of the ground swallowing up limbs and forcing heads downwards, with a constant dragging force. There are a lot of mutant bodies, seemingly in transition from one species to another, sometimes part bird, lizard or fish. Dancers Carlee Mellow and Sara Black writhe together like starfish, all flailing arms and groping feet. "Keep your fingers alive", mutters Jalet as he watches Black's arms encircle Mellow's waist in a parasitical embrace.
"We are exploring a kind of struggle for life", Jalet says of the choreography. "Sometimes it looks like a primal conflict—deers butting…The bodies are defining themselves." Alisdair Macindoe and James Shannon are locked in a deathly embrace, their vertebrae jutting as they bend their backs into impossible arcs. The combination of strength and precision required looks exhausting. Jalet and Omarsdottir are impressed by the Australian dancers, praising their hard work and commitment to this new vocabulary. The rehearsal days are long and the lead-up to the premiere at Malthouse's Merlyn Theatre is unrelenting. Once Mein has started work in her studio, the performers will be creating the choreography in moulded plastic masks and costumes. A close look at the horse skull headpieces she has delivered, suggests the dancers will have to summon all their dedication to create in such suffocating apparel. I ask Omarsdottir whether the actors are contributing anything distinct to the work. She demurs. Whilst the choreographers have worked with Paulo Castro previously, they chose all the performers from auditions and are excited about the expressive range of the group.
We talk about the darkness of the imagery which inspires the production and both choreographers are eloquent in their concerns for the health of the planet. "In the last decade it's incredible how fast we have destroyed nature. Every generation has this feeling of doom I am sure", says Jalet, "but we are really sucking all the resources out of the earth. Oil, coal, ash and lava are the blood of the earth with oil at the end of the cycle. There is an energy of death in all of this." "This is our fantasy of the end", says Omarsdottir. "We are creating our mythology of apocalypse, our own rituals out of our fears and paranoia." Whilst this all sounds extremely gloomy, both choreographers insist there is humour in the piece, and poetry. "We are not provoking for the sake of provoking. We are interested in creating something beautiful out of this horror, maybe not aesthetic, but beautiful in its own way."
The way the artists finish each other's sentences testifies to the bond they recognised as soon as they began to work together. "We are like brother and sister", says Jalet. "We started to work on the material for this piece during Foi [a 2003 production by Les Ballets C de la B]." They share a highly theatrical and coherent vision for the work, which even in rehearsal focuses intensely upon visual detail. Omarsdottir has worked with artist Matthew Barney and fellow Icelander Björk. Jalet has worked with fashion photographer Nick Knight and designer Bernhard Willhelm. Despite these red hot collaborations, I suggest to the artists that their virtuosic work must leave them somewhere on the margins of contemporary trends in dance in Europe. "There are lots of taboos in dance it seems", says Jalet, "People are less scared of feeling in music and visual arts. But we think that physical engagement is very important. Work can be conceptual and smart and physically and emotionally engaging. I like to be taken to a dark place in order to feel something and return to recognise the things I have all the more strongly."
What Melbourne audiences will think of the dark place Jalet and Omarsdottir are taking them to remains to be seen, but from the moment the curtain rises on the post-apocalyptic setting of Black Marrow to the moment it falls upon the tangled bodies of the performers there will be no escape.
–
Melbourne International Arts Festival, Chunky Move, Black Marrow, CUB Malthouse, Melbourne, Oct 20-24
RealTime issue #93 Oct-Nov 2009 pg. 6
© Sophie Travers; for permission to reproduce apply to realtime@realtimearts.net