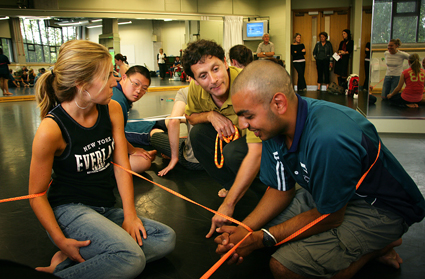 Associate Professor Ralph Buck (centre) and dance students working with members of the Pegasus Unit, the special needs class at Pakuranga College in South Auckland, NZ
DESPITE THE CROSSOVERS AND HYBRIDISING OF DISCIPLINES AND FORMS IN THE ARTS THESE DAYS, YOU'D BE HARD PRESSED TO FIND A UNIVERSITY IN PART OR WHOLE THAT DECLARES ITSELF INTERDISCIPLINARY. AN EXCEPTION IS THE NATIONAL INSTITUTE OF CREATIVE ARTS & INDUSTRIES (NICAI), A FACULTY IN THE UNIVERSITY OF AUCKLAND, NEW ZEALAND: "IN ALL AREAS, THE EMPHASIS IS ON CREATIVE EXPLORATION AND DISCOVERY AND ON INTERDISCIPLINARY COLLABORATION ACROSS THE FACULTY" [WEBSITE].
In NICAI dance sits alongside fine arts, visual arts, architecture and planning, and music. The focus on interdisciplinarity is principally postgraduate but there are major project based opportunities for undergraduates. Pan-disciplinary faculties are increasingly common in Australia. Sometimes this is the result of rationalisation, but none-the-less they can offer students the kind of interdisciplinary encounters they should expect after university in the arts or related careers.
Associate Professor Ralph Buck, Head of Dance Studies in the institute (alternatively referred to as the faculty) describes a three year Bachelor of Dance Studies degree where students increasingly engage with the world, develop dance flexibility, self-management and a sense of responsibility. There's a marked emphasis on dance education and dance in the community with their career potential for teaching and leadership roles. The NICAI website mentions the following career options: choreography, dance journalism, dance education, dance therapy, community dance and academic research.
Buck explains that first year is focused within the university on class and studio work. In year two there are field trips, for example, to a secondary school that deals with students with disabilities, the psychiatric unit at Auckland Children's Hospital and a retirement village. There's also a camp in the far north of the northern island of New Zealand with activity focused on engaging with the environment—"a political project" designed to engender independence. In year three, students work in primary and secondary schools "not with their teaching hats on, but their artist hats, working in groups of three, making a company that works for five weeks in a school," realising a project.
Buck's aim is for students to "look at their own and others' journeys," to be responsive to the world. The dance classroom develops physical confidence, he says, but other aspects of the course widen student horizons so they can see "where to take their knowledge and experience." He clearly expects his students to be realistic: "There's a danger of a ridiculous chasm between expectations of a career onstage and reality. There are other ways to be a dancer." One reality is that most money is to be had in teaching. He also looks to where dance is, in the community: "in different cultural groups and on the streets, not high art but hot and sweaty and just around the corner. In South Auckland it's an access issue—there's no stage, but dance is no less desirous."
Across the course, says Buck, "there's a strong multicultural element with a traditional core to first year study [including learning kaupapa hou and kapa haka and a range of Pacific music and dance] and a third to a quarter of students being Maori or Pacific Islanders studying alongside tap dancers and North Shore ballerinas. Everyone brings something and they help my teachers."
There's a strong emphasis too on independence, says Buck: "not to wait in line, to be bold and work at it. When the students finish they know what they want to do…and for the majority it's not as dancers but as teachers or in youth work for churches and detention centres."
As for interdisciplinary work at undergraduate level, Buck says it's based around events and projects, not within courses per se. Recently fine arts, architecture and dance engaged with the NICAI's new building with a choreographic response to spaces coming out of conversations about how we use them: "How do we respond to a stairway? How good is it? Look at it again…at the relationship between humans and design."
Coming up is a major project titled The City Walk, involving fine arts, architecture, music and dance working with the Auckland Regional Council and town planners. The aim is to encourage the public to walk from the city centre to the Auckland-hosted 2011 Rugby World Cup "to reduce transport overload." Nuala Gregory, NICAI's Deputy Dean, writes, "[we are] designing a pan-faculty inter-disciplinary teaching project, The City Walk.The project has major benefits for students in terms of professional work experience and opportunities for international media exposure of their creative work…We are currently workshopping this project with the Auckland Regional Council, and have support from staff across faculty disciplines." On their walk, rugby fans will encounter "displays of visual arts and live performances in music and dance." The project will be trialled later this year.
The NICAI website provides video samples of dance and other works and plenty of evidence of interplay with Maori and Pacific cultures, some of it seen in dance and music taken to China recently as part of New Zealand's delegation to the Beijing Modern Music Festival. Dance lecturer Dr Nicholas Rowe says on the NICAI website that an important aspect of the dance course is that it is not Eurocentric, that Auckland, "like a filter for the Pacific Rim" draws students from the region and encourages "the idea that the cutting edge can be local" whether New Zealand, Samoan, Malay or Australian.
With its pan-disciplinary range of departments, interdisciplinary projects and ambitions and its intercultural practices, the National Institute of Creative Arts & Industries has much to offer. NICAI clearly requires openness, the kind Ralph Buck seeks, where students "learn dance they've never done before," "watch and learn in different contexts," work with different communities and "learn how to operate in the world."
National Institute of Creative Arts and Industries (NICAI), University of Auckland, New Zealand, www.creative.auckland.ac.nz/uoa/
RealTime issue #98 Aug-Sept 2010 pg. 22
© Keith Gallasch; for permission to reproduce apply to realtime@realtimearts.net