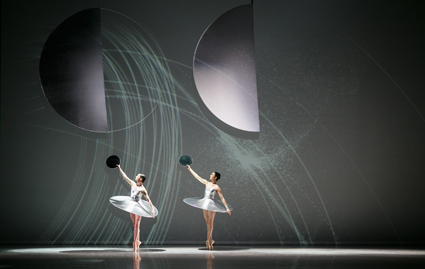 courtesy Royal New Zealand Ballet
Abigail Boyle and Laura Jones in Satellite
Daniel Belton's career is a victory over the tyranny of distance. Based in the regional New Zealand town of Dunedin (closer to Antarctica than Hobart is), Belton has turned to producing dance films for international festivals. His most striking works however are difficult-to-tour multimedia dances such as Soundings (2000).
Satellites (2014) is a collaboration with the Royal New Zealand Ballet, enabling Belton to again work on a grand scale, placing multiple live bodies in front of and behind semi-translucent projections and sculptural objects.
The steely, silver and grey visual aesthetic of Satellites evokes planetary metaphors and Modernist visions of outer space. Jac Grenfell's projected animations sketch Saturnalian arcs traced by small bodies mathematically circling around off-screen behemoths. The audience gazes from above or at a slight angle into these misty discs of interstellar dust, while dancers holding small mirrored rounds create a similar sense of backscatter across the space. The upper quadrant of the proscenium is often occupied by two vast, metalic discs, spinning gently.
The tableau is in this sense powerful and coherent, fusing 1950s dreams of spatial conquest and science fiction, with early Modernist and Futurist precedents from Europe. One could imagine Satellites as a grand early Soviet ballet. Indeed Belton and costume designer Donnine Harrison end the work with the entry of one then two ballerinas clothed in sleek, metallic dresses and tutus which are modelled on Oskar Schlemmer's designs for the Bauhaus' Triadic Ballet (1922).
Choreographically, the piece has an overall drag of left to right. Although figures do enter from the right (notably the closing ballerinas), these events act as a counterpoint to the way in which figures enter from the left, coalesce and gesture back from whence they have come, arms held out in forceful lines like Olympic heroes, often with the reflective discs featuring, before they seem to drop off to the right. This larger pulsion of movement echoes the circuits which the projected planetoids take, down the upper arm of curves rolling around left to right. It is as though cosmic tides wash the dancers away into utopian infinity.
As ballet-trained dancers, the performers of the Royal New Zealand Ballet emphasise the clear lines of Belton's choreography, moving into statuesque combinations and holding the apogee of movements and poses rather than being swept into expressive flow (though this is undercut somewhat by the baggy pants worn by the male dancers). Broadly, the concept of scattering seems to act as a dominant organising principle as dancers break off into varied groupings from larger, unified associations, reassembling at irregular intervals into collectives of two or more.
This loose, open feeling in the choreography, together with elements of pedestrian or relaxed movement, is set against a sense of grandeur and a highly sculptural, material stage design with which the dancers must engage—suggesting Twyla Tharp meets Merce Cunningham (and perhaps a touch of Schlemmer's contemporary, Leni Riefenstahl).
Scholars debate whether Cunningham's sculptural complexity and precision made him Modernist (in the sense of Schlemmer) or Postmodernist like Tharp, but Tharp's lighter touch and generally more gentle framing of the body seems closer to Belton's approach. Belton's scenographic framing by contrast presents something closer to Cunningham's tendency to trawl through the history of Modernism for formal inspiration (such as in Cunningham's Walkabout Time, featuring a set by Jasper Johns inspired by Marcel Duchamp's The Bride Stripped Bare by Her Bachelors, Even, 1923).
Satellite's unstable positioning with respect to the divide between Modernism and Postmodernism is most evident in the collision of an otherwise utopian, almost spiritual visual palette, as opposed to Jan-Bas Bollen's music, which owes more to Postmodern themes of communication breakdown. Bollen has previously created notated homages to composer Iannis Xenakis, but here his soundscape is sophisticated glitch-funk such as that popularised by labels like mille plateau and Bip-Hop in the 1990s. Key elements of Bollen's acoustic palette include the digitally processed sounds of electricity sparking, or the effect of short-circuits upon amplification devices.
While the planets and the dancers move smoothly, the sound does not. Rhythmic pulses are interrupted by our futuristic technology, glitching and becoming embedded within interstellar noise. One can envisage an alternative version of Satellites in which the dance fragments along with the sound—planets careening off their orbits like so much chaotic space debris and the dense static force of Bollen's sonic bed overwhelming our attempts to reclaim this material from Modernism's confident utopianism.
Royal New Zealand Ballet, Satellites, part of the Allegro program, choreography, conceptual design Daniel Belton, stage design, sculpture Jim Murphy, costumes Donnine Harrison, animated projection Jac Grenfell, music Jan-Bas Bollen, Regent Theatre, Dunedin, NZ, 23 Aug
RealTime issue #123 Oct-Nov 2014 pg. 28
© Jonathan Marshall; for permission to reproduce apply to realtime@realtimearts.net