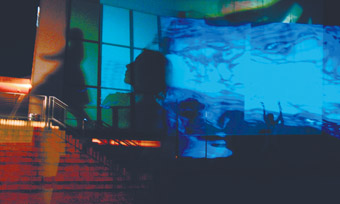 photo Hyojung Seo
Cheryl Stock, Accented Body
High profile, practising artists are not employed full-time in dance courses as readily as you may find them in visual arts, music and literature departments. This is partly due to the time-consuming training regimes and maintenance of practice that dancers and choreographers must undertake along with touring commitments that require chunks of time off. It's also partly due to the stigma attached to 'educational choreographers' in this country.
While full-time appointments may be scarce, an abundance of artists supplement their working year with casual teaching in tertiary institutions, which offers practical support, teaching experience and a chance to try out ideas. Bernadette Walong points out that the University of Western Sydney "has provided employment and research-related opportunities to NSW-based and interstate artists such as Kate Champion, Rakini Devi, Julie-Anne Long, Dean Walsh and Kay Armstrong." Other dance artists who have worked itinerantly in courses around the country include Gavin Webber, Sue Peacock, Tracie Mitchell, Sue Healey, Claudia Alessi and Chrissie Parrott.
Four professional dance artists working in universities offer their views on the relationship between practising their art and teaching, how the university benefits their practice, and how students and institutions benefit from artists.
Bernadette Walong, University of Western Sydney
Bernadette Walong is a choreographer, performer and consultant on dance and education. She has worked with Bangarra, Meryl Tankard, Dance North and the Australian Ballet, and has created dance films in collaboration with Michelle Mahrer and Richard James Allen. Walong has been an Associate Lecturer in Performance at the University of Western Sydney since 1999 and is one of 2 dance staff there.
I teach at UWS on a part-time basis. This allows me a certain amount of flexibility to accommodate my work as a practitioner. Annual leave is dedicated to any international activities. In the past, and prior to the current workplace agreements, larger blocks of time away were easier to negotiate with the option of making up time lost by working additional hours/days.
My role as an educator impacts on my practice and vice-versa. The 2 contexts involve different playing grounds, but they emerge from the same foundations. Of course my expectations of a student are not entirely the same as those of a professional. I like to call them "professional students."
Teaching has definitely strengthened the facilitation skills I bring into my practice. My communication and inter-personal skills have benefited as I am forced to be clear in my approach. And I am more conscious of the value of the individual—it expands the possibilities within a creative situation because I am able to entertain a much wider variety of perspectives.
As an independent artist I have been extremely lucky to manage part-time work and my practice. Tertiary dance courses fill the gap that our lagging industry has created for independent artists. Working in this environment has also enabled me to refine my choreographic practice and research both conceptually and physically as I can play/experiment with ideas over longer periods of time.
The benefits that UWS gain are mainly through connections to industry practice. Being employed part-time means I am continuously updating information relating to the field of practice as passed on to students. Secondly, students who have applied to the course have been aware of my work as a choreographer/performer prior and external to UWS—many students had studied Ochres (co-choreographed for Bangarra) as part of the HSC dance curriculum. This influenced their choice of institution.
I can genuinely say that students want to believe that they are getting the real deal, that is, learning from people they know have a professional track record. Learning from practicing artists—living and breathing, not simply documented in a textbook—means they have a direct connection with their field of study. This is a valuable and important tool for tertiary institutions because education should not be isolated from practice. The issue is research and creative learning, as opposed to the institutional trap of regurgitated knowledge.
Judith Walton, Victoria University
Judith Walton is a Senior Lecturer in Dance at the Department of Human Movement, Recreation and Performance, Victoria University. She is one of 5 staff in Performance. Her recent works include no hope no reason, a multimedia performance as part of the 2004 Melbourne International Arts Festival, Lie of the Land, a Gateway commission in Adelaide with visual artist Aleks Danko, and Project Eudemonia, a series of interventions with Rachel Fensham for the PSi10 (Performance Studies International) conference in Singapore in 2004.
In recent times I have taken leave without pay in the need for artistic autonomy—to be independent of the institution and its rapid transformation into a business. This has been my 'strategy of freedom' that François Deck articulates: a way of removing myself from the economic function of the institution (in Brian Holmes' Artistic Autonomy and the Communication Society).
I don't divide myself, only the time I spend on different activities. Everything that I have gleaned from making and performing is available when I teach and vice versa, and the whole of my life experience obviously informs both activities.
I perceive my art practice as separate from the university that has, nevertheless, supported it financially through my wage. That is, my job has indirectly funded my art practice. There is a general awareness of the growing control exerted by the institution on artistic and cultural production and the very real danger that art making can become harnessed to function, productivity, economic viability, and used as a justification for the institution's claim to the fostering of a civic society. In a small and perhaps inconsequential way the removal of my art practice from the institution is a resistance to the dominant urge for art consumption, and a conscious reclaiming of the self-governing, playful, open, unknowable, experimental situation that, for me, art making requires.
In short, there is an incompatibility between the making of art and the ideology of the university. In my role as an art educator, these concerns form part of a continual critical debate that informs my strategies and tactics for maintaining an environment conducive to art education.
Performance is understood through the thinking and practice of performing. Art education should set up systems of inquiry to precipitate the making of art. This encompasses the identification and creation of theories, discourses and practices that enliven, extend, question, interrupt, disseminate, challenge, confirm, fail, reinvent, and disturb the making of art. A fundamental principle of Performance Studies at Victoria University is the involvement of practising artists in the teaching of performance.
Cheryl Stock, QUT Creative Industries
Cheryl Stock is Associate Professor of Dance at Creative Industries, Queensland University of Technology (QUT). She has had a successful career as a choreographer and academic and was a founding member of Dance North in Townsville, Queensland. Her most recent work, Accented Body, is presented as part of the 2006 Brisbane Festival.
I guess I'm really an all or nothing person, so for me to do my practice as I want to, I do it very rarely. With Accented Body, I was given 4 months professional development leave. The preparation had to happen outside of that of course. But teaching and creative practice are actually really integrated for me. For example, I draw on my skills as an artist and as an academic in working with the research students. But it is hard to do your own practice, especially as head of department.
With Accented Body I have had access to the most amazing technology through the institution and have been able to bring in international artists. It is a cutting edge project and this is due, in large part, to the facilities offered by the university and my exposure to the work of artists and staff in other fields here. That exposure has actually shaped the project into what it has become. So I don't mind spending all of my time being Head of Dance if once every 5-7 years I can do a project like this, which wouldn't be possible without the institution.
Because of the focus on practice as research at QUT, and given my experience in the professional field of dance, I have taken on a role facilitating the work of other artists by encouraging them to take on higher degrees. So I have become more of a creative producer/director—and that applies to the Accented Body project as well—drawing together staff, students and artists across a variety of fields of practice.
It's important for the students to know that the people they are working with do have a practice… They are very nurtured in this tertiary institution. They are supported by postgraduates who come in and tell them about 'the real world' and show them by being role models. And we support those artists through their research at QUT. If we didn't have that nexus our course would be irrelevant.
Michael Whaites, WAAPA
Michael Whaites is a choreographer and performer who has had an impressive career working with choreographers such as Twyla Tharp and Pina Bausch. He returned to Sydney in the late 1990s and has pursued a career as an independent choreographer and dancer. This year, Whaites became Lecturer in Contemporary Dance at the West Australian Academy of Performing Arts and Artistic Director of LINK, WAAPA's graduate dance company.
Three quarters of my time is spent with teaching and administration. At this early stage teaching and working full-time at a training institution (6 months into the job), I am finding that dividing my time between teaching, organizing the company and being creative is quite a challenge.
I take the opportunity to reflect on my own work by teaching composition and improvisation. But ultimately, imparting knowledge and information, trying to be clear and concise, is really at odds with the kind of receptivity and intuition I use in creating my own work.
The financial stability of teaching benefits my practice, and teaching [provides] an ongoing relationship with performers. To be able to plan and create with consistency is the most appealing aspect. This is a relief given the difficulty of securing funding in the sector as an independent practitioner wanting to work with a group, and the additional problem of time lag when you do submit an application.
From an artist WAAPA gains professional experience, knowledge and connection to current practices and industry professionals. For example, I have recently negotiated the acquisition of repertoire for the company from Twyla Tharp—a first in Australia. We will be able to perform 7 of her early choreographic works, which I believe are some of her best, showing the beginning of contemporary dance as we now know it. I have also organised a tour to Europe and Russia for the company with the dancers spending 2 weeks at P.A.R.T.S in Brussels, the dance school associated with Ann Teresa de Keersmaeker's Rosas Dance Company.
I offer a practical understanding and real sense of the industry which helps students inform their choices when they graduate. I am also providing them with opportunities to connect with the industry. That places them in a much better position once they are out there looking for work.
–
RealTime issue #74 Aug-Sept 2006 pg. 12
© Erin Brannigan; for permission to reproduce apply to realtime@realtimearts.net