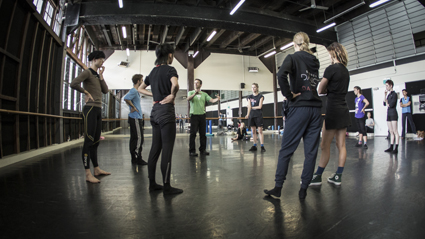 photo Peter Grieg
Gideon Obarzanek and Sydney Dance Company dancers in rehearsal
The Sydney Dance Company's forthcoming triple bill, Interplay, features new works by artistic director Rafael Bonachela, former Frankfurt Ballet soloist and collaborator with William Forsythe, Jacopo Godani (interview RT101) and ex-Chunky Move artistic director Gideon Obarzanek. Obarzanek's piece is L-Chaim!, the Jewish toast 'to life,' involving the entire company of dancers and one actor who will be mostly present as a voice, but will eventually appear on stage with the dancers. When I spoke to Obarzanek he was about to go into rehearsals with the company with two weeks already under his belt from last year.
"The general gist of L-Chaim! is that the dancers are attempting to make a contemporary dance piece. 'The god of theatre' or 'Wizard of Oz' (played by the actor) interrupts, interrogating them about themselves and what they are doing—the meaning of the dance. And in doing so, this outsider inadvertently undermines it making it difficult for the dancers to perform.
"On the surface, the outsider seems quite nice, but is a bit nasty and depressed. In the end the outsider is asked to descend and dance in what becomes a big musical number, celebrating aspects of life that are difficult to intellectualise, things that you have to participate in to fully understand."
Obarzanek's interrogation of the modus operandi of contemporary dance has manifest in many forms throughout his career, from surveying audiences about what they like and making a work 'to order' (Australia's Most Wanted, 2003), to an autobiographical piece that questions the choreographer-dancer relationship and possible measures of its successful outcomes (Faker, 2010). Obarzanek adds Two-Faced Bastard (2008, which I haven't seen). He points out that this theme in his work has perhaps become stronger since leaving the directorship of Chunky Move in 2012 and making fewer dance works. He states point blank that "the premise is: trying to find meaning in a large, abstract contemporary dance work and in doing so, destroying it."
The central voice of dissent in the work is clearly a proxy for Obarzanek, but then, as he points out, so too is it for dancers who defend the art form. The work should ideally pull in two directions, testing the accepted foundations of the art form to the point of complete destruction, while asserting the legitimacy and potency of dance that counters the critique with a convincing dance piece. A tricky thing to pull off. For starters, can a work assert the integrity of an artistic discipline by employing others (particularly theatre) to achieve this?
And the task is even trickier in the context of the Sydney Dance Company which has survived a very challenging environment for dance in Australia for 45 years by generally adhering to expectations around dance, such as a certain level of vigorous physicality and a strong relationship with music. Obarzanek suggests that the company owes its longevity to the successful harnessing of audiences from ballet and other traditional performance sectors. This is not a company that brings innovative forms of dance to the international scene, but has satisfied a local audience for a long time. As Obarzanek states, "Context is everything," and a work such as L-Chaim! might well appear subversive in this environment.
"The beautiful and talented virtuosic dancers of the company are forced in this work to explain themselves—their actions and interests—and it's quite strange to hear them talk. They have made very clear decisions about who they want to dance with and why, and I'm asking them to think about why they made these choices, what's interesting about it for them and for the audience. For the most part, the dancers are interested in doing new things. But there might be a fine line between what's interesting and what's annoying for them in this process!"
So a question to contemplate as Sydney Dance Company celebrates 45 years might be—what is interesting for Australian dance audiences? Obarzanek is hopeful that the Australian Ballet, which has also commissioned him recently, will take the lead from the Paris Opera Ballet and Netherlands National Ballet and other important ballet companies internationally who commission radical choreographers such as Jerome Bel and Jan Fabre. Obarzanek says, "in Australia the ballet company is much more conservative in that sense." And he also has high hopes that Rafael Bonachela "continues to program diverse works over time which will influence audience expectations."
Obarzanek is working with dramaturg David Woods (who runs UK company Ridiculousness and works with Back To Back in Australia) who will perform as 'the voice' in Melbourne and Canberra with Zoe Coombs Marr of the post performance group taking his place in the premiere season in Sydney. Obarzanek has a keen eye for quality artistic collaborators and the importance of a perspective from outside the art form is clear in this case.
But he insists that dance is central. "When I was with Chunky Move I was drifting outside of dance because I was questioning whether dance was my thing. For me right now, my interest in dance is in returning very much to a physical world. I've recently returned from Las Vegas working with six showgirls in the middle of the night in a fancy club. It was dance—"5, 6, 7, 8"—and I really liked it. It was challenging, satisfying and exciting. And in this piece, as much as we are having a go at dance and prodding the dancers, they still triumph. You have to admire the strength in them and what they do, which is really wonderful. As much as I challenge dance, it turns around and stands up for itself enough for me to want to do it again. I never beat it. It's never defeated. At least, not by me anyway."
Sydney Dance Company, Interplay, choreography by Rafael Bonachela, Jacopo Godani, Gideon Obarzanek, Sydney Theatre, 15 March-5 April; Canberra Theatre Centre, 10–12 April: Southbank Theatre, Melbourne, 30 April-10 May
See our full profile on Gideon Obarzanek at realtimedance
RealTime issue #119 Feb-March 2014 pg. 25
© Erin Brannigan; for permission to reproduce apply to realtime@realtimearts.net