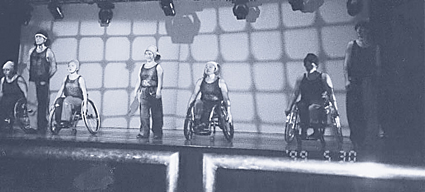 Producciones La Manga, CRANK La Cultura del Safo
Integrated Dance is at last being taken seriously by promoters, reviewers and by the dancers themselves. The form is not a new one but is often perceived as a community sport. I have recently returned from the Art & Soul Festival of Disability Art and Culture in Los Angeles where though viewpoints differed, dance was given high profile in the program of performing, visual and literary arts.
With great reverence to the dance pioneers who paved the way for integrated dance, the international festival did not display an abundance of new work. The most striking new dance came from Producciones La Manga. Their work, CRANK La Cultura del Safo, was described as a "Wheelchair Dancing Investigation Project". Ten performers from Mexico City with and without wheelchairs powered their teen version La Fura Dels Baus. Delivered with such extraordinary attitude and energy, the work was hard and fast, using effective off-stage dialogue and action. Street fights, rock/paper/scissors images and bullying were running themes for this on-the-pulse representation of Mexican youth street culture.
It is not always the disabled body which makes integrated/disability dance interesting, it is how the performer and/or the choreographer work with that body. The choreography from Gabriela Medina was clever and inclusive and it was often impossible to distinguish who really needed their wheelchairs. They carried each other around the stage and the company's use of floor rolling and body jumping dramatically demonstrated their strength and endurance. Despite its serious need of a trim, the company performed some of the most abstract and exciting wheelchair dancing I have seen to date.
Artistic Coordinator, Mario Villa, explained that the piece simply came from a workshop project that developed into a full work. The group have been working together and receiving various grants and awards since 1995 and are currently working on a new investigation project. I hope we see them soon in Australia.
CRANK La Cultura del Safo, Producciones La Manga, Art & Soul International Festival of Disability Art and Culture, The Los Angeles Western Bonaventure Hotel, May 28 – June 2 1999. For further info, contact VSA at http://www.vsarts.org/
RealTime issue #34 Dec-Jan 1999 pg. 31
© Kat Worth; for permission to reproduce apply to realtime@realtimearts.net