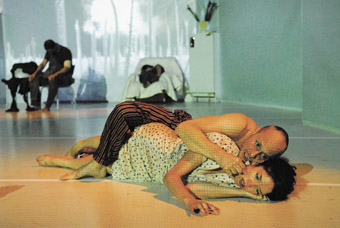 photo Heidrun Löhr
Rowan Marchingo, Elizabeth Ryan, Back From Front
A SANDBAGGED TRENCH SEPARATES THE AUDIENCE FROM THE PERFORMING SPACE, BUT WHAT WE SEE THERE IS NOT FIRST A FIELD OF WAR BUT STARK WHITE WALLS THAT ARE SOON RECONFIGURED BY PROJECTIONS INTO ARMY BARRACKS, HOSPITALS AND THE HOMES OF AILING SOLDIERS—OR THEIR GHOSTS—AND THEIR LOVED ONES. DIRECTOR-CHOREOGRAPHER DEAN WALSH'S BACK FROM FRONT IS A DARK, RESTLESS DREAM WORLD WHERE NO ONE STORY IS TOLD BUT THE AGONIES OF MANY ARE IMPRESSIONISTICALLY SUGGESTED THROUGH FIVE PERFORMERS.
The recurrent figures are two male soldiers, one possibly a sergeant ("You will be a weapon", he roars at his charge), a nurse and a housewife, all appearing to belong to earlier generations of Australians, presumably from World Wars I and II through to Korea and Vietnam. And there's an apparently modern female soldier. As the performance commences she plays innocently with a black balloon against an ominous hum, sonar pings and, suddenly, the roar of a rocket tearing through airspace. Fear-inducing images soon grow in scale. Later a red laser dot ranges across the stage until it finds its target; he's hit, he falls, projected blood pours out filling floors and walls. A giant red cross, again projected, slides up the floor onto the back wall transmuting from the caring symbol of the Red Cross agency into the threatening profile of a martial eagle.
Less dramatic but more ominously surreal are four refrigerators built into the walls. At once images of domesticity (constantly approached by the sleepless soldiers for milk) and bizarre entry and exit points to other worlds, the refrigerators suggest war-induced neurosis turning to psychosis, enveloping not only the soldiers but also their carers. It's never clear precisely whose nightmare visions these are, but they will become ours.
Amidst these material and virtual transformations, certain actions are played out—a training routine that turns horribly compulsive, attempts to cradle and comfort, Rowan Marchingo and Matt Young turning on each other in an ugly robotic fight and a tense inconclusive battle scene.A wife sets the table with candle and wine; the soldier husband joins her but is consumed by a shaking which soon infects her. In the most sustained and palpably choreographed scene in Back from Front, Marchingo and Elizabeth Ryan come together in a frail, awkward shuffling dance ending in collapse. Pathos turns to fear, his body heavy over hers, locking her down while the nearby refrigerator is suddenly 'alight' with fire. Alone, the woman is possessed by a strange, swirling luminous blue light. Slowly removing her clothes down to her underwear, she appears to be in a reverie alternating between a sense of profound absence—of a body that she once felt as part of herself—and erotic presence, of feeling herself where once he was.
There's a lot more to Back from Front—the hysterical release of the carers in bad jokes about wounding and death, a flood of letters announcing soldier deaths pouring out of a refrigerator, the female soldier fantasising a normal life in a blue dress and, finally, projections of unidentified photographs old and recent of those who died in or suffered the aftermath of war. The soldiers push three of the refrigerators forward and stand to attention on them in salutes to the victims of war. There's no little irony in this gesture, a salute from the very military that kills and maims. It reminded me of the double bind that emerged in the wake of the treatment of veterans of the Vietnam War—we might disapprove of the war against Iraq but we must support our soldiers.
Dean Walsh has created a large scale, complex work, which on its first outing is occasionally affecting if often opaque and, in terms of multimedia, over-determined. There are powerful visual moments but they are sometimes either too illustrative or symbolically obvious and, in their endless variety, lack thematic cohesion. A sparer palette that allows a greater correspondence between performer and image and which lets us see the performers more clearly would benefit the work enormously. Similarly, the compilation of musical works, both popular and classical, veered from apt to melodramatic and again lacked cohesion, obscuring the work of the production's composer. As well, an imbalance in performing and choreographic demands favoured Ryan, Marchingo and Young, leaving roles played by Lizzie Thompson and Marnie Palomares, although ever present, lacking impact. If Walsh can work from the directorial, dramaturgical and multimedia strengths of Back From Front, evident in his most sustained, physically and choreographically inventive scenes, he'll create a more consistently powerful and moving work.
Back From Front, concept, direction, choreography Dean Walsh, performers Rowan Marchingo, Marnie Palomares, Elizabeth Ryan, Lizzie Thompson, Matt Young, medi artists Rolando Ramos, lighting & software design Simon Wise, dramaturg Nikki Heywood, set design John Levy, costume design Claire Britton, composer, sound designer Rosalind Page; Performance Space, CarriageWorks, Sydney, May 1-10
RealTime issue #85 June-July 2008 pg. 33
© Keith Gallasch; for permission to reproduce apply to realtime@realtimearts.net