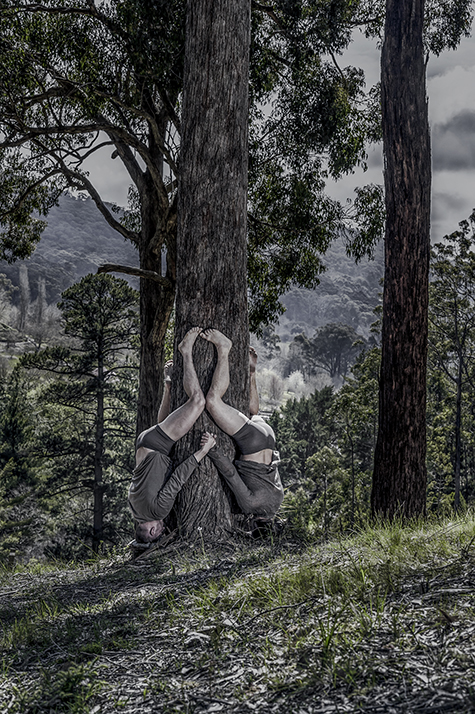 ADT promotional image, Chris Herzfeld Camlight Productions
(L) Scott Ewen, (R) Kimball Wong
Fruitful collaborations often seem to emerge from an almost organic symbiosis, each party bringing their abilities to bear for mutual benefit through a constant process of creative negotiation, experimentation and feedback. Such is certainly the case for Sydney-based composer Brendan Woithe and Garry Stewart, Artistic Director of the Australian Dance Theatre (ADT), the pair set to premiere two new works in March: The Beginning of Nature at WOMADelaide and Habitus for the Adelaide Festival.
Woithe is a versatile compositional gun-for-hire, as likely to produce soundscapes and composition for advertisements, short films, television, computer games, public installations and events such as the State of Origin as he is to complete commissions for the likes of the Australian String Quartet, Adelaide's Zephyr Quartet and ADT. Indeed, he's been particularly active over recent years producing music for ADT's Multiverse and Be Your Self (2010), as well as collaborating with Stewart on the short films Collision Course (2014) and Mood Machine (2015).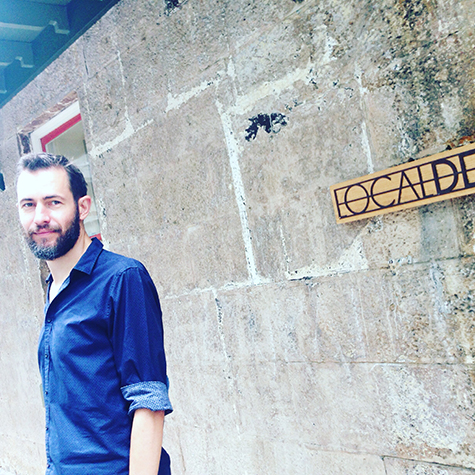 photo courtesy the artist
Brendan Woithe
Chatting over coffee at KLANG Studios, the production company he runs in Sydney, Woithe is effusive in his praise for Stewart and the dancers he leads. "ADT is different to any other company in Australia, I think it goes further in its physicality. The talent and the type of people they attract down there is simply phenomenal…the types of moves are different from what you'd expect and that informs the kinds of pieces that they do."
This partly results from Stewart's "extremely conceptual" way of working. For Habitus (in which ADT's performers will literally enact Frank Zappa's dismissive quip about music journalism that "writing about music is like dancing about architecture." They'll do the latter. Woithe recalls, "Garry asked me to go and see the new Frank Gehry building in Sydney, take some photographs and write a piece based on that structure, that space. I really enjoyed it. It forced me to think about particular concepts Garry is trying to express and [come] up with hopefully interesting musical expressions within an aesthetic [frame]. And we do talk about the aesthetic in the process…In the past it's been quite monumental and abrasive and very electronic and minimal, although we're slowly moving into a less abrasive kind of world."
The Beginning of Nature could perhaps be seen as the first fruits of this change in direction, Woithe suggesting that future work will delve into the softer lyricism of composers such as Tim Hecker, Clint Mansell and Dustin O'Halloran. In over 40 minutes of lush electro-acoustic explorations, this work delves into the patterns that repeat across the micro- and macrocosms of the natural world, asking "Where does [nature] start? What is our place in it? And, are we a part of it because of the fact that we know that we're a part of it?" Nine dancers will respond to the Zephyr Quartet's realisation of Woithe's score, with the composer himself electronically manipulating their performance in real time, while singers Shauntai Batzke and Vonda Last perform lines written in the Kaurna language of the First People of the Adelaide plains.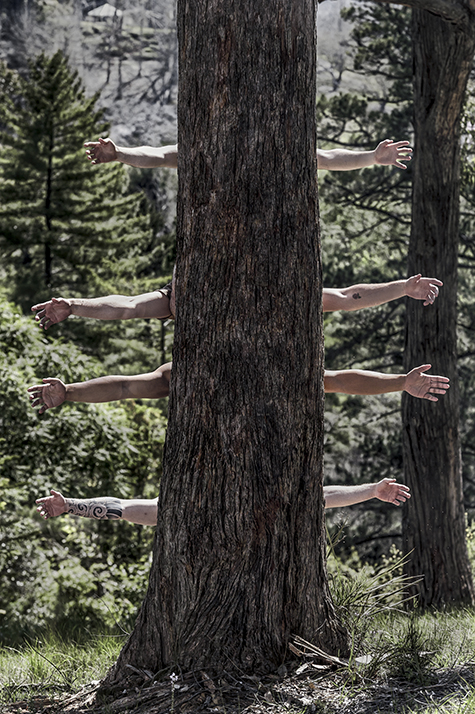 photo Chris Herzfeld Camlight Productions
Top to bottom – Matte Roffe, Scott Ewen, Thomas Fonua, Michael Ramsay
Very minimal in terms of harmonic development, yet richly evocative in its textural and tonal evolution, the work consists of relatively static, striated rhythmic textures that gradually evolve as particular elements–dynamics, articulation, speed, harmonic pattern or rhythm—effect one another in layers of gently unfurling and overlapping loops. At times unsettling, at others broadly ecstatic, as constellations of harmony emerge and dissipate, Woithe's morphing textures inescapably suggest the thrum of life and the inexorable cycles of mating, death and rebirth that constitute the natural world.
"Most things that will be heard come from manipulations of the stringed instruments in real time," he explains, "so there's a palette [that] I stretch as far as I can…It's a bit scary given the very small amount of rehearsal time we have, but also exciting, as at no point in the entire show do you hear the sound of 'the string quartet' without something happening to it. The sound is entirely manipulated.…In many ways, the tonal outcomes of the piece are just as important as the harmonic and rhythmic elements, as all three are interrelated—they modulate each other at different times. [The music] is a dynamic system built of feedback loops. It feeds into itself all the time, which makes it unpredictable [with a] degree of 'what's going to happen at this point?'"
This dynamism perhaps lies at the heart of the work and indeed the creative partnership and process that has produced it, with Woithe often travelling to Adelaide to work with Stewart and the dancers in the studio, the music being literally written as the choreography has been developed. "It's amazing," says Woithe, "you get this incredible backwards-and-forwards and immediate reactions to things. [We] can try something out on the floor with the dancers, see if it's working and, if not, [Garry] is able to feedback very quickly about what exactly is or isn't working, rather than composing in isolation where you're just preparing a bunch of music beforehand and hoping it works. We get much more done more quickly."
–
WOMADelaide 2016, ADT, The Beginning of Nature; Botanic Park, Adelaide, 12, 14 March
RealTime issue #131 Feb-March 2016 pg. web
© Oliver Downes; for permission to reproduce apply to realtime@realtimearts.net