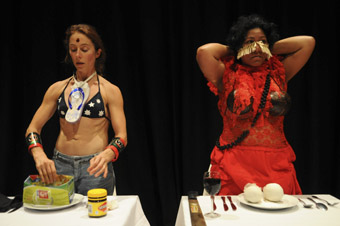 photo Heidrun Löhr
Kathy Cogill, Latai Taumopeau, Intercultural Project, March 2009
IN LATE 2008, THE FONDUE SET'S EMMA SAUNDERS WAS APPOINTED BY LISA HAVILAH, DIRECTOR OF CAMPBELLTOWN ARTS CENTRE (CAC), TO DEVELOP A THREE-YEAR CONTEMPORARY DANCE PROGRAM. THE COMPREHENSIVE AND AMBITIOUS PROGRAMMING THAT HAS RESULTED IS THRILLING IN THE CURRENT CLIMATE, PROVIDING AN ALTERNATIVE AVENUE FOR MANY SYDNEY-BASED CHOREOGRAPHERS SEEKING A PLACE TO WORK AND PRESENT. GENEROUS SUPPORT FROM CAMPBELLTOWN CITY COUNCIL, THE AUSTRALIA COUNCIL FOR THE ARTS AND ARTS NSW HAS BEEN WELL SPENT WITH STRANDS DEDICATED TO INTERDISCIPLINARY, INTERCULTURAL, STUDENT, ABORIGINAL AND COMMUNITY RELATED PROJECTS, PLUS RESIDENCIES, COMMISSIONS AND PRESENTATIONS.
The range of artists passing through the centre so far this year has included Brian Fuata, Kathy Cogill, Latai Taumopeau, Julie-Anne Long, Rosie Dennis, Kimberly McIntyre, Lizzie Thompson, Jane McKernan, Martin del Amo, Vicki Van Hout and Kay Armstrong's youth dance company, youMove.
Havilah's decision to resource producer positions and employ artists in such roles, has fuelled an expansion of the Centre's offerings well beyond its established visual arts programming. Havilah believes that artists are best equipped to put in place long-term strategies for the support of other artists and development of new work, providing institutions with an understanding of the process from the inside out. The focus is on supporting new work and "multi-arts practice", with a strong emphasis on artist-led engagement with communities in South-Western Sydney—specifically Pacific and Aboriginal communities. The richness of traditional art forms in these communities has been largely excluded from contemporary art practice in NSW and Havilah's aim is to create a long-term strategy to support the process-driven, intensive commitment that cross-cultural initiatives demand.
Campbelltown Arts Centre's facilities include studios, workshops, a 200-seat studio theatre and artist accommodation, along with placements in community venues. With the ability to take a work from development to small scale presentation, CAC differentiates itself from the Critical Path choreographic laboratory in Rushcutter's Bay. CAC also offers a curated program (involving guest curators) built around artists who "fit Campbelltown's broader programming requirements," as well as the various strands of the dance program. The aim is to fill the gaps in the sector which Emma Saunders has identified as being in the second and third stages of the development of new work.
Surprisingly, finding established artists with community engagement as part of their practice has not been difficult, and Saunders believes that the Centre's curatorial agenda could influence patterns in creative practice in NSW dance. Various experiences, including remounting The Fondue Set's Hoofer performance with 90 high school students, have made Saunders an enthusiastic supporter of community-engaged practice. "Artists respond to what's funded so, if artists begin to think about their work in relation to communities, there could be a lot of new work in that area…It's very exciting and at the moment it's not something that has been highly respected, it's not a thread in everyone's practice." Saunders compares the possibilities to a recent durational performance work in which artists Tony Schwensen and Andre Stitt (UK), commissioned by CAC, painted a house in Minto pink. "It blew my mind and when I think about how that can relate to dance, it's very open-ended."
There is a perception that inner-city audiences are trooping out to Campbelltown en masse to see artists who are Sydney-based, begging a question regarding the local response to the productions that will result from the initiative. However, Havilah says that the lack of established dance artists in the local area is being addressed by "developing pathways for young local dancers to move into professional dance studies…A lot of young people are going to commercial dance schools and leaving at the end of high school, so we are introducing workshops and public programs to expose young people to different ways of thinking about dance." Together with a new dance scholarship, youMove, designed to help young dancers make the transition into contemporary dance practice, and a strategic partnership with NAISDA who run an annual workshop where young Aboriginal students can connect with a potential tertiary dance option, the Centre is working to develop a new generation of dance artists and audience members in Sydney's South-West.
Emma Saunders is very positive about providing local audiences with accessible work: "For example, Martin del Amo's universal themes engage with an audience…and I don't rule out that things can be a bit humorous." It's estimated that del Amo's audience for It's a Jungle Out There (RT92, p36) in August was about half Sydney-based, half local across the three-night season, and while attendances have been very good, Saunders and Havilah point out that, thanks to the Centre's happy position as a government-subsidised institution, theirs is primarily a developmental program.
Saunders' last project in this role before going on leave (Julie-Anne Long will be acting curator), is a program co-curated with Havilah exploring where "visual arts and dance intersect." What I Think About When I Think About Dancing involves residencies, performances, commissioned installations and forums around the notion that visual artists are increasingly becoming performers in their own works, and dancers doing more work in gallery contexts. An interest in untrained bodies, 'non-skills' and slippery performance modes has fuelled Emma Saunders' practice for many years. Perhaps celebrating an aspect of the NSW scene, she brings this preoccupation to an ambitious program.
What I Think About When I Think About Dancing, artists Brown Council, Rosemary Butcher (UK), Mitch Cairns, Rosie Dennis, Brian Fuata , Shaun Gladwell, Agatha Gothe-Snape, Shigeyuki Kihara (NZ), Laresa Kosloff, Cathy Lane (UK), Gabriella & Silvana Mangano, Kate Murphy, David Noonan, Christian Thompson; Campbelltown Arts Centre, Nov 16-Jan 17; performances Nov 27, 5pm; forum Nov 28, 2pm
RealTime issue #93 Oct-Nov 2009 pg. 39
© Erin Brannigan; for permission to reproduce apply to realtime@realtimearts.net