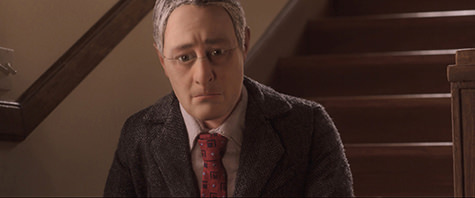 Anomalisa, Paramount Pictures
On her acerbic, off-the-cuff podcast, I Seem Fun, comedian Jen Kirkman regularly riffs on the modern annoyance of being forced to engage in customer service small talk so gratuitous it becomes ridiculous, involving both participants in a meaningless charade of sincerity. Kirkman would surely sympathise with the protagonist of Anomalisa, Michael Stone, a motivational speaker specialising in customer relations who, despite his occupation, reacts to every customer service platitude with terseness and a growing sense of alienation.
The erosion of authenticity in relationships is at the fore of Charlie Kaufman and Duke Johnson's Kafkaesque fable for our corporatised age. The painstaking craftsmanship of stop-motion animation, so often used to depict fairy tales, proves the perfect medium for heightening the dreamlike subjectivity Kaufman so favours: that sensation of the unreal coexisting with the real. The world of Anomalisa is warm-hued and fuzzy-edged as Michael is propelled through the soft, anonymous surrounds of plane, airport, taxi and hotel—those contemporary limbos in which the film's action occurs.
All the characters have sturdy figures and clearly segmented faces, like masks—a not insignificant fact as the film progresses. Despite this, Michael's face, with its frequently furrowed brow, has a realistic and moving expressiveness, contrasting with the crash test dummy-like blandness of every other visage he encounters. As he exits the airport, listening to Delibes' opera Lakmé through headphones (sung not by sopranos but by an undistinguished male voice) the realisation dawns that there's something very strange going on in Michael's world—yet something strangely familiar.
It's a world—here represented by an animated Cincinnati—characterised by the rote phrases that mediate commercial interactions everywhere: the safety instructions on the plane, the commonplace courtesies of the hotel staff. Everything relates to marketing: for the taxi driver, the Flower Duet from Lakmé is a British Airways ad and nothing more. The ubiquity of all this corporatese is soporific, stultifying; ultimately horrifying. Parts of Anomalisa are particularly reminiscent of that scene in Spike Jonze's Being John Malkovitch (scripted by Kaufman) where the eponymous actor steps through the portal into his own head, only to flee moments later from the hideous proliferation of selves that confront him.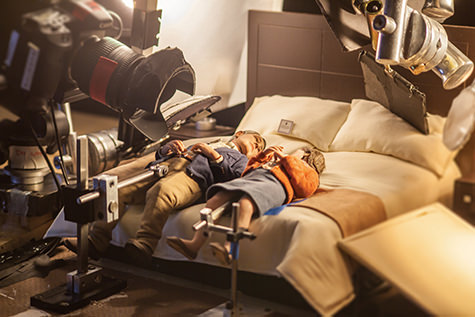 Making of Anomalisa, Paramount Pictures
Crashing through the uniformity comes Lisa, a character whose spontaneity and individuality seems to embody what Michael has been missing until this moment. Her anomalous appearance, contrasted with the film's cultivation of oppressive sameness, has the impact of a miracle. In a continuation of the film's commercial refrain, however, she's also in a sense Michael's client, an employee of a snack food company here to see him present his talk on customer service. Might Lisa represent an escape for Michael from the banality that torments him?
For almost its entirety, Anomalisa is a journey inside one person's head (echoes of Malkovitch again) that leaves us pondering universal questions. How genuine are our relationships? Can love really set us free, or are we ultimately prisoners of our own minds? "I've been running for a long time," Michael says. As underlined by the perpetuated triteness in the title of his book, How may I help you help them?, there's a strong suggestion Michael Stone will never outrun this hell of his own making.
–
Anomalisa, directors Charlie Kaufman, Duke Johnson, writer Charlie Kaufman, cinematography Joe Passarelli, art direction John Joyce, editing Garret Elkins, score Carter Burwell, distributor Paramount, 2015
RealTime issue #131 Feb-March 2016
© Katerina Sakkas; for permission to reproduce apply to realtime@realtimearts.net