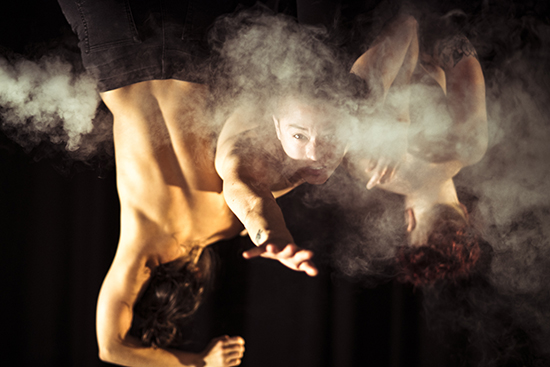 promotional image Pippa Samaya
Anti—Gravity
It's like being inside a cloud. The air of the rehearsal room is thick with stage fog, shot through with flickering beams of yellowish light. Choreographer Anouk van Dijk and multimedia artist Ho Tzu Nyen stand near the door, peering into the roiling dimness, watching as dancers fade, vanish and then reappear. This is day two of rehearsals for ANTI—GRAVITY, a new work presented by Chunky Move and Malthouse Theatre for the Dance Massive and Asia TOPA festivals. And clouds are indeed the theme.
Yearning for release
"It's about the yearning for some kind of release from the gravity-bound body," explains van Dijk. "The yearning is a curiosity about going beyond."
The work explores associative links between cloudiness and classical ideas about dancing. Both clouds and dancers can—in manifold ways—be symbolic of lightness and transcendence, and all things rising above and beyond.
"Looking at clouds in the sky makes us think of elevation," says Ho, "and makes us wish we could fly, but the flipside of that experience is when we realise we can't ascend, when we feel our flesh, our mortality."
The remoteness of clouds—their loneliness, as Wordsworth has it—can also be a reminder of the bonds which restrain our yearnings and which bring even the most athletic dancer back to earth. ANTI—GRAVITY therefore proposes a spectacular meeting between stolid earthbound bodies and evanescent and elusory vapours.
The work also addresses more complicated histories of representation, and not only in the context of classical dance.
"The aim," explains van Dijk, "is to make a work that starts with more representational images about how mankind relates to clouds, and then slowly becomes more experiential, both for the performers and the audience."
East-West instabilities
Ho Tzu Nyen, a Singapore-based artist who has worked extensively in video, photography and performance, has a special interest in art history, representation and the construction of culture, and his work often dwells on the movement of symbols and myths across cultures and through time. He is fascinated in particular by instabilities, uncertainties and unlikely transformations revealed in these shifts.
"Coming from Singapore," says Ho, "where Eastern and Western culture is in this complete mesh, that movement is one point of my interests."
He collaborates frequently with performance makers, and his installation and video work has a distinctive mood of self-aware theatricality. His 2009 video EARTH, a series of post-apocalyptic tableaux in the grand style of Gericault and Delacroix, is typical: it was shot entirely on a theatre stage and painstakingly put together with theatre designers. He has also been involved in a number of theatrical performances that have toured throughout Europe. "But," he adds, "this is definitely the first time I've worked with dance."
Cloud art
It is not, however, the first time he has made a work about clouds. In 2011 he created a multichannel video installation called The Cloud of Unknowing, recently acquired for the Guggenheim collection (see an excerpt). In a series of vignettes recorded at a derelict apartment building in Singapore, he explored the representation of clouds in art and culture around the world.
Now he is returning to the subject. As groundwork for the creation of ANTI—GRAVITY, Ho provided 30 pages of notes on cloud iconography in art to van Dijk and her team. According to van Dijk, the eight sections of these notes will form eight distinct sections in the dance.
"For a lot of my works, I never ever view that they are finished," says Ho. "I always wanted to return to clouds. But having already done Cloud of Unknowing, I also didn't really want to repeat another work with video, and that was what was stopping me a little. So when Anouk and I started having our conversation, it was a perfect opportunity for me to return to this theme."
And clouds have just as complex a history in dance and theatre as they do in painting. Fogs, fumes, mists and hazinesses of all kind have long been standard theatrical effects. The Elizabethans used different-coloured smoke to suggest the approach of thaumaturgical powers. Seventeenth-century Rome had a device called "the heavenly machine" which was used to create cloud scenes for angelic hosts. And designers for Romantic ballets in the 19th century invented misty Rhineland valleys and vaporous dreamscapes using scrims and painted backdrops to suggest insubstantiality and mystery.
Anouk van Dijk herself frequently uses atmospheric effects. The first work she presented as Artistic Director of Chunky Move, An Act of Now (2012), began with a man in a trench coat standing before a glass-walled house, smoke billowing around him as if he were standing on a fumarole.
On a much smaller scale, her most recent work, Lucid (2016), experimented with dancers, cigarette smoke and video cameras. For ANTI—GRAVITY, however, she's investigating a broader range of haze effects.
"On stage we're also going to work with a glaciator and with dry ice," says van Dijk. "The glaciator sits a little higher off the ground, but it's just cooled air so it doesn't leave any residue. It's very ephemeral. It's very different to the one that we used in the studio today, which is smoke."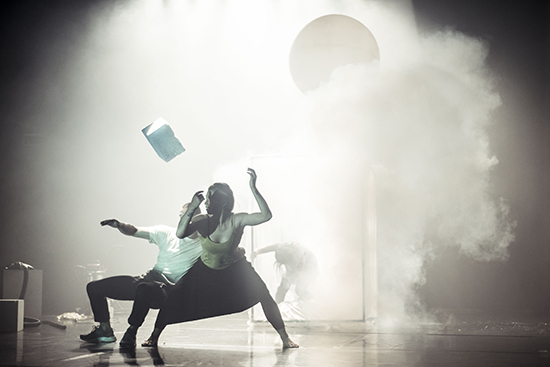 photo Pippa Samaya
Anti—Gravity rehearsal, Chunky Move
Other ways of seeing clouds
The Cloud of Unknowing was partly inspired by a semiotic history of clouds in Renaissance and Baroque painting, and the way in which clouds signalled an interruption of the closed, rectilinear space of 15th century perspectival painting.
"Clouds in the Western iconography—we kind of always associate it with transcendence or the presence of the divine, at least in the early Renaissance," says Ho.
For ANTI—GRAVITY, he plans to focus more on Asian and East Asian art traditions, where, he notes, the symbolic function of the cloud is often quite different. "The way Chinese landscape paintings depicted clouds was by not painting at all, letting the virgin whiteness of the paper shine through," he says. "That conflation of emptiness with the flux of clouds was something that always fascinated me in Chinese landscapes."
But how do you inscribe emptiness in a theatre? What's the performative analogue of nothingness? "That's something that we're hoping to find in this session," says Ho.
The six dancers in ANTI—GRAVITY include Chunky Move regulars Tara Jade Samaya and Niharika Senapati, as well as Luigi Vescio who had a role in both Depth of Field (2015) and Rule of Thirds (2016). There are also three new dancers joining the team: James Batchelor, Marlo Benjamin and Sarah Ronnie Bruce.
"I picked dancers who have very different movement qualities, but they all move very fluid and fast," explains van Dijk. "That was the common denominator."
Being a cloud
Ho Tzu Nyen's Cloud of Unknowing is named after a 14th century monastic text that encourages young students of the divine to acknowledge and accept as inevitable the feelings of doubt that cling like a shadow to the contemplation of God.
An immersion in unknowing is also crucial to Ho's creative practice, and he admits that he is still not sure how he should define his role in this current project.
"Before coming I was telling myself to try to be like a cloud, just be a little bit amorphous," he says. "I see myself as at once an observer, like a cloud viewed at a distance, and at other times like the cloud inside, being drawn into all aspects of the production, a vapour slipping in everywhere, whether it's the lighting design, the projections, the sound design or with the dancers. It's a bit like contagion."
Is this a new kind of creative function: the miasmatic artist?
"It is," says van Dijk enthusiastically. "I see Tzu as the cause of the project. Through him everybody gets infected. Maybe that's how we should describe you in the credits—our contagion?"
"Yes," Ho agrees, "that sounds much cooler than dramaturg."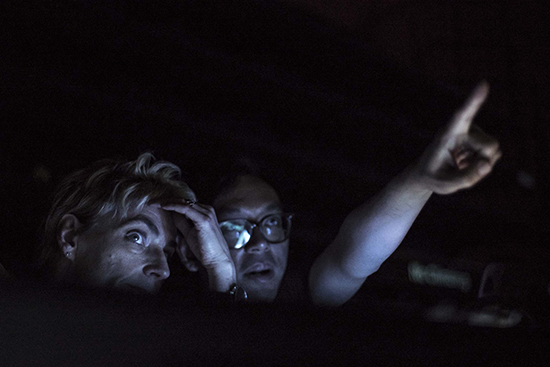 photo Pippa Samaya
Anouk van Dijk, Hu Tsu Nyen in rehearsal, Anti—Gravity, Chunky Move
Asia TOPA and Dance Massive: ANTI—GRAVITY, Chunky Move, Malthouse Theatre, Melbourne, 17-26 March
RealTime issue #137 Feb-March 2017
© Andrew Fuhrmann; for permission to reproduce apply to realtime@realtimearts.net