photo Prudence Upton, courtesy Sydney Festival
The Encounter, Complicite
Four potent, formally very different works in the 2017 Sydney Festival reveal great cultural relativities and assay the power, limits, excesses and abuses of language.
The Encounter
This critically acclaimed and hugely popular creation from UK company Complicite immerses its audience not just in the mind of Loren McIntyre, a National Geographic photographic journalist seeking the source of the Amazon in 1969, lost in the rainforest for two-months and deprived of his camera, but in the head of the show's maker, Complicite writer-director Simon McBurney, played with showman verve by Richard Katz. McIntyre lived with the Mayoruna tribe without any bearings, no compass, no watch, no shared language.
An intermediary layer between McBurney at work at his desk—against a huge backdrop that evokes an anechoic radio studio—and McIntyre in the jungle is the work's source material, Petru Popescu's Amazon Beaming, an account of the photographer's revelatory adventure, with the performer speaking McIntyre's words from the book in an American accent. We also hear Popescu on several occasions speaking about McIntyre. Recurrently heard is McBurney's young daughter, interrupting his night work, wanting food or a story but also asking questions that trigger ever-escalating anxieties in her father about parental and environmental responsibility.
This overlaying of texts, chronologies and places is realised sonically as an immersive hearing experience (we all wear headphones) but it's equally visual. We watch Katz at every step make the sounds we hear. He changes vocal pitch with a foot pedal, triggers a storm, makes mosquito and jungle path sound effects (rustling a box of tape from busted VHS cartridges with their own little story) and activates playback from small recorders which he moves around a centrestage binaural microphone—the sound circling our heads. As well as constantly manipulating sound equipment, which takes him back and forth from his desk to the binaural microphone, Katz acts out key moments from Popescu's narrative—McIntrye's invention of a running ritual that perhaps saves his life, a drug-affected dance, a destructive tantrum of helplessness.
Everything we see and hear is predicated on words, endless words, such that the physical and aural elements of The Encounter become illustrative. There's barely a pause, even for some of the most powerful sounds of rain or storm or Katz's evocative DIY effects. Rather than transporting me to McIntyre's experience of another world with a different temporality, hallucinogenic states and telepathic communication, The Encounter hurried me along with its busy Western theatrical time-telling, all narrative bases neatly covered, moral points heavily underlined, an effect for every detail and a subsequent flattening of affect. I was rarely disoriented, I was rarely transported, however much I was taken with the narrative or absorbed in the respective plights of the Moruyana, McIntyre and McBurney. For all of The Encounter's immersiveness, when, towards the end, McIntyre declares, "I am no longer modern," I can only appreciate its meaning at a distance.
I admired the personal nature of the work, the commitment (including onsite consultation with the Moruyana), the cleverness of the layered writing and its artfully integrated sound world, the virtuosity of Katz's performance with its relentless gear-changing, and the sentiments of the work, not buried in subtext but open for serious consideration of cultural relativity and conservation.
Today, linguists, anthropologists and the likes of McIntyre, are rarely granted access, if at all, to remote Amazonian communities. Like Ciro Guerra's recently screened, award-winning feature film Embrace of the Serpent (2015), about an ethnographer in 1909 and, in his footsteps, a botanist in 1940, The Encounter focuses on a relationship with a shaman, an incarnation of cultural, scientific and spiritual knowledge potentially lost to the predations of Western invasion. In both works, like their protagonists, we are outsiders, sharers of a 21st century rendition of "the white man's burden;" no longer to rule, but to learn from and to care for tribal peoples, often, for our own sake. A non-fiction work, Don't Sleep, There are Snakes (2008), by Daniel Everett, an American missionary to the Amazon who lost his faith (and his belief in Noam Chomsky's theory of language) when he came in contact with a remote tribe and struggled with the apparent atemporality of their language, took me closer to what The Encounter attempts to convey, at least conceptually.
This distance between us and ancient but contemporary cultures underlines the importance of a Sydney Festival which attempts to give voice to the peoples who are so often subjects in works like The Encounter, which is not to deny that work's significance or its concerns, but to try to understand how it positions us and to recognise that the immersiveness it offers is a long way from real knowledge, let alone prey to a distorting idealisation of shamanism and belief. It's at its best when McIntyre realises what he has misunderstood. So much of what The Encounter is about, a non-verbal world of limited or non-verbal communication, is densely conveyed through a torrent of words, as if McBurney could not entirely trust the technology he adopted, making the work's soundscape semi-immersive, more akin to a film score than fundamental to his conception.
photo Prudence Upton, courtesy Sydney Festival
The Season, Tasmania Performs
Nathan Maynard, The Season
Indigenous writer Nathan Maynard's first play, produced by Tasmania Performs, might be conventionally structured around a family gathering, but what a family, tense but not dysfunctional (a blessed antidote to the angst of Redfern Now), hilariously droll, sexy and alive with the changing realities of seasonal Aboriginal Tasmanian mutton-birding. It ends with goodwill, ritual and the enduring pleasure of having been generously invited into another world.
That world is a complex one for Aboriginal people living in Launceston but, once a year, residing on country, an island in the Bass Strait, where they maintain an ancient practice, the harvesting of their totem species, the mutton bird for meat, feathers and oil. The two states of being are also transitional; son Ritchie (played by Luke Carroll with a sinister edge) aims to supplant his father Ben (Kelton Pell's amiable, slightly fragile patriarch). Environmentally careless, Ritchie is threatened with expulsion by a Senior Park Ranger (Trevor Jamieson gives this loose-limbed, benign but firm character a delightfully explosive laugh). Other changes are evident, daughter Lou (an effectively droll Nazaree Dickerson) declares she's lesbian (Ben claims he's always known) whereas Ritchie's sexuality and the reasons for his various cruelties are not made explicit. There's also Ben's concern that the mutton bird flock has lost its pilot bird (a position akin to his own).
Otherwise there's continuing territorial competition, mostly a war of words with another family led by Ben's rival, the roguish, commercially-oriented Neil Watson (Jamieson in a very funny wheedling characterisation). Watson is close to Ritchie, making for increased tension. And there's his secret affair with Marlene (Lisa Maza), sister to Ben's wife, Stella (Tammy Anderson). Maza effectively reveals the emergent shame and hurt Marlene feels about this "once a year sex" on country.
All the members of Ben and Stella's family are equitably treated by Maynard without overloading his plotting. Lou's young son Clay (James Slee, another finely realised performance) waits in hope for the arrival of his white dissolute, criminal father, the pain eased by an act of violence but, better, by finding a girlfriend on the island. His story becomes a kind of non-ceremonial initiation, learning how to capture and pluck the birds and to always release the powerfully symbolic white bird. Women's craft also has its place: the making of shell necklaces. When Stella—played warmly by Anderson as a loving, understanding matriarch and happy partner to Ben (the play's sexual banter is consistently funny)—and sister Marlene reconcile, letting past tensions dissipate, Stella passes on an inherited necklace to the younger woman. The sense of conciliation in The Season is powerful; at its centre Ben will give way to Ritchie, whose new status might just change his character, but it's the sense of the whole family coming together, celebrated in dance, that is stronger.
I thought The Season a highlight of the 2017 Sydney Festival with its finely integrated weave of character, place and culture and its insights into quite unfamiliar lives, glimpsed in photographer Ricky Maynard's superb black and white portraits of mutton-birders, Moonbird People (1985-88). Nathan Maynard's writing is rich in well-observed detail, humour and moments of passion and poignancy. Director Isaac Drandic has produced a seamless ensemble performance from a talented cast. Richard Roberts' set design—a coastal rise on which the family gathers, the mutton birds nest and behind which characters gather or pass by below an overarching sky—conveys a sense of space at once domestic and sacred.
Nathan Maynard has created for us outsiders a world of essentially gregarious characters, who might have secrets or the inability to fully express themselves, but for whom talk is vital, familial and communal and connected with country. See The Season soon in Hobart's 10 Days on the Island.
photo Prudence Upton, courtesy Sydney Festival
SHIT, Patricia Cornelius
Patricia Cornelius, SHIT
For all its grittiness, SHIT is a crystalline study of language, its realism stripped of all but the most essential details, engendering a netherworld inhabited by a trio of young women, both abusing and abused, reaching the limits of expression and the will to survive.
The trio—Billy (Nicci Wilks), Bobby (Sarah Ward) and Sam (Peta Brady)—perch languidly in the recessed windows of what looks like a concrete bunker or the inside of a prison or some Brutalist building. Their choreographed movement in front of it—clustering like fascinated observers or lined up like prisoners—breaks when they play or turn on each other or race to the other side of the building, engaging out of sight in called conversation or a fracas.
SHIT commences with a virtuosic litany of "fucks" from Billy who is challenged by her friends to cut back because she's "stuffing too many of them in." Their language might be limited, but these girls know something about the power of words to hurt, to control, to dismiss, to amuse, to relieve pain or despair and to express anger when no other words or silence will do. And they sound good. The trio are observant about language, and life: stoics, cynics and fatalists, they know "life is shit." Shit is excretion, waste. "We're beyond saving." But they have each other, or do they?
Conversations that reveal sorry fragments of their earlier lives at times turn nasty or reveal deep hurts. A carer calls Sam "forsaken." It hits harder than any expletive. In Cliff Cardinal's Huff, also in the Sydney Festival, it's the word "irrelevant," uttered by a teacher, that undoes a Canadian First Nations boy. When Bobby rages against women in short skirts and high heels, the other two turn on her. "You talk like you're a bloke." They bully her into lowering her pants, forcing her to admit she's a "cunt," like them. When Sam fantasises a better life, Billy sets her straight; their lives are fucked. When Sam accuses Billy of attempting to steal her boyfriend, calling her a "slut," the word is too much for Billy who brutally punches Sam in the stomach. The abuser then hugs the victim and each declares their love for the other. What could doubtless turn into a cycle of violence is interrupted when Billy commits a greater violence outside their circle and nothing can save her, her joyful litany of "fucks" or her compensatory pride in being "shit."
Patricia Cornelius, director Susie Dee and actors have finely crafted this painful descent, beyond words into an abyss, from the sheer fun of swearing to its expression of stoicism, to its cruelly dealt verbal blows and physical assault when no word of abuse will do. There are moments that recall the incisiveness of Beckett. When it is revealed that Sam had a baby when younger, Bobby asks, "Did you love it?" SHIT gets as elemental as that while facing head-on a very real social problem.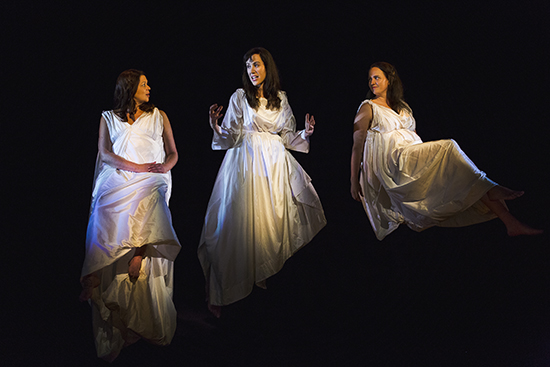 photo Document Photography, courtesy Campbelltown Arts Centre
Ich Nibber Dibber, post
post, Ich Nibber Dibber
"Life is 90-99% shit," says Zoe Coombs Marr, resolutely. There's an all too apparent kinship between Patricia Cornelius' SHIT and post's Ich Nibber Dibber. Both works focus on three young women reflecting on their lives, their frank exchanges revealing the camaraderie and tensions that make and test friendships. The obvious difference is that post (Mish Grigor, Zoe Coombs Marr, Natalie Rose) are reproducing verbatim conversations made after performances across a 10-year-period, opening up their lives to us. The text cannot be finely crafted, but the performers' easy familiarity with each other carries with it cadences, hesitations, interruptions and overlaps that yield a satisfying rhythm and underpin the trio's shared sense of the absurd.
The other kinship between SHIT and Ich Nibber Dibber is that the young women in each live un- or ill-informed lives. In the first this is tragic, in the second it's fuel for fun as post keenly rattle off un- and half-truths gleaned from magazines, television shows and movies, agreeing with or mocking the teller. Were post, for all those years, just being silly—their sense of the absurd is finely calibrated—or have they decided to target the knowledge deficit induced by a dumbed-down mass culture, revealing at the same time their own misadventures, inadequacies and anxieties? Of course they have, they're post and they like big subjects—dead male playwrights, the global financial crisis; but here the medium is their own lives. Whatever their intention, Ich Nibber Dibber is pointed fun because it unleashes the kind of everyday talk about the female body rarely heard in the theatre, the performance's opening image making the point with a grandiose bluntness and music to match.
From out of the dark appear three idealised figures swathed in white silk, suspended in space: Baroque angels minus the wings, until they open their mouths. SHIT commenced with a "fuck" litany, here it's "poo" and vomit. The challenges of height, weight, an eating disorder and pregnancy vividly unfold across the show, rapidly de-idealising the body. Keenly relayed media stories about Siamese twins push body anxieties to the extreme alongside various takes on Richard Gere and a recollection of passing out at a Blue Light disco and being helped by 'a guy who was a real gentleman because he laid down his jumper so we could have sex' (or words to that effect). It's a scary mix. Fears about being 30 and "over the hill" trigger characteristic post riffing, including "go on to a different hill." Like Seinfield, Ich Nibber Dibber is about nothing (the apparently inconsequential everyday) and everything (life, death and the whole damned thing).
We're not guided chronologically; the year of each conversation is not signalled. The mention of an event ("Atkins died of the Atkins Diet") might give us a clue as to where we are. Sometimes one of the trio says, "Should we stop?" or "Is the tape still running?" suggesting an imminent transition. Overall there's a kind of seamlessness in which certain subjects recur like motifs and the timelessness of an enormously creative friendship is underlined.
Towards the end, after sorting randomly through relationships and celebrating a successful birth, death makes an appearance. A proposed murder-suicide pact, the kind of thing friends might consider in jest, is wittily undone (who's going to be the murderer?) and the passing of the great writer John Berger is acknowledged, "The first celebrity death of 2017." Two of the trio don't know him; is he Baby John Burgess, the game show host? Ich Nibber Dibber is great fun, raw, sharply observant and culturally incisive, in that singular post way.
–
Sydney Festival: Complicite, The Encounter, Drama Theatre, Sydney Opera House, 18-28 Jan; Tasmania Performs, The Season, Drama Theatre, Sydney Opera House, 10-15 Jan; SHIT, Seymour Centre, 17-21 Jan; post, Ich Nibber Dibber, Campbelltown Arts Centre, 20-28 Jan
RealTime issue #137 Feb-March 2017
© Keith Gallasch; for permission to reproduce apply to realtime@realtimearts.net