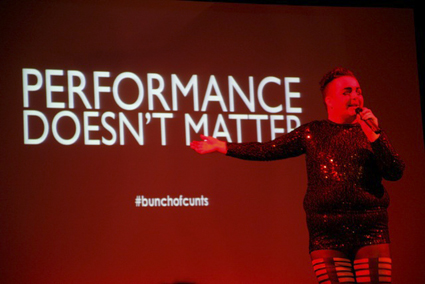 photo Christa Holka
Scottee in Eat Your Heart Out's Performance Doesn't Matter
TRASHING PERFORMANCE WAS A WEEK LONG PROGRAM OF SEMINARS, PERFORMANCES AND SCREENINGS IN LONDON. IT MARKED THE SECOND YEAR OF PERFORMANCE MATTERS, A THREE-YEAR RESEARCH COLLABORATION BETWEEN ROEHAMPTON UNIVERSITY, GOLDSMITHS UNIVERSITY AND THE LIVE ART DEVELOPMENT AGENCY. THE PROGRAM QUESTIONED STYLES OF THEATRICAL AND SOCIAL PERFORMANCE AND MODES OF ADDRESS. IN THIS REVIEW, WE'VE TRIED TO REFLECT THE DIVERGENT, AND SOMETIMES CONTRADICTORY, STYLES AND ATTITUDES OF TRASHING PERFORMANCE.
performance doesn't matter
Ladies and Gentlemen, boys and girls, roll up, roll up for the night of your lives! Join us for an extravaganza, join us for a spectacle, join us for a bit of fun. Because "Performance Doesn't Matter," or so the organisers of a cabaret night at Toynbee Hall would have you believe. Your sensational host Scottee, dressed in sequins and high heels, will introduce you to "light art"—part live art, part light entertainment— between costume changes and tweets. Make sure you have a drink in your hand, and try to avoid the glare of the makeup lamps at the front of the stage, where tonight's acts are getting ready.
"Performance Doesn't Matter" blows a raspberry at establishment figures— universities, festival curators and even you, dear and earnest audience. A troupe of dancing girls (Figs in Wigs) spends more time bowing than dancing, and ends their routine by declaring "Chekhov is not our Dad!" A figure called "Baghdad's Got Talent" dances, strips and performs magic tricks under a burkha. It's a double taboo—she questions your attitude to religious veils, while rendering her own performance invisible.
For all its flippancy, don't forget that "light art" can be political. Nando Messias lip syncs to the sound of a woman describing a homophobic attack. His thin frame bends and twists in perfect time with the unnamed voice, transforming genders, ages and identities and displaying the fragility of the human body under the weight of meanings it has to carry. Later, Johnny Woo performs as man and woman, in his own voice and miming to the voices of others. His mesmerising performance slips between identities like a singer sliding between notes.
This is more than just entertainment—these artists have an air of desperation, as if performing for survival. Performance does matter after all. Well, nobody said anything about being consistent.
spotted!
All the superstars of the Performance Studies academic world, together in one place! All week, they were to be seen hanging out at seminars on subjects like "Emotion and Performance," "Mainstream and Underground" and "Outsider Actions"—and that was just the daytime program. We spy those young dreamboats Adrian Heathfield and Dominic Johnson smiling at their fans. Golden-voiced crooners Gavin Butt and Tavia Nyong'o on the mike. Even the famously shy Lois Keidan of the Live Art Development Agency took a turn in the spotlight. And what an audience: a sea of tattooed iconoclasts and bespectacled hipsters in which the occasional dorky young writer (like yours truly) felt a little out of place!
this is not a dream
What is this for, this technology that sends images into our dreams? The demand for consumption is pumped around the world by the bloodflow of our culture: the mediated image. But what possibilities might it contain for other purposes? For circulations and counter-
circulations of desire and subversion?
This is the subject of This is Not a Dream, a documentary-in-progress by academic Gavin Butt and curator and critic Ben Walters. It ranges from the early days of video art and public access television, when Glenn O'Brien's TV Party imagined itself as explicit resistance to the mainstream, to Cole Escola's queer sketch comedy, whose viral success on YouTube led to a commission from the MTV-owned Logo channel.
Along the way, a more complicated set of interconnections between opposition and seduction is exposed through interviews and selected footage: Nao Bustamante creates a character to guest on The Joan Rivers Show, where she tells middle America she "met a multigendered ambisexual at an aquarium." Scottee, for whom "YouTube was my university," appears on X-Factor having a cake fight with Rhianna. Kalup Linzy creates low budget videos in the style of his favourite daytime soaps. Embraced by the artworld as "outsider art," a final twist leads to a guest role in General Hospital. In one of the episodes, future Hollywood superstar James Franco has the line: "You know the problem with most performance art? It doesn't go far enough."
These entanglements take material form in a series of exquisite live interventions by Dickie Beau, moving and lip-syncing with such careful precision that his painted face feels more cinematic than real. Beyond the critique of mediated image as source of alienation, this is a world filled with longing, a world of quivering desires and unreleased energies.
disputed!
US firebrand Lauren Berlant stirred things up when she took the stage. I think you've got it wrong, she said to the organisers, it's not as simple as opposing emotional responses and critical analysis. Most of the time, we don't even know what we feel! Crisis doesn't always feel like crisis, she went on. Sometimes it just feels like boredom. Or depression. Or, like, whatever. Incoherence is a symptom of history, says the canny psychotheorist. Your humble writer couldn't agree more.
the open university
What do you stand for?
Where do you stand?
What do you stand in?
Marcia Farquhar invites you to stand in a skip and listen to other skip dwellers deliver lectures, manifestos and/or their opinions. This is "Open University" and it is, literally, trashing performance.
Do—feel yourself welcomed by Marcia's friendly chatter.
Do—agree with Dr. Raimi Gbadamosi "in favour of inefficiency."
Do—nod sagely with Justin Hunt in praise of Courtney Love.
Do—follow Flora Pitrello's elegant ode to surfaces.
Do—stamp your feet with Kitty Finer against Facebook.
Do—aspire to Ansuman Biswas's spiritual take on trashing everything.
Do—enjoy the inauspicious surroundings, improved by Marcia's charisma and her friends.
Do Not—ask if the skip really stands for "trash," or if it is just a(nother) stage.
Do Not—worry whether the backyard context disrupts the mode of performance, or makes the event more exclusive.
Do Not—ask if the people whose voices get heard are always invited, or if they can ever insert themselves, unanticipated, into the dialogue.
Just as you begin to wonder how "Open" this university is, Marcia will ask the audience to join in and a student called Adam Young will step into the skip. He will tell you about his experience at the Occupy London protest camp, recently set up in central London. He will urge you to visit. Someone will suggest we take the skip along.
fired up!
"Recovery will never come!" exclaimed wiry old-school Italian Marxist Franco "Bifo" Berardi, giving a wake-up call early Saturday morning. We need to re-activate the social body, he declared, his finger pointing insistently in the air. It's not a movement of the will, but a movement of material bodies. Only then will the next step be possible: dismantling the financial machine. Nice one, Bifo! Bring it on!
FeMUSEum
Tammy Whynot, the feather-boa-wearing femme persona of Lois Weaver, says it's difficult to share a stage with a drag queen, because of the force of a man's physical presence. Making her point, Tammy stands in front of the stage at Toynbee Hall, with a tray of homemade cupcakes by her side.
Lois Weaver, Carmelita Tropicana, Amy Lamé and Bird la Bird are here to celebrate women they admire. Carmelita Tropicana references a 17th century nun, a British Bulldog and Marlene Dietrich. Bird la Bird creates a series of vignettes inspired by Angela Carter's feminist fairytales and the punk singer Polly Styrene. Amy Lamé asks audience members to write the name of their favourite femme on a doily. And Lois/Tammy recounts her own life (and femme-journey) in landmark years—throwing a cupcake into the audience to mark each birthday.
If drag queens usurp the performance of gender, femmes over-perform femininity. They harness a gentler kind of power: doubt. Where does the woman end and the femme begin? What is performance and what is not? And of performance, what is performed for the self and what is performed for the other?
confessed!
It all got a bit emotional when University of California scholar Jennifer Doyle interviewed Adrian Howells, the UK artist best known for his works that produce "accelerated intimacy" (in Doyle's words). Sprawled on a cosy sofa at the front of the stage, Doyle held nothing back, remembering old lovers and stalkers and her own most embarrassing moments. Meanwhile, Howells talked via Skype from beneath the covers of his own bed, speaking with painful honesty and clarity about the way depression is interwoven within his artistic process. I think we all know how he feels.
this is performance art
photo Christa Holka
New Art Club in Mel Brimfield's This Is Performance Art Part Two, Experimental Theatre and Cabaret
Culture will eat itself. It's a fact! So don't miss out—get in on the feeding frenzy today! Not sure how to do it? Follow these easy lessons from Mel Brimfield:
CUT-AND-PASTE from assorted organising schemes: art history canons, TV best-of shows, tabloid headlines. MIX performance lecture, documentary film and live brass band accompaniment. SPRINKLE with pompous accents, outlandish costumes, parodies of British upper class eccentricity. FOLD NEATLY so that the lines don't show, and Richard Serra becomes a shirtless beefcake in a welding mask. Joseph Beuys becomes a loveable rabbit-ventriloquist. Rosalind Krauss becomes a celebrity gossip columnist.
Now confidently STUFF the highbrow up its own backside. REPEAT AND RECYCLE until you can't tell the original from the derivative: Morecambe and Wise as Gilbert and George. Yoko Ono as burlesque sex kitten. Nude tableaux vivant as living sculpture. Action painting as heavy-metal machismo. In a pinch, REGURGITATE your previous work. SERVE with a dash of slapstick juggling and SCATTER with nymph-like dancers.
THIS IS PERFORMANCE ART. This is culture. Just remember: eat it before it eats you.
Trashing Performance 2011: Toynbee Studios, Tate Modern, Bethnal Green Working Men's Club, Oct 25-23, 2011 www.thisisperformancematters.co.uk/trashing-performance
RealTime issue #107 Feb-March 2012 pg. 16
© Mary Paterson & Theron Schmidt; for permission to reproduce apply to realtime@realtimearts.net