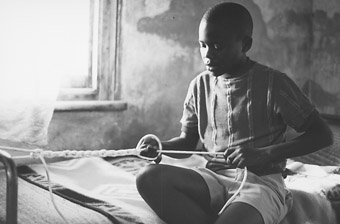 Anele Vellom, Inja
As I watched the 4 nominations for Best Short Film it occurred to me that there was something similar about them that I couldn't immediately pinpoint. After watching for a second time the source of this commonality became apparent—it was me, or rather my response to each of the films. Against all my expectations as a jaded viewer of too many 'clever, clever' shorts, I was rather bewilderingly affected by these films. (Not that they aren't clever.) Those immediate qualities such as a deftness of direction and narrative assuredness that we're used to in lauded shorts are here matched by gentle, nuanced performances and most significantly a desire to explore what it is that moves people. Each of these films concerns itself with the minutiae of human interaction; the volumes that small moments speak about the emotional lives of characters and, at the same time, the broader social, cultural and political factors that frame them.
In Jane Manning's Delivery Day Trang, a young Vietnamese girl, gets dressed for school on parent-teacher interview day, only to be told by her mother that she must stay at home to help in the family outworker factory as it is delivery day. She tries to negotiate with her mother to make the interview, but the day slips away. A variety of small incidents and exchanges punctuate the day and the rhythms of family and community life are beautifully and believably rendered through the eyes of a wise and preternaturally responsible child. Deborah Lee's performance as Trang is particularly noteworthy. While Trang's urging of the younger adults not to waste time is played to amuse, it also reveals an understanding and hence anxiety about the consequences of not making the deadline. Similarly, her fear that a Foxtel salesman is an inspector points to the everyday pressures on the family.
What is particularly striking about this film is the way in which it depicts the Vietnamese-Australian family entirely in their own element and not self-consciously in relation to Australia—the only Anglo-Australian character is the teacher who, while extremely significant to Trang, remains nevertheless marginal. Screenwriter Khoa Do focuses instead on the extended family, the conversations they have as they work about the hazy past and their aspirations for the future. They speak in the half-English so familiar to migrants yet so rarely captured. Care is also taken to visually detail the actual work that is done by the outworkers—those mysterious stamped numbers found on clothing tags are thus transformed into a story about how people survive.
Saturn's Return (Wenona Byrne) begins in a fairly pedestrian way—2 young men, Dimi and Dan, videotape themselves embarking on a road trip from Melbourne to Sydney. They stop en route at Bonegilla, the migrant camp where Dimi's parents first met. They are on their way to see Dan's father. Layers are slowly added to this apparently unremarkable premise and their cumulative effect has a strong emotional impact.
The 2 men, who are lovers, try to negotiate their very different relationships with their parents and their parents' histories. While Dimi's parents are Greek migrants and Dan's are drug casualties from the 60s, they each face similar issues of identity, ties to family and to the past, which they deal with in their own ways. This is conveyed with humour and restraint, and the performances are again accomplished, particularly Joel Edgerton as Dan. He skillfully and believably conveys the pain and weight of responsibility on a son yet again having to play a parental role. I wasn't surprised to discover that the film was based on a short story by Christos Tsiolkas (who also wrote the screenplay), a writer who always manages to dig out the truth and heart of the seemingly obvious.
In The Big House, writer-director Rachel Ward explores the emotional side of prison life. Tony Martin plays a long-term crim who has gotten used to and understands the system. He waits near the entrance of the prison for new young inmates he can take under his wing to both initiate into and protect from the harsh realities of prison life. A combination of Martin's performance and clever dialogue make this a blackly comic scenario. There are echoes here of Martin's Neddy Smith in Blue Murder and this memorable performance rivals the earlier one. It is also quite a fascinating exploration of social performance and masculinity at its most isolated, pressured and extreme.
While gritty and detailed enough to seem believable, the film is also at times quite formal, even stylised in a broad sense. It takes a confident hand to make all this work and Ward displays real skill in creating a pared down, yet not overly contrived, structure. She gives an emotional insight into this uninspiring world without being condescending or heavy handed, and the final result is funny, humane and depressing, all at the same time.
The most outstanding of this impressive group of films is Steven Pavlovsky's Inja. Set in South Africa ('Inja' is the Xhosa word for dog), this parable-like film tells the story of a dog brutally trained by its white owner to hate the Xhosa boy who has lovingly reared it, an act which years later backfires on the owner. The film uses the sort of twist typical in short films to great moral effect. What could be something akin to Alfred Hitchcock's Tales of the Unexpected (that is, clever and forgettable) is given a sense of immediate relevance by being solidly placed against the political backdrop of a changing South Africa—the film marks the shift with the small boy raising the old South African flag at the beginning, and the new flag as an adolescent.
The careful and precise pace along with the beautiful cinematography serves the story well. The time taken to establish the subtleties of the relationships within the film—between the boy, the dog, the farmer, his wife, the women who work on the farm and, importantly, the landscape—provides the film with its substance. While parables tend toward the unambiguous, Pavlovsky explores the complexities inherent in relationships where proximity and otherness are interwoven and competing at every turn. It is a rare feat to capture so much within 17 minutes.
It is also interesting that a student film (Australian Film Television & Radio School) should be set entirely in South Africa. Like Delivery Day and Saturn's Return, both part of SBS Television's 13 part Hybrid Life series, Inja reflects the extremely varied preoccupations of filmmakers in Australia today. In engaging with such a range of experiences, concerns and histories, all the short films nominated represent the breadth of cultural and social diversity that is so often experienced on an everyday level, yet so infrequently treated in such thoughtful ways on Australian screens. After viewing these films I have the feeling that the Australian film landscape might finally be growing towards a much anticipated maturity, even if it has taken a sapling to show it the way.
Needeya Islam has just been appointed Coordinator, Young Filmmakers' Fund, FTO
RealTime issue #45 Oct-Nov 2001 pg. 17
© Needeya Islam; for permission to reproduce apply to realtime@realtimearts.net