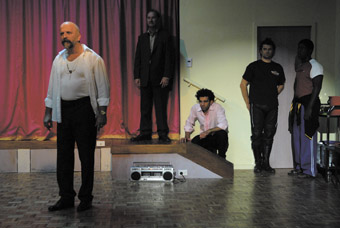 photo Heidrun Löhr
Company B, Antigone: left – right Boris Radmilovich, Paul Blackwell, Hazem Shammas, James Saunders, Pacharo Mzembe
I GREW UP IN HOBART, TASMANIA, THE ONLY CHILD OF A MIXED-RACE FAMILY OF ANGLO-CELTIC AND CHINESE PARENTS. IN THAT CITY, AT THAT TIME, WE WERE RARE SPECIMENS AND WE CLUNG DEARLY TO OUR INDIVIDUALITY, SO UNIQUE WAS OUR RACIAL ABERRATION. AS A TEENAGER, I SPENT A LOT OF TIME PLAYING A GAME I CALLED "SPOT THE NON-CAUCASIAN." WHAT A REVELATION IT WAS FOR ME THEN, WHEN I MOVED TO THE MAINLAND IN PURSUIT OF A THEATRE EDUCATION, TO FIND THE STREETS OF MELBOURNE DENSELY POPULATED WITH EVERY SHADE OF SKIN COLOUR IMAGINABLE, INCLUDING A SIGNIFICANT, BUT CERTAINLY NOT EXCESSIVELY DOMINANT PEPPERING OF WHITE.
It was the first time I didn't stick out like a sore thumb, but rather, blended happily into the raucous, bustling mix. It seemed that the future of racial tolerance and multicultural visibility was beginning to become a very present reality. However over the years this has not been my experience as an actor. My illusions were shattered fairly swiftly after graduating from the VCA. Outside of the safe and cloistered walls of drama school, where cross-racial casting is only practical, our approach to cultural diversity in the theatre is in a tragic state.
In her 2007 Platform Papers essay, Cross-Racial Casting: Changing the Face of Australian Theatre, Sydney director Lee Lewis argues that Australia's mainstages are filled with casts where the non-white performer is embarrassingly under-represented. She points strongly to the fact of 'incidental discrimination' within casting, artistic directorship and management, and scrutinises these ideas thoughtfully and with more than a smattering of passionate fire and brimstone. Lewis has raised arguments that have not necessarily been popular, nor necessarily representative of opinions of any number of theatre practitioners and administrators. However they are arguments that needed to be given voice, perhaps for the very fact of their unpopularity.
Lewis returned from New York in 2001 where she'd worked in theatre for 10 years. "Cross-racial casting was virtually, it seemed, a moral and political imperative in New York and, in the light of the profile that successive prime ministers were happy to trumpet of Australia as 'a multicultural nation in Asia', I could not help but wonder why that national identity was not reflected by [mainstage Australian theatre companies]." Lewis argues that Australia's mainstages desperately lack the cultural diversity that is undeniably evident in the country's largest capital cities. For too long, programming and casting choices have disavowed those whose appearance is not, largely speaking, white. It seals off a vast proportion of the population, and these choices, Lewis asserts, in turn have the flow-on effect of influencing our "national future imaginary", or the way in which we see ourselves as a country across successive generations.
Much of the resistance to Lewis' argument can, of course, be traced to the bottom-line, and she plainly acknowledges that cross-racial casting is not without risk. In trying to run large cultural organisations, a multitude of factors must be taken into account in order not to make a great, whopping loss at the end of the financial year. To sit on the fiscally responsible side of the line, considerations must be made safely within the sights of time management and ticket sales. While this manner of thinking is not unfamiliar in the economically rationalist world, it is undeniably anti-art. We no longer have an imperative that focuses on presenting challenging and thought-provoking work but rather, organisations bent solely on survival rather than evolution.
It goes without saying that as an artistic director, a great depth of experience, intelligence and passion goes into casting and programming, and not for a second is Lewis suggesting otherwise. However, what she pursues in her argument is the big "What if?" What if artistic directors of our national mainstages (with all the passion, rigour and intelligence that they apply to other vocational activities) maintained an essential imperative, a fundamental responsibility to engage in aggressive cross-racial casting? What if they did this to not only represent their moral and political ideals, but also as a visionary gesture towards the great ideal of art? What if artistic practice within Australia's mainstage theatre companies demonstrated a progressive cultural leadership, and that exciting, thought-provoking, cross-racial casting choices were indisputable evidence of this fact? This is the mainstage theatre that Lee Lewis imagines, and one that we, as artists, audiences and members of a multi-racial nation now need to be completely dedicated to making manifest.
During a forum that accompanied the Melbourne launch of her essay, Lewis pointed out that there had been significant conversations about diversity in casting in the 1980s and 90s which ceased shortly thereafter. These were conversations, she said, "that should have made this paper redundant." This issue has been aired, debated and, often before now, dropped. Affirmative action, quotas, reverse discrimination: all these ideas have somehow come through the wringer sullied, and sounding slightly ridiculous. Progress has been minimal, and often non-existent. There are huge numbers of theatre artists for whom this matter has profound significance and for whom the discussion incited by the paper is a massive revelation. Is it not the responsibility of us all—the fresh-blooded and the veteran—to keep the debate alive and out loud, to ensure that the conversation about cross-racial casting and its practical application does not go away in the same way it did over a decade ago?
Prime Minister Kevin Rudd's recent apology to the Indigenous Australians of the Stolen Generations was a significant step in redressing a major wrong, a skeleton repeatedly shoved to the back of Australia's political and social closet. The United States is possibly on the verge of electing its first ever African-American President, almost 150 years since that country's abolition of slavery. Change is in the air, but it isn't coming fast enough. Here, the children of Cambodian, Serbian and Sudanese immigrants still almost never see Australians like themselves represented in the theatre, and furthermore, their hopes to be fruitfully employed in the future on their country's mainstages remain sadly, very slim.
For other responses to Lee Lewis' paper, including those from Nicholas Pickard, Julian Meyrick and Neil Armfield, who defends the record of his Company B in cross-racial casting, see the Readers' Forum in Platform Papers No 15, A Sustainable Arts Sector, Jan 2008.
Lee Lewis, Cross-Racial Casting: Changing the Face of Australian Theatre, Platform Papers No 13, Currency House, July 2007
RealTime issue #85 June-July 2008 pg. 38
© Ming-zhu Hii; for permission to reproduce apply to realtime@realtimearts.net