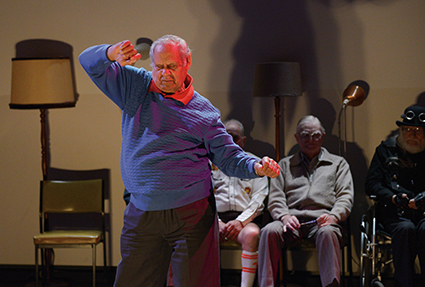 photo Liz Crothers
Uncle Murray Harrison
WITH THE SLASHING OF SENIOR CITIZEN ENTITLEMENTS AS PART OF THE BUDGET RELEASED EARLIER THIS YEAR AND SEVERE CHANGES TO ACCESSING UNEMPLOYMENT BENEFITS FOR YOUNG PEOPLE, REBEL ELDERS, A COMMUNITY-BASED ART PROJECT FOCUSING ON THE PAIRING OF ELDERLY PERFORMERS WITH YOUNG MUSICIANS COULD HAVE BEEN A DARK AND SOMBRE AFFAIR.
Instead, musician and community facilitator Rose Turtle Ertler conceived a work where the audience experienced a mischievous interruption to the looming social welfare cuts. Inspired by the Australian Human Rights Commission's "Facts or Fiction: Stereotypes of Older Australians" (2013), Ertler gives us a refreshing and heart-warming celebration of diverse intergenerational storytelling through interview recordings, music and performance.
It's fitting too, that this project takes place in Ballarat, known for its historical uprisings. In the theatre space of the Museum of Australian Democracy at Eureka, Rebel Elders takes a more personal road when addressing civil disobedience. Seated on a line of hard backed chairs, the elderly performers face the audience and listen intently to the introductory sound fragments of their newly remembered stories, then one by one move forward to elaborate physically. It's a silent interaction—with each other, alone and occasionally engaging with props, adding dimension to the recordings we hear.
Ertler's process is an inclusive one; eight Ballarat elders were interviewed about rebellion in their lives. These stories became the departure points for young local musicians to produce radically different works to accompany them. We hear hip hop, ballad and guitar rock soundtracks alongside micro stories of rodeo and radio, a soldier going AWOL, secrets being divulged, Violet Crumble thievery, youthful runaways and a boxer not wanting to be boxed. Always with gems of elderly wisdom attached: "There's always an upstager wherever you go, there's always a knocker." The emotional significance of these connections between old and new holds weight. Rebel Elders lends us an empathetic ear, stitching up the tear in our society and reaffirming the similarities between generations.
The random pieces of the sound design mimic the way we retrieve events in our lives and how these change subtly with time and location. They're also episodic, encoding both mind and body: the bold act of a 14-year-old girl to wear fashion not fit for the 50s and the dramatic parental response — to "cut the skirt up, break the heels of my shoes"—is the catalyst for a runaway. The surprising twist to this guitar riffing tale was that in the simple act of not giving her name to police the narrator was placed in a convent for bad girls for over five years. These stories speak to us about the double-sided nature of defiance, dislodging the usual stereotypes of the elderly while also highlighting the need to find a place in the world.
The music was as varied as the stories. An elderly man decked out in an old military jacket and flying goggles with which to navigate the stage, spins circles in his wheelchair and plays air guitar with unflinching bravado. His tale slows to describe siphoning petrol while the beatbox soundtrack uses mouth and guttural utterance to amplify our sense of the experience.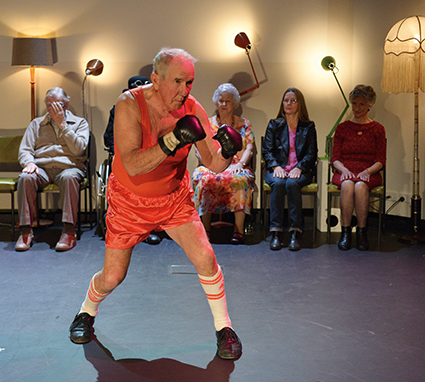 photo Liz Crothers
CJ Ellis
With direction and choreography by Michelle Heaven, there is an impressive renovation of memory. Contrasting and complementing the recorded dialogue between the ages, Heaven picks up these rebel yarns and knits us a curious fabric of embodiment: a meshwork of repetitive gestures, thumping hearts and chance happenings. She relocates our perception with a simple use of movement evocative of the honesty in the words we hear. The choreography generates a place where the storytellers re-enact their very own characters, as if co-starring with their younger selves.
There's a constant shift between literal representation and movement cycles that are more ephemeral in nature. Lighting by Bluebottle delivered simplicity, with occasional moments of visual trickery—larger than life shadows thrown on the backstage wall, the flickering of mismatched lamps highlighting the range of characters emerging. The performers do well to create cohesion in their storytelling, the errors in their movement real and endearing, serving to express how the elderly are misrepresented in mainstream media. Then we drift into a ballroom sequence evoking love and it's heart-wrenchingly beautiful.
Rebel Elders reveals the importance of voice, where mining the mind is a personal act of rebellion within itself, a quiet protest. When it's filtered through a combined 635 years of life there is resonance in the air, signifying that small choices can create huge change. The performance itself was the most interesting act of rebellion and the incredible people within it defied all labelling. They were real.
Rebel Elders, concept, sound design Rose Turtle Ertler, director, choreographer Michelle Heaven, lighting Bluebottle, Elders: CJ Ellis, Helen Gower, Uncle Murray Harrison, Victor Linane, Sue Morse, Kath Morton, Tom Rush, Trevor Williams; Young Musicians: Beatboxbo, Joint Beatz, Jake Dunmill, Rhiannon Howard, Reece Kelly, Jessica Moller, Kate Moran, Tabitha Rickard, Tobi Sam-Morris, Jennifer Rose Smith; City of Ballarat and Victorian Seniors Festival; M.A.D.E. (Museum of Australian Democracy at Eureka), Ballarat, 31 Oct, 1 Nov
RealTime issue #124 Dec-Jan 2014 pg. 44
© Klare Larson; for permission to reproduce apply to realtime@realtimearts.net