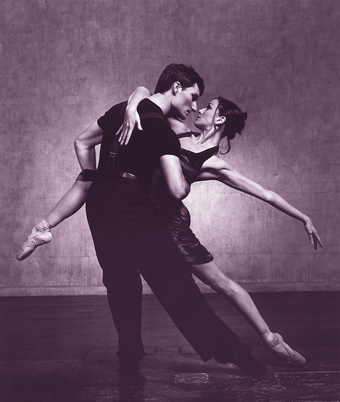 photo Jeff Busby
Vicki Attard and David McAllister, El Tango in Collaborations
Away from the pressure of subscription season tyranny, the Australian Ballet presented Collaborations, a program of new Australian choreographic works. Under this title 4 experienced choreographers teamed up with designers, musicians and composers to create the "new ideas, new blood, new music and new creativity" that Ross Stretton proudly proclaims as part of his unique vision for the company's future. Collaboration by definition is the working together of various individuals to realise or sustain a shared vision. This is notoriously difficult to do, involving far more than effective communication and a desire to work with another artist.
Working in conjunction with set and costume designer Hugh Colman and lighting designer Rachel Burke, Natalie Weir in Dark Lullaby investigated the potential of a surreal and vaguely ominous environment. In this Caligarian world comprising two massive structures, an industrial fan-like apparatus and a bookshelf, a mysterious drama of sorts was played out. Although the plot was elliptical, one could not fail to notice Weir's use of familiar archetypes: Hero, Seductress, Villain and Virgin danced by Geon van der Wyst, Nicole Rhodes, Robert Curran and Lisa Bolte respectively. The simplicity and clean lines of the design suggested a black and white frame of reference that sustained the valid use of such archetypes. Throughout, collaborative vitality was evident in the close association of choreographic and design ideas, producing a sophisticated work that ought to be included in the Australian Ballet's repertoire.
Shorter though no less striking was Stephen Baynes' El Tango, a light-hearted duet to the seductive tones of the tango. Astor Piazolla's treatment of this musical form elicited from Baynes' comic nuances in timing and composition and was danced by Vicki Attard and David McAllister. The choice of these two dancers was insightful. Their ability to identify the cliché in both musical and choreographic scores and to then emphasise this with a look, a pause or sinewy stretch showed the importance of a dancer's interpretation. This may not have been a radical piece, but I suspect it was liberating for Baynes to present a study in a subscription-free context without having to create a masterpiece. The subtle wit of El Tango is evidence that this venture paid off.
Despite the Australian Ballet providing fabulous technical, administrative and artistic support for those with their necks on the blocks, there was no one work that stood out in terms of audacity. Two works initially displayed this potential. Bernadette Walong's Slipstream unfortunately fell short with too many undeveloped ideas and an over-enthusiastic lighting design. As lights flashed and drew focus with increasing persistence, we waited in vain for concepts to develop—the sounds of stones on corrugated iron, cocoons suspended mid-air, a tractor tyre tutu lined with fur skins and three women draped in metres of clear, thin sheets of plastic. Slipstream alluded to meaning without providing the necessary developmental links needed for the interpretation of symbols. It was as if we had been invited to a sacred space where life flourished but, like the story of the Japanese Santa Claus nailed to a cross, signs seem to have become confused in the cultural shift. The three women in plastic became rubbish floating downstream and the rubber tyre remained ridiculous.
Adrian Burnett's Intersext had happier results. With percussionist and Australian Ballet dancer, Roland Cox, a collaboration was established that afforded Burnett a good deal of creative freedom. Unpretentious and completely engaging, this work experimented with and responded to a variety of percussion instruments and rhythmic scores. Burnett's work is most successful when he moves away from traditional ballet moves—which he does most of the time in this piece. His reversal of gender roles in the duet form is an example of his eagerness to go beyond tradition, crossing into contemporary and club dance genres. He seems to be at home in this context and more likely to be at his innovative best when exploring dance through 'alternative' perspectives.
Not every venture in Collaborations paid off, but with more new blood, ideas and less emphasis on elaborate stage production this event could become, with the Australian Ballet's commitment, an exciting annual one.
Collaborations, The Australian Ballet: Dark Lullaby, choreographer Natalie Weir, design Hugh Colman, lighting Rachel Burke, dancers Geon van der Wyst, Nicole Rhodes, Robert Curran, Lisa Bolte; El Tango, choreographer Stephen Baynes, composer Astor Piazolla, designer Michael Pearce, lighting Rachel Burke, dancers Vicki Attard, David McAllister; Intersext, choreographer Adrian Burnett, composers Matt Rodd, Roland Cox, Andrew Jones, percussionist Roland Cox, dancers Matthew Trent, Daryl Brandwood, Joshua Consandine, Benazir Hussain, Rachel Rawlins, Felicia Palanca, designer Richard Jeziorny, lighting Rachel Burke; Slipstream, choreographer Bernadette Walong, composer Brett Mitchell, designer Judy Watson, costumes Jacques Tchong, lighting Pascal Baxter, dancers Gabrielle Davidson, Lynette Wills, Paula Baird, Lucinda Dunn, Christopher Lam, Gaetano Del Monaco, Alex Wagner; C.U.B. Malthouse, Melbourne, July 1 – 4
RealTime issue #27 Oct-Nov 1998 pg. 5
© Katrina Philips Rank; for permission to reproduce apply to realtime@realtimearts.net