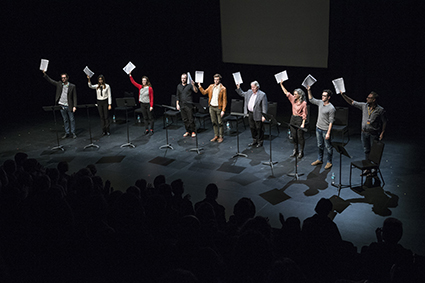 photo Shane Reid
Actors 'take a bow' for the playwright by holding scripts aloft
The 8th National Play Festival, held this year for the first time in Adelaide, showcased six new Australian plays in full readings and four by emerging South Australian playwrights in excerpts. Two distinct themes emerged over the festival's four days of readings, industry forums and artist talks: diversity, both on and off the page, and the dual nature of Adelaide's arts ecology: on the one hand, porous, vibrant and nationally-focused, and on the other, provincial and underdeveloped, too often focused on the past, namely the transformative premiership of arts advocate Don Dunstan, than on the future. As expected, Joanna Murray-Smith's keynote address, "A Lover's War," touched on Senator Brandis' evisceration of the Australia Council's budget, albeit with less sturm und drang than might have been hoped.
The phrase that shadowed the festival, to be taken up in an email exchange I had with Playwriting Australia Artistic Director Tim Roseman and others following it, was "the long game," the title given to a panel discussion featuring local theatre-makers and critics about the vitality of South Australia's creative microclimate. The fact that the discussion became mired in the state's history—Dunstan again, like the Ghost of Christmas Past haunting the Festival Centre whose establishment he oversaw—was an indication of just how much more of the game remains to be played while we continue to pore over old scorecards, and while, crucially, the absence of a second-tier company in Adelaide capable of developing and programming work year-round remains. I was, however, buoyed by critic Murray Bramwell's list, too long to reproduce here, of the number of new works by South Australian artists produced in this state in the last two years. I took the list as a sign that the deficiencies in South Australia's arts funding and infrastructure are not matched by a lack of drive in our creatives.
Connecting to a national conversation, and following on from passionate, and occasionally heated, conversations at previous Australian Theatre Forums around the cultural homogeneity of our plays and playwrights, the launch of a Diversity Pledge by the Equity Diversity Committee at the festival was broadly welcomed. In part, the Pledge reads: "We all have a role to play in creating stories that reflect the diversity of the world in which we live. To that end, and in addition to striving for more diversity in my writing, I pledge to include a statement, where appropriate, alongside the character descriptions in my work to encourage diverse casting."
I put it to Roseman that, while laudable, the Pledge risks picking the low-hanging fruit only, as playwrights, though they generally retain the right to veto casting decisions, may still not feel that they can confidently tell diversely populated stories in the knowledge that producers will cast their plays appropriately or demonstrate cultural sensitivity where required. "It's a long game," Roseman responded. "At Playwriting Australia we're talking about a 20-year program to change the shape of the Australian theatre landscape. More needs to be done at every level of the theatre world: drama schools need to be targeting talented actors from every possible background; theatres need to be developing work by writers from a far wider range of experiences and putting those plays on for the public to watch; agents need to be promoting their clients for a much bigger range of projects; and artistic directors need to actively hunt for new stories to tell and new perspectives for their telling."
These stories and perspectives were reassuringly evident across the festival's main program. Most significantly, an all-female cast and crew conducted the reading of Asian-Australian playwright Michelle Lee's Rice, which wove an encounter between a second generation Indian and first generation Chinese person into an impressively sinuous essay on globalisation and the politics of class. The presentation of Albert Belz's delightful Astroman, which turned out to be the festival's undisputed crowd-pleaser, featured a large cast of Indigenous performers in the telling of Belz's story about the coming of age of Jiembra Djalu, a computer games whiz-kid in 1980s rural Victoria. Although something about the tenor of the play struck me as cinematic rather than theatrical, it was impossible to resist the energy it was able to generate even in the sharply attenuated form of a script reading.
Of the remaining plays in the main program—Ben Ellis' epic portrayal of the rise and fall of a Murdoch-like dynasty, Keith; Phillip Kavanagh's almost symphonic meditation on information overload, Deluge; Maxine Mellor's dark road drama The Silver Alps and Luke Mullins and Lachlan Philpotts' gleefully paranoiac monodrama about identity and show business, Lake Disappointment—none gave me much reason to doubt Roseman's claim that new Australian work that conforms to a traditional dramaturgy is in rude health. He told me, "The days of the writer delivering 74 pages to a theatre and then rocking up for the first day of rehearsals are decreasing. But nearly every piece of work you see on a stage will have been inspired by work a playwright did at some point, whether it's a new play by Andrew Bovell or a radical re-imagining of Sophocles or Aphra Behn. Playwrights are, I think, eager to be involved in new ways of making work and sharing their ideas and imaginations in other ways of creating theatre. Some work will be writer-led, other times it will be led by a different part of the engine. The vital thing to remember is that writers bring expertise to all of these forms."
Along with Homegrown, the part of the program that showcased excerpts of new works by emerging South Australian playwrights Elena Carapetis, Sophia Simmons, Emily Steel and myself, these plays—in their generosity, inquisitiveness and, yes, diversity—were a reminder of what is at stake in the current political environment. Its relationship to the arts, under Senator Brandis, has increasingly come to be defined, in sharp contrast, by miserliness and inapprehension. I bristled to hear yet more justifications for what artists do in Murray-Smith's address, but we've all been forced onto the back foot by Brandis' cuts. In the absence of any powerful cri de coeur from the big theatre companies—for which Murray-Smith rightly lambasted them—solidarity and stoicism must fill the void. There was plenty of both on display at the festival but, in the end, art must speak for itself. And so, in these fine plays, it did.
Playwriting Australia, The National Play Festival 2015, Adelaide Festival Centre, 22-25 July.
RealTime issue #129 Oct-Nov 2015 pg. 35
© Ben Brooker; for permission to reproduce apply to realtime@realtimearts.net