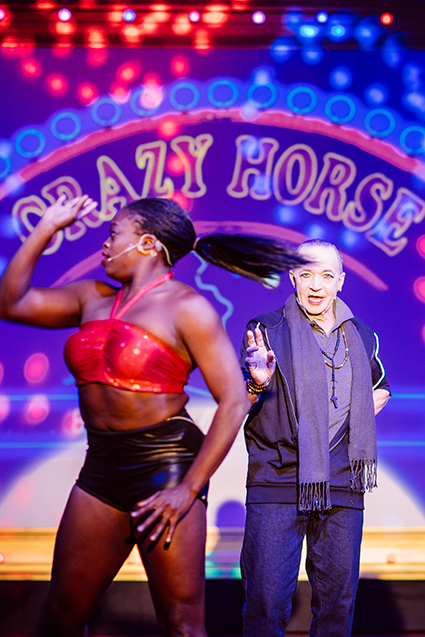 photo Ben McGee
Kialea-Nadine Williams, Trevor Stuart, Madame, Torque Show in association with Vitalstatistix & State Theatre Company of SA
Few visitors to or residents of Adelaide would not profess some passing knowledge of Hindley Street's Crazy Horse, a fixture of the city's adult entertainment scene since the venue's opening in 1979. Its website, perhaps unwittingly, suggests the rapid evolution from chintzy, stage-based variety to the pornified intimacy of tabletop dancing that is one of the strands of a new play, Madame: The Story of Joseph Farrugia, stating "The club combines the lavish cabaret of Parisian strip club 'The Crazy Horse' with the full-throttle eroticism of London's Revue Bar."
Initially intending to make a show about the strip industry, Torque Show Creative Director Ross Ganf—"fascinated," according to his program notes, "by the sale of fantasy as a theatrical conceit between a client and a dancer"—became instead drawn to the biography of a single industry figure, Joseph Farrugia, who was installed as Crazy Horse's choreographer in 1981, and remained its owner until the venue's sale in March this year. Ganf interviewed Farrugia over a period of four years and the resultant show splices together the conventions of verbatim performance with those of dance-theatre. The work is deepened, not unproblematically, by the incorporation of the shifting vocabularies of strip club performance.
Performers Chris Scherer and Trevor Stuart represent two iterations of Joseph: Scherer the young, somewhat delinquent Nasser regime refugee and schoolboy and Stuart the counter-intuitively sagacious strip club proprietor. Kialea-Nadine Williams embodies Madame Josephine, Farrugia's commanding and lascivious onstage alter ego. This, however, is rather too simply put—all the identities here are unstable, each subtly framed as emanating from Farrugia's memory, ego and fluid desires and sense of self. Naturalistic exposition is destabilised by exaggerated gestures and the mouthing of dialogue being spoken by other performers. Scherer and Williams are superb: physically and vocally adept in roles that are demanding in both departments. Stuart's stage presence is a warm and engaging one, although a certain under-confidence marred his opening night performance.
The show weaves together poignant aspects of Farrugia's life—his tempestuous relationship with boyfriend Jim, a wounding court case revolving around his relationship with surrogate son Blake—and commendably uneditorialised vignettes that expose the moral grey areas of the strip industry. The most startling of these twins the revelation that a simulated rape scene was performed at Crazy Horse in the 1980s with an unsettling monologue by Williams that draws attention to the aggression and predation faced by, especially, gay and female adult entertainers.
The Burnside Ballroom, with its well-preserved 1950s aesthetic, makes for an appropriately stylish canvas for Geoff Cobham's showbiz-inflected design, gold foil strips hanging from the ceiling, projections of photographs and sequined curtains, haloed by dressing room lights, shimmering amid cabaret-style seating. The work culminates, perhaps inevitably, in the three performers lip-synching to "My Way," that ineffably camp, strangely peerless anthem of uncorrupted individualism. "And now," the song goes, "as tears subside, I find it all so amusing." As I look back I see the real Joseph Farrugia in the audience. He's smiling.
Torque Show, Vitalstatistix and State Theatre Company of SA, Madame, creator-directors Ross Ganf, Ingrid Weisfelt, Vincent Crowley, text Joshua Tyler, Ross Ganf, Roslyn Oades, dramaturgy Joshua Tyler, set and lighting Geoff Cobham, sound Luke Smiles/motion laboratories; Burnside Ballroom, Adelaide, 21 April–2 May
RealTime issue #127 June-July 2015 pg. 42
© Ben Brooker; for permission to reproduce apply to realtime@realtimearts.net