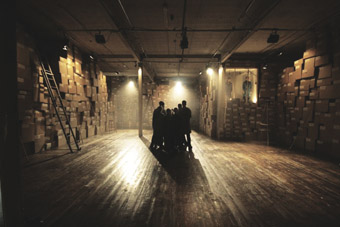 photo Marg Horwell
Tenderness: Ugly
THE FIRST DETAILS I NOTICE UPON ENTERING THE PERFORMANCE SPACE AT 45 DOWNSTAIRS ARE LABELS CONTAINING KIDS' NAMES ON CARDBOARD BOXES STACKED 10 DEEP THAT TOTTER TOWARD THE CEILING. IN PLATFORM YOUTH THEATRE'S DEPICTION OF THE COLLISION BETWEEN ADOLESCENT DREAMS, HORMONE PUMPED DESIRE AND THE DULL THROB OF ADULT LIFE, GOOD KIDS EXPECTED TO REACH GREAT HEIGHTS WILL SPIN OUT, AND COME CRASHING TO THE GROUND.
Tenderness, created from reseach with young people from Melbourne's northern suburbs, consists of two plays residing at opposing ends of the gender equation, but both tell a similar tale. In Ugly by Christos Tsiolkas, Slim drops out of school, realising it has no place for him, nor he for it, in his dream of becoming a prizefighter. In this righteous rush of blood he fails to realise that the relationships formed in the schoolyard will continue to permeate his young life. In Slut by Patricia Cornelius, free thinking Lolita fucks everything that moves, instinctively responding to a diffuse sexuality that is at once admirable in its honest expression of unconditional love, but will be judged by her schoolyard peers as the immoral behaviour of a nymphomaniac.
Slim loves his girlfriend Sil with a vengeance. But his recently acquired lifestyle of dropping eccies and planting the porpoise no longer adheres to Sil's father's career-directed intentions for his daughter. Frustrated, Slim fractures the skull of a taxi driver and is set to suffer the consequences. Conversely, Lolita is pack-raped at a party by a conga line of quivering phalluses, and is only ever capable of maintaining destructive relationships characterised by violence and self-abuse. Like the theatre itself, it is during moments of transition between two worlds that Slim and Lolita experience the helplessness derived from standing up for your beliefs in a world that couldn't care less. This irony synthesises the two plays, Slut and Ugly, into the one performance, Tenderness.
The grand finale is a striking suggestion of the possibilities of theatre as installation, and an underlining of this show's curious moral code. Cardboard boxes are bustled away, revealing a split level glass case. Slim, naked and sexually shamed, sits crouched in what might be a prison cell. Above, Lolita's suspended form is frozen in a sustained and terrified scream. Combined, this iconography presents as an image of the Crucifixion, and even though such a compelling visual statement must have proved irresistible to its creators, it struck me as an affirmation of the same Christian morality which has prompted Slim and Lolita's sad decline. That is, until my sight is drawn towards blind performer Maysa Abouzeid and the collapsible cane she has carried throughout her performance, reminding me of a line from a Judith Wright poem, of a "Blind head butting in the dark…" Abouzeid's presence suggests a less sanctimonious metaphor for the invisible terror arising out of adolescence, and a curt reminder of what the theatre is really about. Acts of courage in the face of enormous adversity, performed by communities not crying out for God, just simple moments of tenderness.
Platform Youth Theatre, Tenderness: Ugly, writer Christos Tsiolkas, Slut, writer Patricia Cornelius, director Nadja Kostich, performers Luke Fraser, Camille Lopez, Anastasia Babboussouras, Chloe Boreham, Maysa Abouzeid, designer Marg Horwell, lighting, Richard Vabre, sound Kelly Ryal, choreography Tony Yap; 45 downstairs, Melbourne, March 7-15
RealTime issue #84 April-May 2008 pg. 38
© Tony Reck; for permission to reproduce apply to realtime@realtimearts.net