Jo Lloyd and Phoebe Robinson presented 2 short pieces at Lucy Guerin's Studio as part of Next Wave. Whilst Robinson's The Emperor's New Guns was a quiet solo presented in half light, silhouette and shadows, Jo Lloyd's threesome Not As Others, shattered the peace with conflict, violence and drama. Which is odd really, given that Robinson's work was concerned with the spaghetti western, a genre seething with conflict, violence and drama and Lloyd's recalled the 'innocence' of childhood.
There was a certain peacefulness about Robinson's movement which you might think failed to engage the supposed action associated with westerns. And yet the crucial elements were there: epic humanity, space, light, darkness. The epic character of the piece was suggested by its being a solo—the dramatic lived pathway etched by a lone entity. Plus the finale—death—a slow rolling, receding towards the back, fading into the shadows with only a cutout horse for companion. The floor furnished a sense of dry sand, of grit layered between body and floor offering the sounds of feet sliding on wood, the texture of space.
A girl and her horse in the sun grappling the elements. As with all animals onstage the horse did at times upstage the human. Ben Cobham's masterful manipulation of lightscapes focused upon the horse, amplifying Alex Davern's balsa wood cutout into an assertion of equine proportions.There was a deadpan quality in Robinson's movement choice and execution, serial distal moments strung together in modular forms of association. Not so much torso, more jointed action of the limbs. Quiet, delicate. A nice diagonal sequence travelling backwards achieved a sense of flow, of activity traversing space. Similarly a rolling sequence covered ground; creating the ground.
There was for me an opacity in Robinson's movement that made it difficult to enter her experience; the subjectivity of the cowboy, if that is what she was. What feelings, sensations were there, were felt? There is a parallel here, perhaps intentional, with the masculinity of the cowboy; determined, external, lacking interiority, lonely even. This pith of humanity is subject to her environment, responding to, even dwarfed by Cobham's dramatic lighting changes. Perhaps this is the epic loneliness of the long distance cowboy, a rereading of the image of self sufficiency spawned by icons such as John Wayne, Clint Eastwood and Charles Bronson.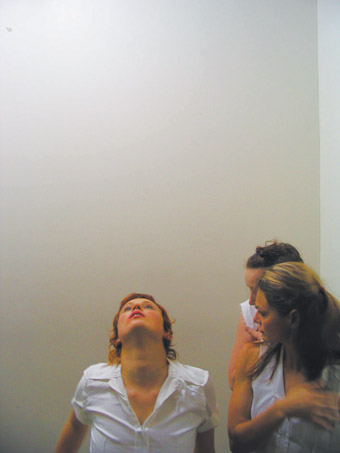 photo Jo Lloyd
(L-R): Alison Currie, Sarah Cartwright, Ana Grosse
Jo Lloyd's Not As Others was a completely different kettle of fish, manifesting a violent intensity more familiar to the cowboy genre than relations between femmes. That said, Anna Kokkinos's film Only the Brave (1994) put paid once and for all to the idea that girls don't fight. Not As Others drew on the fact that three's a crowd, working and reworking dynamics of inclusion, exclusion, and persecution. A mixture of dancerly precision and emotional drama, Lloyd used her energetic style to make trouble. Although the piece began with clearly defined roles of dominance and subjection, these were later blurred in the complexity of relational movement.
The floor was a faded patchwork of linoleum sutured by tape. The women traversed this quietly broken narrative with their own cross-hatching of lunges, twists, plaits and pairings. Can difference be tolerated? What does it take to incur suffering within the intimacy of relational play? Does simple exclusion imply oppression? Not As Others stopped short of imposing any narrative closure or moralistic resolution, provoking instead interpretive questions around changing relations of force between the three dancers. Mostly the kinaesthetic timbre of the movement worked seamlessly to suggest and create human dynamics. One step grated however, just one moment where someone extended a pointed, tense leg into a deep second position plié (in ballet's lexicon), which made me think about the way in which 'the dancerly' functions in relation to narrative. Something about this plié reminded me of the way movements are used in traditional dance forms (classical ballet, Bharatanatyam) to suggest storyline. I'm not sure the plié was meant to 'say' anything in particular but it worked against the flow of movement—human dynamics that the rest of the work embraced—reminding me of the conventions of traditional dance. That move was a relic poking out of the sand, a not-yet fossil from dancing days gone by, grating against the athletic modernism that comprises Lloyd's distinctive style.
The Emperor's New Guns, choreographer, performer Phoebe Robinson, lighting Ben Cobham, sound Felicity Mangan, installation Alex Davern; Not As Others, choreographer Jo Lloyd, performers Sarah Cartwright, Alison Currie, Ana Grosse, sound Sacha Budimski, Duane Morrison, Byron Scullin, installation Sasha Gribich, costumes, Shio Otani, Next Wave Festival, Lucy Guerin Studio, Melbourne, March 29-April 2
RealTime issue #73 June-July 2006 pg. 2
© Philipa Rothfield; for permission to reproduce apply to realtime@realtimearts.net