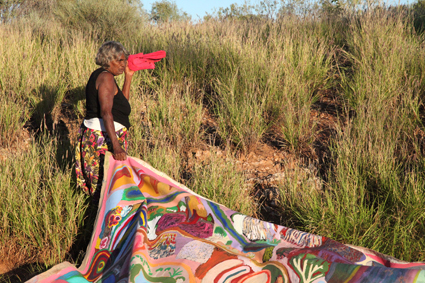 photo Gabrielle Sullivan
Amy French with her painting Karlamilyi, acrylic on canvas, 2010, at Karlamilyi 2011, We Don't Need a Map
IN WESTERN EUROPEAN IMAGINATION, THE DESERT IS A PLACE INHOSPITABLE TO 'CIVILISATION,' CHARACTERISED BY A BARRENNESS THAT MAY AS WELL BE LUNAR.
The deserts of Western Australia, indeed of much of Australia, have long been tainted with this symbolic brush—our capital cities are coastal and the interior of Western Australia most commonly related to on a non-committal, fly-in fly-out basis. The gulf between this idea of desert and a contradictory one—based on long time, first-hand, lived experience—is what causes We Don't Need a Map: A Martu Experience of Western Desert to resonate.
Where some might see an expanse of little feature or diversity, the Martu instead know their land as richly detailed and abundant. Like their landscape, the Martu are themselves a varied people, with numerous language groups. Withstanding colonial intervention, the Martu people have called the Western deserts of Western Australia home for countless generations, and are intimately connected with its landscape both pragmatically and culturally. The art made by the Martu is not only expressive of their experience of home, but also actively participates in it. In Martu culture, the process of making objects and images, of singing and walking the land, is a process of continual renewal. Tending the land and telling stories of it are not considered to be separate activities; culture, like fire or rain, keeps country alive.
In presenting a comprehensive expression of this experience, We Don't Need a Map is an ambitious undertaking in both scope and resolution, requiring intricate and sensitive collaboration on almost every level of production. Arising from an interest by Ross Hamilton from mining giant BHP Billiton—which also sponsored the Canning Stock Route Project of 2006-2011— in "themes of land management," the partnership between Martumilli Artists, the Kanyirninpa Rangers and Fremantle Arts Centre spent two years in development. Three co-curators—Erin Coates, Gabrielle Sullivan and Kathleen Sorensen—have realised the exhibition by over 30 artists, overseeing burgeoning creative relationships between Martu artists and visiting collaborators from around Australia and the application of new media technology to traditional stories and techniques.
The curatorial responsibility of doing justice to a rich culture with a well defined visual logic while also educating a viewing public perhaps unfamiliar with its intricacies, or informed by a conflicted understanding of desert living, could potentially be overwhelming at such a scale. The necessities of producing a coherent and cohesive exhibition of contemporary art are underpinned here by complexities—troubled relationships between Western and Indigenous ideas and people cannot be avoided nor overstated, and keen awareness of this history and a desire for productive mending simmer visibly in the collaborative works. While necessary, the more educational aspects of the exhibition risk carrying unwanted anthropological baggage and great pains have been taken to ensure that Martu voices speak loudest, so that what is presented is understood as living and vital. This effort often battles with a conflicting urge to avoid explanatory text, resulting in some areas of the exhibition that read more like classroom aids than artworks.
We Don't Need a Map is most successful when this 'educational' agenda is less explicit; these successes are many, and of significant value. The inclusion of aerial photographs of the region, juxtaposed with Martu paintings, makes direct connection between the abstract swatches of painted colour and the real topography of the landscape. The knowledge of geographic form and structure learnt through walking country proves to be incredibly accurate—reverberations of form and of the shimmering, saturated colour in photographs and paintings create engaging shifts in perspective, between representation and abstraction.
The most memorable works allow for an experiential immersion in Martu life, in its colours and textures and sounds. Sound in particular is a welcome accompaniment. Karlamilyi, an enormous painting by Amy French and Lily Long—a five by three metre controlled explosion of colour—is accompanied by an audio track of the sisters singing their country, activating the painting's internal rhythms and contributing a comparative sense of time to its impressive scale. Karlamilyi combines remembered geography and geology with ancestral stories and figures, a vibrant blend of figuration and abstraction that renders visible the sister's complex understanding of the landscape and their place within it. A 'key' to this memory map also assists navigation without too literally assigning meaning to specific forms, allowing the mind and eye to wander at will.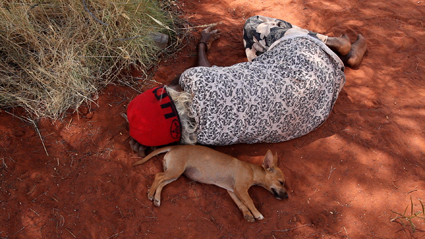 courtesy and © the artist
Mabel, Still Walking Country, Lynette Wallworth, still, 2012, We Don't Need a Map
Lynette Wallworth's Still Walking Country is a similarly immersive experience. The elegant three channel video, each frame projected larger than life across two walls of a darkened screen room, documents Martu women hunting, cooking and walking, a simple soundtrack provided again by their singing. The syrupy pace of the videos, which gradually fade in and out of various stages of the processes, complements the pace of the skilful hands and voices at work within them. Closely framed images of skinning and plucking, the red dirt and fire-lit darkness of the landscape, are at once visceral and hauntingly beautiful, presented with all the gravitas with which they are performed. Wallworth's reverence for her subjects and her sense of wonder are evident—the lens of the camera reads the activities of the women like the watchful eye of a student soaking up new and surprising knowledge and the careful simplicity and precision of the piece avoids didacticism.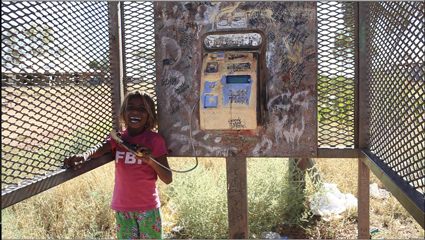 courtesy Fremantle Arts Centre
Masey Robinson at the Parnngurr phone booth, The Phone Booth Project, 2012, Lily Hibberd and Curtis Taylor, We Don't Need a Map
Martu filmmaker Curtis Taylor, discussing his Phonebooth project with collaborator Lily Hibberd, describes how the Martu way of life has incorporated Western technologies into its traditions, rather than being changed by them. Stone and Hibberd explore this idea indirectly in their documentary video, which retells stories about the use of phonebooths and long distance communication in desert life.
It's Wallworth's installation, however, that best illustrates the potential usefulness of new media technologies in contributing to Martu culture. Beyond its documentary purposes, the time-based nature of video and sound complements practices that are already intrinsically involved tied up in temporality, in the idea of renewal, repetition and transmission. Even Martu paintings, as well as being beautiful aesthetic objects, are records of activity, of gestures that make up and remake the landscape anew; the moving image is used most effectively here to illustrate the fluid, living relationship between people and land.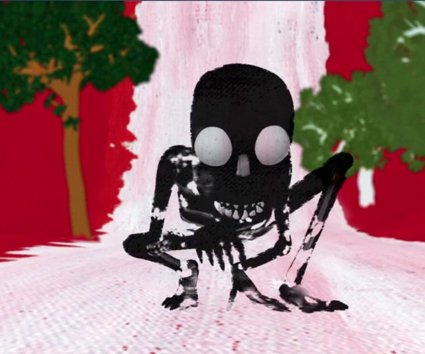 courtesy Fremantle Arts Centre
Yukurra Billy Atkins, Cannibal Story, 2012, animation by Sohan Ariel Hayes, We Don't Need a Map
A collaboration between Martu elder Yunkurra Billy Atkins and Sohan Ariel Hayes attempts this literally, translating Atkins' stories and paintings into an animation. Atkins' vision is, aesthetically, somewhat different from those that hang close by in the dedicated painting room, his perspective more uncomfortably positioned between representative tropes, between beauty and darkness, and his narratives more explicitly present. Cannibal story depicts the particular darkness of Kumpupirntily (Lake Disappointment), an area of land coloured by bad energy and Martu blood. The repeated motifs from Atkins' paintings—blood red skies full of spirits and bright hills of blotchy green and yellow—are worked by Hayes into a framework for characters that repeatedly enact the battle between Martu people and a cannibal troupe, portrayed with a stylised cleanliness that jars somewhat with Atkins' expressive back-drops. Atkins' paintings become illustrative, a landscape and history in motion.
We Don't Need a Map is a great achievement both logistically and culturally, providing the necessary service of documenting and promoting cultures whose subtleties and beauty have long been misunderstood. However, it is a shocking experience, in the best possible way, to see your home painted in new and surprising colours, even more so to realise that those colours are true. There is still much to talk about, and to talk through: the practices of the Rangers, the Martu understanding of and domestication of fire, the longevity of the collaborative relationships formed. I wonder if is this is where the real successes of We Don't Need a Map lie, not necessarily in the large scale presentation of culture alone, but in those two years of behind-the-scenes collaboration, of reciprocal learning and understanding, in the slow and careful development and management of productive relationships that can hopefully extend beyond this exhibition. We Don't Need a Map seems to ask what lessons can be drawn from these works, from these collaborations. What happens next?
Fremantle Arts Centre: We Don't Need a Map: Martu Experience of Western Desert, co-curators Erin Coates, FAC Exhibitions Coordinator, Kathleen Sorensen, Martu artist and Cultural Consultant, Gabrielle Sullivan, Martumilli Artists Manager; a partnership between FAC, Kanyirnipa Jujurrpa and Martumilli Artists with support from BHP Billiton Iron Ore; FAC, Fremantle, Nov 17, 2012-Jan 20, 2013
RealTime issue #113 Feb-March 2013 pg. 2-3
© Gemma Weston; for permission to reproduce apply to realtime@realtimearts.net