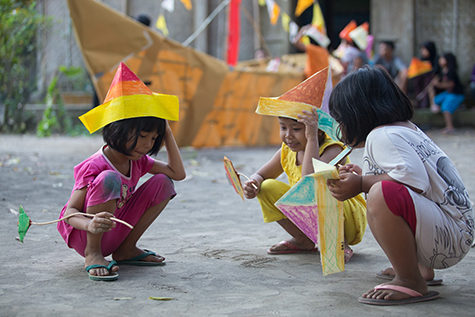 photo Indra Wicaksono
Cerita Anak (Child's Story) Project, Polyglot Theatre, Papermoon Puppet Theatre
How many times have you heard it said that a conference was okay but the real work was going on in between-sessions socialising? In sociology the distinction has long been made between overt (or manifest) and latent functions. The latter is often unintended let alone understood or quantified. These days arts festivals and conferences strive to exploit this latency with ever more supplementary and central events that mimic informal social exchange—the 'extra curricular' activities, as 2016 Australian Performing Arts Market Program Manager Dave Sleswick puts it. I spoke by phone with Sleswick about his task and the innovations he and APAM are bringing to it.
Describe your role for me.
As Program Producer I assist with the management of the overall program, with all of the Showcases, but I also curate the Exchange, a program of 'extracurricular' activities, I guess. This involves all of the keynotes and panel sessions.
There've been a lot of changes in the Australian arts over the last 18 months and what we're trying to do is to put the art and the ideas front and centre, to make this APAM really about generating new relationships and new dialogues and showing the rest of the world that the Australian art scene is very strong and vibrant with a lot to offer.
What forms do these events take?
The primary focus is around networking and building relationships. There are encounters where we provide opportunities for artists, producers and presenters to meet one-on-one. There are small group networks where people are able to throw ideas back and forth. Those groups are generally based around a specific country or art-form or a particular idea or socially relevant topic. For example a roundtable might be about touring in a particular country.
Which countries are in focus this year?
New Zealand is our right hand in this endeavour. [Beyond that relationship] we have a particular focus on South Korea and on Canada. These relationships have stemmed from our engagement at different levels of government and with stakeholders but also the long-term partnership that Australia has built with South Korea over the last 10-15 years. Korea's proving to be one of our biggest partners. Our relationship with Canada this year is also very strong, as the Australia Council has been paying particular attention to working with international First Nations people both in terms of presenters and artists.
In APAM 2016 we have a massive delegation of First Nations New Zealander, Maori and Pasifika artists and presenters as well as a huge North American First Nations delegation. That conversation with Canada around their First Nations people has provided a catalyst for our growing relationship with Canadian artists and with the Canada Council for the Arts as well.
You mentioned "socially relevant topics."
Something that I have been putting a huge focus on in this market is socially engaged art practices and works that push the boundaries of what art or performance is and sometimes bridge the line between art and activism. As a part of that conversation I've engaged three artists-in-residence. One is from Sydney, one from Brisbane and one from Toronto. All of their practices are about engaging with communities, tackling socially relevant issues, working in the public sphere. One of the key ideas in having these artists as part of the program is to interrogate institutions and their role when talking about dealing with politically and socially engaged work that maybe sits outside of venues. How do you maintain integrity between programs? What are the kinds of things that venues and presenters need to do before programming this kind of work or before engaging with artists who aim to instigate social change?
That venues issue figured prominently in discussion at the recent Dana Waranara Convergence in Brisbane. How will your artists-in-residence be involved in the Exchange program?
They'll be present at APAM the whole time, give keynote addresses and appear on a variety of panels. There are two key events as part of the Artist in Residence program. Sydney-based artist Lenine Bourke works with children and young people and so we've invited a delegation of children to the market—something we haven't done at APAM before. We should have about 15 eight- to 12-year-olds as young delegates and their job within the market is to see work that is designed for them. One of Australia's largest exports is theatre for young audiences—we're right up there with the rest of the world in terms of making it but when you're in a marketplace like APAM it's usually all adults.
So children will then talk to adults about what they felt about the works?
Yes, and it's also about [them] coming into this place where everything is being taken very seriously and being a high-pressured environment for a lot of artists. We think that having a delegation of young people present and active in the market will be such a joy. It's going to make delegates stop for a second and view what they're doing through the eyes of very young people with the world in front of them. These are the kind of things we're trying to put in place to keep the art present.
Who are the three artists-in-residence?
Lenine Bourke, as mentioned, Toronto's Darren O'Donnell, Director of Mammalian Diving Reflex (the company that brought us Haircuts by Children in 2008 and All The Sex I've Ever Had, 2016, both for the Sydney Festival) and Nathan Stoneham, a Brisbane-based artist who works a lot with queer audiences and young people. He also works with South Korean artists and people from other cultures. The three of them have spent time mentoring and being mentored by each other. They [comprise] another overarching framework to the Exchange program. I really want delegates to think about legacy and the idea that decisions we make here at this market are what we're going to leave behind. So I thought that these three artists-in-residence who are all socially engaged and involved in community, who have all had some level of mentoring and are all at different stages of their careers [could deliver] really neat way of threading these major curatorial ideas together.
Who will deliver the keynote addresses this year?
Four arts leaders, hosted by Wesley Enoch. One of the speakers is Darren O'Donnell from Toronto and the others are Indigenous writer-performer Nakkiah Lui from Sydney, writer-curator Willoh S Weiland from Aphids in Melbourne and we have Kee Hong Low, a curator and policy planner from West Kowloon Cultural Province in Hong Kong. They'll all have the same provocation [about legacy] and all will come at it from very different backgrounds and perspectives. It should make an interesting and, I hope, fiery start to the whole market.
It sounds like a great program, moving away from simply selling shows to providing big contexts and ideas.
People are coming here to buy and sell but my big question is what is it we're selling and what are we buying? Is it just 'product' or are we buying ideas or visions for the future? Are we investing in creating relationships that are going to last for the next 15 years? What are [presenters, producers] actually doing here besides just trying to organise tours?
I see you've made room for a few heightened social events.
Yes, there's a bit of partying. To be honest, the organisers of this event have been to many markets and we know that often the best way to do things is by making friends in social situations, so we try to create environments where that kind of thing can happen.
Let's talk about a couple of intriguing works on the program, like Cerita Anak (Child's Story).
It's going to be presented as a pitch at APAM. It's by Polyglot Theatre from Melbourne and Papermoon Puppet Theatre Company from Indonesia. They're doing a co-production of a work that's in development—an interactive and intimate performance for young people that's based on stories from Sri Lanka, Indonesia and Australia. This is a great example of some of the work that's coming through APAM and the kind of work that Australians are producing at the moment as part of this trend towards cross-cultural collaboration.
What's involved in the pitching sessions?
Artists and companies are given the opportunity to talk for seven minutes before taking questions. They can use audiovisual elements as well. The pitches give the delegates a chance to get quick, sharp shots of new ideas, the next projects that are happening. They're for works that don't exist yet. There are 15 all up, divided into three groups of five. The first group is for works that have a premiere date planned—the idea is happening, they've done a few creative developments, the work hasn't happened but they've got a solid first plan. The next grouping is that the artists have perhaps done a creative development, the idea is flowing but they have no presentation plan yet. In the third group nothing has happened yet and what they're delivering is a brand spanking new idea and they're looking for co-commissioning partners or initial presentation for it.
This is based on the assumption these days that investors might step in early rather than waiting to see a finished product. This notion has taken a long time to take hold.
We're finding that even though money is tight there are many presenters out there who really want to be part of conceiving and part of the initial stages of a work. It's an exciting development and it moves away from that idea of simply buying and selling product into investing in relationships, new ideas and long-term processes.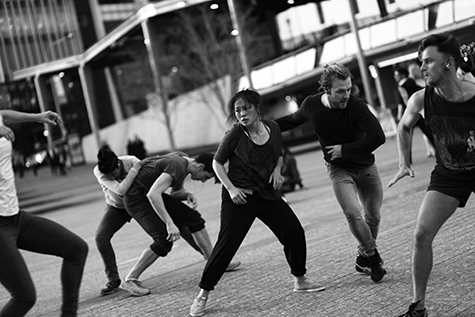 photo Fenlan Chuang
The Stance, Liesel Zinc and company
The other show you've mentioned is Liesel Zink's The Stance. What's important about this work for you?
We're really excited as a Brisbane host of APAM to be able to showcase Brisbane artists. The Stance is great because it's positioned in public space so we're able to not only offer delegates the chance to see a beautiful durational work but also get to see it in the context of the city. The work will be presented in the Southbank Forecourt just outside QPAC, which overlooks the Brisbane River. It's a highly politically engaged work and Liesel has done a lot of research into the idea of occupying public space and the politics around it, what protest means and its history. This is an important work that is pushing form—each of the delegates will receive headphones and will listen to a live soundscape in real time featuring lots of grabs from real life protests. The sound designer Mike Wilmett has also composed music to accompany the work. Liesel will present it with nine dancers. Originally it ran for nine hours but but I think for APAM she's doing five hours. She's creating it with Australian dancers but eventually what she wants to do is to tour the work to other countries in the region, potentially with [a mix of local and Australian dancers] to explore what protest and occupying public space means in different parts of the world. It's an ongoing exploration.
That could be delicate.
It could be a delicate in many places in the world!
What has been the international response to the market?
We have a really strong contingent of international delegates this year. They're coming from everywhere and it's been quite a shock, the players who've emerged as wanting to be part of the event. I think it puts a really strong light on the quality, scope and diversity of work that's coming out of Australia. We're very excited to have the world at our doorstep here and we intend to make the most of it.
–
2016 APAM, Australian Performing Arts Market, Powerhouse Brisbane, 22-26 Feb
RealTime issue #131 Feb-March 2016 pg.
© Keith Gallasch; for permission to reproduce apply to realtime@realtimearts.net