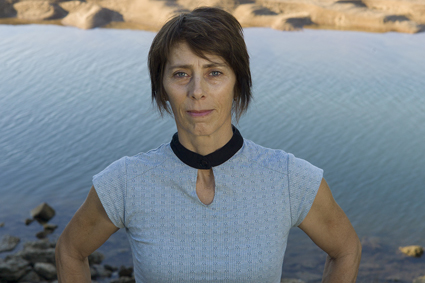 courtesy the writer
Nicola Fearn
Bio
I have worked in professional theatre as a performer, writer, teacher and director since 1980 and am currently Artistic Director of Darwin-based company Business Unusual (BUU). Formed in 1997, BUU has been creating original work which explores the combination of physical theatre, mask, puppetry and text. BUU past productions include The Pearler, Tracy and Contagion's Kiss all of which used Top End stories as the inspirational springboard.
I work regularly with Horse and Bamboo Theatre, one of the UK's leading visual companies and was co-founder of Skin and Blisters (London 1987-1991), a circus theatre company that toured major festivals in Europe and the UK. I was also a co-founding member of Amsterdam-based multi media group Too Much Art (1984-7). Other companies I've worked with include UK Company Trestle Theatre (1991-2002), Darwin Theatre Company, Knock-em-Downs, VCA, Tracks, The Sydney Theatre Company and Melbourne Theatre Company.
Exposé
I started writing when I had mumps at age seven—The Adventures of Mumpy Doll, not yet published but I have not given up hope (if only I could find the manuscript or to be more exact, the torn out, crumpled, medicine-stained pages of my then diary).
I love language but write shows without words. Actually I do use minimal text so it has to be distilled—a bit like whiskey and poetry. I am inspired by words: the oral histories of ordinary people talking about their lives which immediately become extraordinary in the telling and a starting point for a show.
In reviewing for Real Time I have enjoyed my foray into the world of words again. Painting the picture of the production in the quiet of my home after the event allows me time to reflect on the work and appreciate how it has affected me. I believe the reviewer has a responsibility to add to the richness of the arts by critiquing work in a way which allows the maker to carry on making—supporting and valuing the work while giving clear responses to it.
Darwin is a fertile place for making art, a hugely culturally diverse community living in extreme weather in a part of Australia that feels like a different country from the south. There has been a resurgence in local theatre in the past few years and the link with our national peers is both feeding the artists and showing what the north is made of. I shall enjoy continuing to write about the new productions while starting to research my own next word-less concept.
P.S anyone interested in The Adventures of Mumpy Doll?
Recent articles
Bastardy and identity
Nicola Fearn: Stephen Carleton, Bastard Territory
RealTime issue #121 June-July 2014 pg. 36
The past lives in us
Nicola Fearn: Forced Legacy—The Story of Alyngdabu
RealTime issue #118 Dec-Jan 2013 pg. 36
Not so strange strangers
Nicola Fearn: Polytoxic, Trade Winds
NT Writers' Centre's RealTime Workshop Darwin Festival online feature
A Winning punch
Nicola Fearn: Roslyn Oades, I'm Your Man
NT Writers' Centre's RealTime Workshop Darwin Festival online feature
Shaken out of the everyday
Nicola Fearn: Yumi Umiumare with Theatre Gumbo, DasSHOKU SHAKE!
NT Writers' Centre's RealTime Workshop Darwin Festival online feature
RealTime issue #121 June-July 2014 pg. web
© Nicola Fearn; for permission to reproduce apply to realtime@realtimearts.net