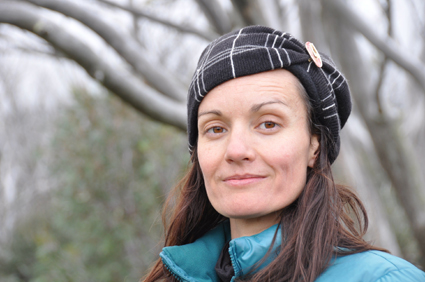 courtesy the writer
Jodie McNeilly
Bio
In First Grade my mother was called to the school to see a report I had written on Aborigines and the so-called White Settlement. The expected three lines had expanded into three foolscap pages—a lengthy amount for a six year old who barely spoke and now, on this topic, seemed to have a lot to say.
Since…Writing…thinking, making words, forming ideas, learning rules, then breaking them…still writing with a lot to say.
There were years and years of dancing and performing in a variety of collaborations across Sydney, while simultaneously completing a degree in Philosophy at Sydney University and making two pretty fantastic children. This led to a PhD in Performance Studies at Sydney; the teaching of dance and choreography at various universities; followed by a two year stint in the US where I returned to studies in phenomenology. I now research at the Centre for Philosophy and Phenomenology of Religion working on Husserl and the structure of belief, and continue to choreograph with a strong interest in dance dramaturgy.
Exposé
I'm no fiction writer or storyteller. Sometimes characters emerge, but I'm more likely to dress in drag or choreograph a dance than write a novel. Ideas and propositions outflank the fictional—it's a result of the philosophy training. And yet I'm prone to poetics over clear language, taking any chance to burst forth from the pith to paint the page with images and rhythms. Review writing allows me to play with language in this way. Dance and movement are rich fodder for description. When watching we usually register what we see more than what we feel. Writing is the great emancipator of the felt.
Two current projects involve dance and writing. One is a remote choreographic process between two artists living in different cities sharing the beat of their lives in poetic correspondence for live performance. The second is with a photographer/animator moving along a line between Coast and Outback NSW, stitching word and image as cultural mapping. Writing has taken over. The chest concaves in a tucked computer asana slowly waving the studio floor goodbye…
Heidegger says that man poetically dwells. Dwelling here means no small deal for him. I like this idea (if not so turned on by others) and always find myself at home in language: I write and it's me. Not because it mirrors who I am, rather it lets me turn towards the world with acute attention. Writing is an act of alterity that evokes understanding, so I practice daily.
Reading is part of this practice; it's humbling. Sipping the music of language, moved by new rhythms, awash in images and provoked by ideas when reading. This is writing.
Selected articles
Dancing out of trauma
Jodie McNeilly: Samantha Chester, Safety in Numbers
RealTime issue #121 June-July 2014 32
Dances for a little black dress
Jodie McNeilly, interview, Martin del Amo
RealTime issue #115 June-July 2013 web
True calling: the good news & the bad
Jodie McNeilly: pressures on tertiary dance education
RealTime issue #110 Aug-Sept 2012 p4
Unmoored and entranced
Jodie McNeilly: Yumi Umiumare, Entrance
RealTime issue #109 June-July 2012 p5
Being human at critical mass
Jodie McNeilly: anton, Supermodern Dance of Distraction
RealTime issue #109 June-July 2012 p4
RealTime issue #121 June-July 2014 pg. web
© Jodie McNeilly; for permission to reproduce apply to realtime@realtimearts.net