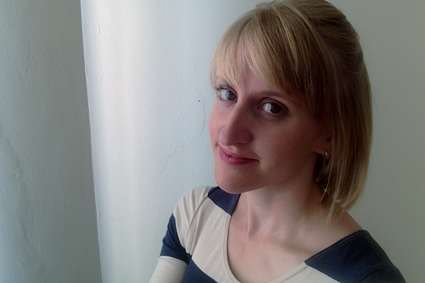 courtesy the writer
Caroline Wake
Bio
For some reason I find the bio a faintly embarrassing genre, but mine goes something like this: born in New Zealand, raised in Samoa and Canada, arrived in Australia just in time for high school. More specifically, I left the snowy Rocky Mountains and arrived in sunny Newcastle, which was a minor culture shock. I am no beach babe so I started plotting my escape soon afterwards, moving first to Canberra and then to Sydney where I have been for over a decade. Wherever we lived, I enrolled in a drama class of some description, initially because my mother thought it might cure my shyness (it did not) and then because I loved it and it felt like home when nothing else around me did. In retrospect, it is no surprise that I wrote my doctoral thesis on performance and migration.
Currently, I am employed as a Postdoctoral Fellow at the University of New South Wales. Conventional academic wisdom has it that during a fellowship you need to finish something, start something else and start thinking about a third thing, so I have been finishing my manuscript on performance and forced migration, starting a project on performance and listening (so many headphones in live art), and starting to think about performance and accidents (in the wake of so-called 'liveness' debates, the accident seems to be invoked ever more often in discussions about the ontology of performance).
Exposé
I don't remember life without writing but, as friends and colleagues have pointed out, I rarely call it that; instead I refer to it as "typing." I didn't realise I did this but I suppose 'writing' sounds intellectual and intimidating whereas 'typing' sounds mechanical and therefore more manageable. Not that it is.
I started typing for RealTime in 2007, having previously worked as a proofreader for the publication. I sent a report from the Explosive Youth Theatre Festival in Bremen where I was performing in PACT Theatre's The Speech Givers. Since then I have written about asylum seekers in theatre, film and visual art, various types of "theatre of the real," about emerging artists in Sydney and—inevitably—Newcastle. Occasionally I also write an overview of a festival, like Liveworks, Imperial Panda, Festival a/d Werf and the recent Performance Space 30th birthday celebrations.
Some of my early reviews are clearer of eye but harder of heart. For better or worse, I am more forgiving now, all too aware of the courage it takes to create and the conditions under which most artists labour. During my doctoral research, I also became aware that RealTime is sometimes the only record of a particular performance. This has changed somewhat with the rise of blogs, but in the absence of a dedicated theatre journal (eg American Theatre) and without a dedicated theatre archive or museum (eg New York's Public Library for the Performing Arts, London's V&A Theatre Collection), RealTime's role in preserving Australia's performance history remains crucial.
When reading old issues—I have an almost complete set of the hard copies!—I find that the reviewer's opinion is of some interest, but often not as much as his or her "thick description" of the work at hand. I try to keep this in mind now, especially if I have wandered off track. Failing that, I conjure Keith's voice: "Caroline, this is interesting, but what actually happened on stage?" In short, typing for RealTime is the best of both worlds: as in academic discourse, one can assume that the audience is intelligent and informed, but as in mainstream criticism, one is free of the footnote. Unlike the bio then, the RealTime review is a most agreeable genre!
Recent articles
Meta-theatrical Magic
Caroline Wake, Back to Back Theatre's Ganesh versus the Third Reich
RealTime issue #120 April-May 2014 pg. 43
Immaculate Conception
Caroline Wake, Mark Wilson's Unsex Me
RealTime issue #120 April-May 2014 pg.25
History Never Repeats
Caroline Wake with Virginia Baxter and Keith Gallasch, Performance Space Turns 30
RealTime issue #119 Feb-March 2014 pg. 4-10
Machine/performer/spectator
Caroline Wake: Festival A/D Werf, Utrecht, The Netherlands
RealTime issue #104 Aug-Sept 2011 pg. 22
Live work, women's work
Caroline Wake: Liveworks, Performance Space
RealTime issue #101 Feb-March 2011 pg. 18
Other Writing
Some of my academic articles are behind paywalls, but several are available here:
https://unsw.academia.edu/CarolineWake
RealTime issue #121 June-July 2014 pg. web
© Caroline Wake; for permission to reproduce apply to realtime@realtimearts.net