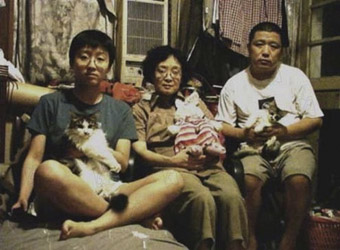 Liu Jiayin, Oxhide 2
[This introduction was written in September 2010. New links will continue to be added to the list below. Eds.]
All nations are more complex than newspaper headlines can ever hope to convey, but few are as bewilderingly diverse, complicated or riven with contradictions as contemporary China. RealTime's coverage of cinematic developments in the People's Republic over the past decade has not only offered a rare glimpse of the evolution of an important popular art form on China's mainland—it has also brought readers' attention to films that offer a Chinese perspective on the history, daily life and social dynamics of this vast and increasingly important country.
China's disparate nature is reflected in its cinema, which encompasses everything from state-sponsored ode-to-the-Party blockbusters—see Mike Walsh's "Mao in the Mall," RT94—to openly critical DV documentaries. As Walsh wrote in his coverage of the 2010 Hong Film Festival ("Starting Over," RT97), "Cinema, like most things in China, is expanding rapidly and this expansion is not an easy thing. Film is an arena in which government regulation, market economics and creative expression frequently come into volatile contact."
RealTime has helped readers explore this complex world by identifying the key filmmakers to watch. Sandy Cameron, for example, wrote a very early appreciation of Liu Jiayin's minimalist portrait of Beijing family life in Oxhide ("A Small Triumph," RT67), long before the film garnered the recognition that has made it one of the most talked about Chinese features of the decade. More recently, RealTime published the first article in Australia about Zhao Dayong's epic documentary Ghost Town ("Merely Floating in the World," RT94). Coverage of this important new voice in Chinese cinema continued with Mike Walsh's review of Zhao Dayong's first drama, The High Life, at the 2010 Hong Kong Film Festival.
Zhao Dayong has emerged from the 'unofficial' documentary sector that operates outside the tightly regulated production and distribution system overseen by China's Communist Party. The roots of this movement stretch back to the dark days of the immediate post-Tiananmen Massacre years, but it was the arrival of cheap DV technology on the mainland at the turn of this decade that really allowed the unofficial sector to flourish. Since then, filmmakers like Zhao Dayong, Hu Jie, Ou Ning and Zhao Liang have created some of the most incisive, critical and heartrending images to come out of modern China. Their work has been explored in recent articles like "From the Dark Side of Economic Success" (RT97) and "China: Alternative Realities" (RT96).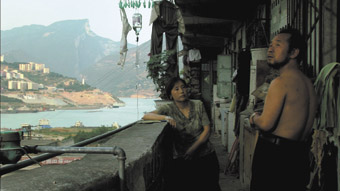 Jia Zhangke, Still Life
If there is one filmmaker, however, whose work best captures the strange, unpredictable conditions under which Chinese people live today, as well as the fraught, ever-shifting relationship between filmmakers and the authorities, it is surely Jia Zhangke. In the past decade Jia has moved from being an unofficial director whose work was banned in China to a recognised artist and recipient of state funding. He has worked across feature-length dramas, short films and documentaries. Through it all he has remained the most consistently creative, discerning and intriguing filmmaker working in China today.
It's a sad indictment of the US and Euro-centric myopia of Australia's mainstream press that this world renowned filmmaker, feted from Beijing to Berlin, Cannes to New York, has barely been acknowledged in Australian broadsheets, despite the appearance of many of his films at festivals around the country. In contrast, RealTime has been able to trace Jia's development from early notices in coverage of the Hong Kong Film Festival back in 2005 ("A New China Syndrome?," RT67), to an overview of his career in 2007 ("World Without Bearings," RT79). More recently, RealTime has published reviews of his latest docu-drama hybrids 24 City ("Where the Truth Lies," RT94) and I Wish I Knew (forthcoming in RT99).
Unfortunately Jia's absence from mainstream press coverage is symptomatic of a broader, longstanding marginalisation of Asian cinema in Australia. Nearly a decade ago Juanita Kwok wrote in RealTime ("Enter the Dragon," RT41), "Only three Asian films were released by major motion picture distributors in Australia in 1999, a sad decline from a high of 13 films 10 years earlier." Although there has been a marked increase in Asian films on Australian screens since that time, there has been scant concurrent rise in mainstream critical interest. As Mike Walsh noted recently ("UnAustralian Cinemas," RT96), "There is still the assumption that popular sub-titled Asian films… exist within a diasporic ghetto whose walls cannot and probably should not be breached."
The invisibility of Chinese cinema in Australia's mainstream press further highlights the importance of RealTime, a publication that doesn't simply reaffirm what readers think they already know, but rather seeks out the new and unknown. Whether you look at Chinese cinema from an artistic or sociological perspective, the films of recent decades have cast a revealing light on a society convulsed by changes playing out on a scale few of us can really comprehend. Put simply, Chinese films help us understand China. RealTime has helped us understand Chinese films.
Dan Edwards
street level visions: china, the unofficial view
chinese independent docos, melbourne international film festival
RealTime issue #109 June-July 2012 web
monetisation & the new rom-commie
mike walsh: 2012 hong kong international film festival
RealTime issue #109 June-July 2012 p13
riding with dragons
mike walsh: mario andreacchio's the dragon pearl, ozasia
RealTime issue #106 Dec-Jan 2011 p18
you can't build on an emptiness
dan edwards: ifchina original studio
RealTime issue #103 June-July 2011 p16
china's divided screen culture
dan edwards: 2011 hong kong international film festival
RealTime issue #103 June-July 2011 p15
a fistful of renminbi
mike walsh: hong kong international film festival
RealTime issue #103 June-July 2011 p14
shanghai: fractured memories, contested histories
dan edwards: jia zhangke's i wish i knew
RealTime issue #99 Oct-Nov 2010 p17
from the dark side of economic success
dan edwards: films by zhao liang and guo xiaolu, hong kong film festival
RealTime issue #97 June-July 2010 p16
starting over: new chinese cinema
mike walsh: hong kong film festival
RealTime issue #97 June-July 2010 p15
unaustralian cinema
mike walsh: asian film in australia
RealTime issue #96 April-May 2010 p17
china: alternative realities
dan edwards: the digital documentary filmmaker generation
RealTime issue #96 April-May 2010 p15
merely floating in the world
dan edwards: zhao dayong's ghost town
RealTime issue #94 Dec-Jan 2009 p22
where the truth lies
dan edwards: jia zhangke's 24 city and cry me a river
RealTime issue #94 Dec-Jan 2009 p23
mao in the mall
mike walsh: the founding of a republic
art, commerce, action!
dan edwards on the ambitious yunnan new film project
RealTime issue #84 April-May 2008 p17
from chinatown to china
dan edwards on an australia-china animation co-production
RealTime issue #82 Dec-Jan 2007 p20
world without bearings
dan edwards on the vision of chinese filmmaker jia zhang-ke
RealTime issue #79 June-July 2007 p17
cinemas of possibility
dan edwards on new asian films in the adelaide film festival
RealTime issue #78 April-May 2007 p17
emerging chinese cinema
mike walsh at the 2006 hong kong film festival
RealTime issue #73 June-July 2006 p26
high roads to china
mike walsh on chinese cinema
RealTime issue #69 Oct-Nov 2005 p17
a new china syndrome?
mike walsh
RealTime issue #67 June-July 2005 p20
a small triumph
sandy cameron
RealTime issue #67 June-July 2005 p22
an asian-centred australian cinema
mike walsh
RealTime issue #61 June-July 2004 p16
soon: film: the asian-australian connection
RealTime
RealTime issue #50 Aug-Sept 2002 p24
enter the dragon
juanita kwok: asian film in australian cinemas
RealTime issue #41 Feb-March 2001 p13