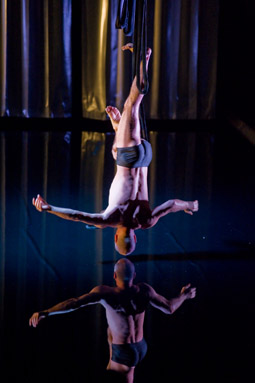 photo Pierre Borasci
MirrorMirror
THERE'S A PIVOTAL (NOT A WORD TO USE LIGHTLY HERE) MOMENT IN STALKER'S MIRRORMIRROR WHEN TWO MEN FLY TOWARDS EACH OTHER (THEY'RE ATTACHED BY WIRES TO TWO PARALLEL, HIGH GRID LINES THAT RUN FROM THE BACK TO THE FRONT OF THE STAGE), FOR THE FIRST TIME COMING FACE TO FACE, HOVERING IN MERE SECONDS OF NOT JUST MUTUAL RECOGNITION BUT OF AN APPARENTLY PROFOUND SEEING THE SELF IN THE OTHER.
From then on the already similar appearance and unconscious parallel actions of the performers assume new weight, especially when a thin layer of mirroring water eerily floods the stage. From here the duo becomes a mesmerising, alchemical quartet of mergings and transformations—self into self and self into other—until the only outcome would appear to be a dance into oblivion.
There are other duplications and attempted fusions. If the aerial art of the two men (Dean Walsh and David Clarkson—of similar stature, gait, demeanour, heads shaved, wearing only black trunks) allows them the freedom to worldlessly express a curious kinship, then the presence of two transparent life-sized simulacra adds an opportunity, again using art, for a different kind of symbiosis.
Hanging either side of the stage in marionette-like components, these figures take shape autonomously, attracting each man to step in, to be encased, become a still life. But this solitary merging of self into art, to be preserved like a statue, appears unsatisfactory and is abandoned. Either moving in tandem or watching each other dance with self and reflection, flying above the water and then resting on and becoming one with it (bodies begin to fragment as odd half shapes or dissolve in ripples), this is the art that sustains—the anti-gravitational impulse of dance and aerial work—until the final surrender to gravity, merging with the elements from which we derive.
The performers' faces betray no emotion, nor do their bodies enact anger or ecstasy or intimacy, and despite the challenges they set for themselves—hanging by an ankle and curling the body upwards, swinging while tautly horizontal or dancing with complex articulation in a cradle-like web of supporting wires—there are few signs of physical stress. MirrorMirror is a work of reflection in several senses: the fundamental role of mirroring in life (mirror neurons, learning from mimicry); the phenomenology of self (perceiving oneself in terms of how you perceive others to be perceiving you); reflection as art (either literal representation or abstract capture of patterns of sound, light and movement); and reflection as contemplation. MirrorMirror's unhurried pacing, its avoidance of suspense in favour of the contemplation of suspension and reflection, allows its audience the pleasures of meditative immersion.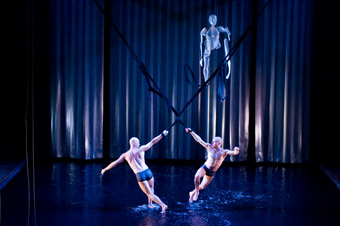 photo Pierre Borasci
MirrorMirror
Adding to this contemplative sense is a level of abstraction: the bodies of the performers are close to us (at one point they repeatedly swing up the aisles) and subjected to considerable stress. But as real as they are, they neither display emotion nor adopt discrete personae. There are differences in idiom—one is a dancer, one a physical theatre performer—but theirs is a state of being honed down to that point of discovery of self in another, an extended self (like discovering you have a twin). But it is not portrayed as love, nor as shared sensuality or eroticism. The movement is not without these qualities, nor the water design, but the kinship expressed is not literalised. (The show partly emerged from Walsh and Clarkson discovering they both have Irish ancestry, but save a hint from Peter Kennard's score for violin, there's no visible reference to this.)
Like the Hanged Man in Tarot, it's as if the acts of suspension central to MirrorMirror free artists and audience to contemplate a different reality, released from the passions and distractions of the everyday. Appropriately, we spend a great part of MirrorMirror watching an aerial world in water, upside down. But however you read MirrorMirror, it is a richly suggestive work of great beauty and skill, revealing tireless strength in search of the mysteries of mutuality and the ephemeralities of self. The monkish demeanour of the performers is indeed apt.
The successful realisation of MirrorMirror relies heavily on engineer Max Meyer's collaboration on a new aerial tracking system, and the magical integration of Joey Ruigrok van der Werven's design and Sydney Bouaniche's lighting which so effectively creates a mirror world of incredible clarity and depth.
Stalker, MirrorMirror, concept, direction, choreography David Clarkson, Dean Walsh, dramaturgy, choreography Paul Selwyn Norton, music Peter Kennard, lighting & body cast consultant Sydney Bouaniche, costumes Annemarie Dalziel, set design Joey Ruigrok van der Werven, puppet sculptor, fabricator Kassandra Boswell; Stalker with Riverside Theatres, Noorderzon Performing Arts Festival, Western Sydney Dance Action; Revierside Parramatta, Oct 2-10
RealTime issue #94 Dec-Jan 2009 pg. 36
© Keith Gallasch; for permission to reproduce apply to realtime@realtimearts.net