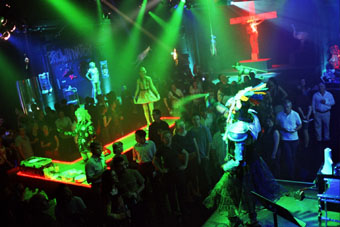 photo Heidrun Löhr
The Living Museum of Fetish/ized Identities
Part nightclub, part theatre, part church, part peepshow, the Living Museum of Fetish/ized Identities is a hyperactive, kaleidoscopic experience of identities, perceptions and realities. Wandering amongst the market-like crowd, each performer appears like a hologram—from one angle they display the trappings of this culture, this religion, this sexual inclination. Move your head a little, wander to the other side of the room and suddenly everything shifts.
This is the second visitation of Guillermo Gómez-Peña's Museum to Performance Space. The first, in 2001, provided one of the most invigorating experiences in contemporary performance since Sydney Front powder-puffed their genitals and paid some of us in the audience $20 to strip for them. This incarnation of the Museum reprised by Performance Space in collaboration with Carnivale had an abbreviated creative development time, drawing upon work discovered in the first version, the ongoing explorations of Gómez-Peña's group Pocha Nostra, and a one-week Sydney workshop with former and new participants. As Gómez-Peña said, this version had the intention of "opening the doors" to the creative process.
Once again, Performance Space converts to a museum, with living tableaux dotted around performative stations. The performers have created schizophrenic identities for themselves, based on perceptions of nationality, sexuality, spirituality. A number of the "artificial savages" have carried over from 2001. Victoria Spence's Sister Australis Domesticada Mongrolis is back—a Carry On/Benny Hill nurse (or is it check out chick?), her face obscured by a Luna Park mask. The statuesque Spence draws a crowd with her perplexing reflection of the middle class white girl's confusion and incipient fear of banality. El Health Ministro Globalizionista (Rolando Ramos) is equally disturbing with his portable accoutrements of human size boxes that open out to a kind of cabinet of curiosities, lorded over by his alter-ego, a body-painted savage with bureaucratic proclivities.
Valerie Berry's Oriental Warrior Terrorista Senorita, is a stunning performative specimen, swinging between a kind of catholic/voodoo black-veiled widow and stripped down vision of pure feistiness ready to challenge any opponent on any grounds with her own gestural martial art. Berry's physical precision and power are matched by Brian Fuata's King Poly-Captivatis Kong which has developed more primate DNA over the intervening 2 years. His Polynesian King alternates between devout austerity and flirty banana-munching naivety. These last 2 draw upon a heightened religiosity that sits well within the pervasive latino/catholicism of the Pocha Nostra performers Michelle Ceballos and Gómez-Peña.
Ceballos performs before the ever present crucifix as La Femma Latina Extrema, an armour-clad latino Amazon spliced with Prima Ballerina. Peña's preoccupation as El Mad Mex Techno-Shaman is to create tableaux vivant with the live and sweaty audience members, many of whom are more than willing to participate and even bare all. The museum also had some new exhibits in the personae of Para/Normal/Trooper/Betty (Wahabibi Moussa), a lock-and-loaded walking sacred parchment with texts inscribed on rolls of flesh and, in amongst it all, a band of roving Ghost Specimens—Teik Kim Pok looking divine in heels as the Moonwalking Geisha, Kira Carden as a sexy, flexy hoolahoopa and Elena Knok as a go go-dancing rabbit/waitress(?). Add to this some body piercers in the corner, a noodle stand to indulge olfactory and oral appetites, and the Great Wall of Sound pumping out courtesy of DJ Gemma, and you're getting pretty much to ecstatic overload.
This Living Museum of Fetish/ized Identities joins others in Gómez Peña's ongoing investigation: living in this media consumed world, where all manifestations of difference have been commodified by advertising, subsumed to create 'mainstream bizarre', how can the performance artist be truly transgressive? He is interested in how a generation raised on the postmodern spectacle can absorb ideological content? Gómez-Peña's answer is interactivity—disguise content in experience. In the first Museum, interaction began tentatively with audiences circling around the edges, testing their levels of involvement. As the season progressed, word spread of the most "unlikely" people stepping into Gómez-Peña's collaged tableaux. This time I detected far more eager participation which set me thinking about contemporary audiences, how participation impacts on performance and whether all participation is valid. Are people participating out of a desire to add to the commentary or as a vehicle for relatively safe exhibitionism? Both have benefits for participants and performers alike but I wondered about the potential in a work like this for the latter to reinforce "the commodification and homogenisation of the transgressive."
My encounter with Living Museum of Fetish/ized Identities was my 4th (clocking up 3 visits in 2001) and delivered an equally vibrant and stimulating experience. No doubt, for first time visitors, this one conjured all the power of the first. Gómez-Peña has created an amazing model for engagement and commentary. As the museum works its way around the globe, the grinding prerogative of the avant-garde becomes manifest. Where will this model go next? How can it push an audience—now desperate to get naked and participate—to the next level, so that spectacle doesn't once again dominate the complexities of content? If there is an answer, Guillermo Gómez-Peña and his collaborators are well qualified to discover it.
The Living Museum of Fetish/ized Identities, Carnivale, Performance Space, September 25-28.
RealTime issue #58 Dec-Jan 2003 pg. 11
© Gail Priest; for permission to reproduce apply to realtime@realtimearts.net