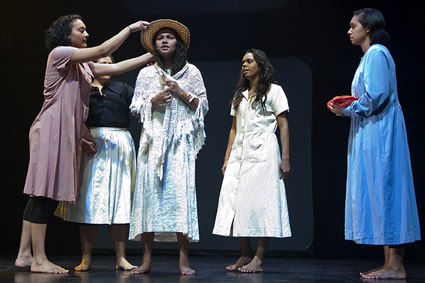 photo Bain Stewart
Rosie Fatnowna, Sharni McDermott, Teiya-Lee Gallienne, Elena Wangurra, Kaylah Tyson, Q150 and Long Before; Aboriginal Centre for the Performing Arts
IT MAY ONLY BE AN ONLINE PROMO, BUT THE SELECTION OF COMMENTS FROM STUDENTS AT BRISBANE'S ABORIGINAL CENTRE FOR THE PERFORMING ARTS (ACPA) SAYS MUCH ABOUT HOW IT DIFFERS FROM NIDA, WAAPA OR EVEN NAISDA. "IT'S A SAFE ENVIRONMENT FOR MY PASSION"; "IT FEELS LIKE LEARNING IN OUR OWN COMMUNITY"; "THERE'S NEVER ANY SHAME HERE"; AND "I'M BECOMING MORE CULTURALLY STRONG IN MYSELF."
For these Indigenous kids—almost half of whom are from regional Queensland rather than the cities—it's not all about learning to sing, play music, dance or act in public; though that's what they desperately want to do. It's about connecting with their culture while preparing to get out there and compete in the entertainment mainstream. And though there aren't yet any students from remote areas, and some have blond hair and blue eyes, they're all singing from the same songsheet—which, when I was there, happened to be a number called "Black is the place I'm in."
As such, the centre is part of the Queensland state government's Indigenous Arts Strategy 2009—surely the first in the country; and with a $12million investment in things like the Cairns Indigenous Art Fair, the Queensland Indigenous Arts Marketing & Export Agency, the Saltwater Indigenous Film Festival and a network of 18 Indigenous Knowledge Centres, the most generous. Ironic that this was the state that worked most assiduously to 'disperse' its native peoples as far from their own country as possible; and I'm using the word disperse advisedly, in both its natural and euphemistic meanings—the latter disguising a massacre.
Given that such a turn-around in the State of Origin would likely be trumpeted until maroon in the face, why do we know so little about ACPA? One reason is that we're still in thrall to the brilliant beginnings of NAISDA—spawning the Aboriginal & Islander Dance Theatre, Bangarra etc. In comparison ACPA has had a smaller and much more fraught start to life.
Michael Leslie—the recent Red Ochre winner for a lifetime of such efforts—founded ACPA in 1997. But it almost faded away a couple of times before a beefed up board of directors and two serious arts players came on the scene just two years ago. The board is now 50% Indigenous, and Chris Mangin, ex-Australia Council and the long time CEO of the Queensland Opera is there too. They brought in Milos Miladinovic as CEO, who simply said, "I wanted to feel proud of what I was doing" when I asked whether this was a step down from managing major venues such as The Edge in Auckland and the Victorian Arts Centre in Melbourne. "I'd come to the conclusion that I didn't really like big musicals any longer!"
Miladinovic brought in Leah Purcell as Artistic Director—but only after she'd said no three times. However good the other artform teachers, the students needed an Indigenous role model—and who better than a film star, writer, director and stage actor who was also an ACPA alumnus, as was Ursula Yovich.
Can one suggest that the range of arts disciplines offered by ACPA is a factor in producing high individual levels of confidence; while NAISDA's specialisation in dance has produced more corporate success. Penny Mullen, Head of Dance at ACPA, arrived in 2003 when class numbers were down to around five. But today she confidently compares ACPA with its rival NAISDA.
ACPA has always insisted on being centrally placed in Brisbane—as close to its South Bank arts activity as possible. The result is trainee and performing relationships with QPAC, Expressions Dance Company, the Brisbane Festival and La Boite Theatre. As a result, though, they're in a condemned building at the moment and the hosted accommodation that's essential for country kids is way out in the burbs at Beenleigh. Miladinovic reports, however, that a big, riverside building in West End is poised to come their way for the next five years—big enough to offer accommodation as well as teaching and administration. After that the State's commitment will extend to a purpose-designed building, thanks to their assiduous massaging of what Chris Mangin describes as "the delicate balance of carrying the government forward with our dreams of the future."
Ever-greedy, Miladinovic, would also like to head for Cairns—the State's official Indigenous arts hub, where his students will be performing as part of the Indigenous Art Fair this year. There he could bring remote Aboriginal and Islander students into the fold. And if that works—why not go national?
They're going international in September on an exchange with an Indigenous training college in Brazil. And because Leah Purcell has suffered family problems this year (which also caused her to pull out of playing Cordelia to John Bell's Lear), the American director Stephen Helper is adding some Broadway glitz to the ACPA show at QPAC in August, which comes in two parts, Soul Music (the musical) and Souls Entwined (the dance, choreographed by Gina Rings and a team from Expressions).
The pattern of education that leads up to shows like this is the Certificate III cross-artform entry level, when it's asked, 'are they going to commit?'—as 75% of this year's expanded number of 35 new students have so far. This compares to ACPA's historic number of 85% completions—which is good compared to TAFE figures. Certificate IV is a change of pace and discipline for students—"a huge leap, but still cross-artform. If they make it through that, the Diploma is specialist, and suddenly they're performers," marvels the CEO. "There was Teiya [Teiya-Lee Gallienne], head down, hidden by hair for two years; then, overnight we discovered an actor and a singer in our midst!".
Chris Mangin believes this sort of achievement more than justifies the two years he and Chair Denise Andrews put in 'hands-on' to save ACPA. "The history of training opportunities for young Aborigines is not marked by success. Yet it's clear there's a whole range of them with significant performing and writing skills. We have to marshal those skills and put them in front of a public—and it might lead to future employment."
Long-term, Milos Miladinovic sees his main challenge as replacing himself with an Indigenous administrator. "Everything I see about mainstream courses is antithetical to keeping Aboriginal students on board; a 4,000-student environment is so far from their family and culture. Here, even if they don't make professional performers, they're able to go back into their communities as leaders; and maybe that's where I'll find my replacement arts administrator in time."
The QPAC presentation of the Aboriginal Centre for the Performing Arts' Soul Music/Souls Entwined has eight performances Aug 4-7; www.qpac.com.au/event/ACPAA_Entwined_10.aspx; www.acpa.net.au
RealTime issue #98 Aug-Sept 2010 pg. 4
© Jeremy Eccles; for permission to reproduce apply to realtime@realtimearts.net