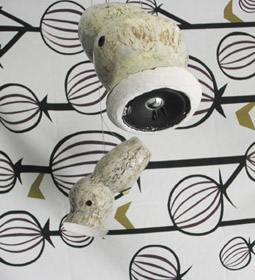 Chatter and Listening, Alex Thorogood, installation 2007
CSIRAC (COUNCIL FOR SCIENTIFIC AND INDUSTRIAL RESEARCH AUTOMATIC COMPUTER 1949), THAT QUAINT RELIC OF AUSTRALIA'S FAILURE TO CAPITALISE ON ITS WORLD WAR II HEAD START ON INFORMATION TECHNOLOGY, HAS BEEN MUCH IN THE NEWS SINCE IT WAS DRAGGED OUT OF THE CLOSET AND INSTALLED IN MELBOURNE MUSEUM. THERE IT SITS, SEEPING MINUTE TRACES OF TOXIC VAPOUR FROM ITS MERCURY MEMORY COLUMNS INTO THE BRAINS OF A NEW GENERATION OF GAWKING KIDS WHOSE MOBILE PHONES HAVE MORE COMPUTATIONAL POWER THAN THE ANCIENT 20 KILOWATT BEHEMOTH. IT'S GOOD FOR AT LEAST FIVE OR SIX MINUTES SOLID ENTERTAINMENT. DIGITAL MUSIC TYPES WILL PROUDLY TELL YOU THAT IT PLAYED THE FIRST COMPUTER GENERATED MUSIC IN THE WORLD, IN 1951, WHEN IT WHEEZED OUT THE COLONEL BOGEY MARCH.
My own first encounter with CSIRAC was not courtesy of the Melbourne museum, but of a chance encounter in 2004, hitching back to Canberra from Electrofringe. Just outside Goulburn, a retired gentleman by the name of Terry Holden gave us a lift, and we got talking about the big old computer that used to exist in Canberra when Australia thought itself to be at the cutting edge. Mr Holden, as a young, aspiring radio-electronic technician, had been put to work using CSIRAC in analysing harmonic motion and heat diffusion for the planned 'skyscrapers' to be constructed in Sydney and Melbourne. In the course of this, he asserted, he had become one of the (several) independent conceivers of the Fast Fourier Transform, which digital music geeks will recall is among the most widely used algorithm in computer processing of sound. It seems that digital music appears wherever there are computers, like mushrooms after rain. If the connection between mathematics and music is ancient and renowned, then the connection between computers and music is just as famous and more intense for its youth. In the 21st century, of course, this connection is so commonplace as to be beneath mention; and even the most defiantly acoustic of folk music gigs has an audio geek with a powerbook sitting up the back churning out spectrographs.
This year the Australasian Computer Music Association (ACMA) held their annual conference (ACMC) with a decidedly historic orientation befitting its location a scant few metres from the abortive birthplace of computer music, the original site of CSIRAC. The 2007 convenor, Alistair Riddell, was one of the original founders of the association back in 1989, and the keynote address was from a similarly seminal figure, Warren Burt.
These gents are acutely aware of the erosion of ACMA's original niche. The musical landscape of 1989 has shifted, and no longer does ACMA fly the flag for the musicological merits of computers in the face of a conservative establishment view of composition in the conservatoria—classical composition has been as thoroughly colonised by digital technology as every other genre. Accordingly, this year ACMA's tendrils have spread more widely than ever, bringing a compositional aesthetic to mixed media design, and wedging open the doors between good old fashioned dance floors and the hallowed corridors of academic music.
The crowd favourite this year seemed to be aa-cell, a collaborative project between Andrew Brown and Andrew Sorenson based around Sorenson's open-source project Impromptu. Impromptu is a Mac OS based application, combining a plug-in-based architecture with a live-coding scripting interface. The result, in aa-cell's hands, is a complex, agile improvisational journey that pares composition progress back to the naked sonification of algorithms—and, because this is the 21st century, the bloody thing churns out visuals too. As academically rigorous as the compositional technique may be, it's still plain old techno and wouldn't get a look-in the door of any classical music school in the country. aa-cell shares the popular focus that predominates in the live-coding scene, honestly reflecting ACMA's own drift from its high-art origins. This is a trend parodied by Ross Bencina in his Mulchwerk cover songs series, where the primordial handmade analogue electronic music of early Kraftwerk is reconstructed in the slick digital interface of AudioMulch. It's just a little smug even though Bencina's consummate skill at laptop wrangling justifies a considerable degree of smugness.
Burt's keynote address looks further back than Kraftwerk and is cheekier still; he's quick to remind us that whatever gloss of newness computers might give to compositional aesthetics, someone probably did it already in 1969. Possibly Burt himself. And they definitely had more fun while doing so. And the audience liked it more. The notes to his concert performance make a mockery of academia's pious over-explicated justification of their artistic choices: "Cellular automata make drawings. The drawings are turned into sounds. The sounds are spliced and mixed together. The particular cellular automata were chosen because I thought they would give me these kinds of sounds. And they did. Enjoy." The dig might be well-aimed. But it raises the question: what is the function of an organisation such as ACMC in the age of ubiquitous digital media?
If ACMC does anything uniquely well, it must be fostering young composers whose work falls in the troublesome gap in genres that lie between wholly novel technology and dance-floor AV, providing them with a captive audience of sympathetic conference delegates to sit through their stumbling presentational style. The conference was graced by several standouts in the area: Sebastian Tomczak demonstrated a work called Toriton Plus, using laser beams to transform the motions of a surface of water into a compelling gestural compositional device that made even the hackneyed palette of harmonic additive analysis seem vibrant. A showcase of student work from Stephen Barrass' University of Canberra media design class was also remarkable, although sadly individual artists were not identified in the program notes. The highlight from this series was a rhythmic work made of simple layering of the laboured breathing sounds of a close miked participant in a game of rugby, attracting perhaps the loudest ovation of the evening.
Student and conference organiser Alex Thorogood also turned out a very neat presentation, using MP3 players as the DSP engines in an immersive audio sculpture of wirelessly networked robotic magpies. From an artist too freshly emerged to be eligible for any plausible funding, it was one of the lowest budget networked installations I have ever witnessed. The prototype was captivating enough. Seeing the thing deployed in full-scale glory will be interesting indeed.
As noteworthy as each of these works were, it was a little disappointing how under-represented young emerging artists were (and most acutely, emerging female artists), even from the ranks of ANU's Centre for New Media Art. Whether this is ACMA's problem or an artefact of the declining popularity of composition is another question. Perhaps next year's conference will tell. Or perhaps it's an indication of the increasing difficulty of marketing a conference on electronics in composition in the era when the Colonel Bogey March ringtone is available in midi polyphony for your mobile device of choice for $4.75.
Australasian Computer Music Conference, ANU, Canberra, June 19-21
http://www.acmc07.org
Andrew Sorenson/aa-cell/Impromptu
http://impromptu.moso.com.au
Ross Bencina/AudioMulch;
http://www.audiomulch.com
Sebastian Tomczak;
http://little-scale.blogspot.com
Alex Thorogood
http://greenmeat.net
http://csirac.info/
RealTime issue #80 Aug-Sept 2007 pg. 50
© Dan MacKinlay; for permission to reproduce apply to realtime@realtimearts.net