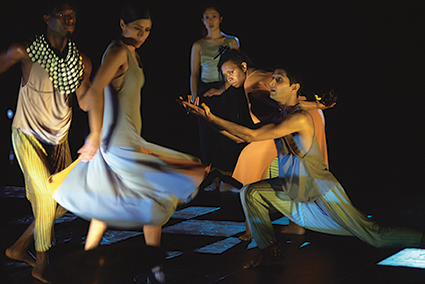 photo Shane Rozario
Mother Tongue
SIX DANCERS, NATIONS AND CULTURAL STORIES STAND SIDE BY SIDE DOWNSTAGE, LOOKING AT US, US LOOKING AT THEM. WE SEE THEIR WORLDS OF DIFFERENCE. SPACE HELD EQUIDISTANT BETWEEN. THE FRIEZE IS A STRIKING EMBLEM, MARKING CHOREOGRAPHER ANNALOUISE PAUL'S COLLABORATIVE APPROACH TO INTERCULTURAL DANCE, MUSIC AND ART MAKING.
Tellingly from this first image (returned to in the closing moments) the individual cultures, dances and rhythms are authentically retained. As intercultural dance goes, this approach is in 'collision' with new forms, not a blurring or leaking inbetweeness or hybridity—though Western training is clearly in these bodies too. Paul is well defined in her aim. The questions are what and where are these "new futures" she sees emerging as "world cultures collide"? Are they choreographic, or more deeply human? Are their "sacred geometries," as Paul puts it, universals that transcend uncompromised cultural specificities?
Pivoting at right angles, each dancer breaks free of the line. Clapping begins. Bodies as percussive instruments: skin on skin, thudding, slapping, cupping air in palms, scraping, pausing, sonic codes of communication. Many tongues speak at once, sometimes listening, sometimes responding and initiating. The structure and nuance of clapping is as varied as the body and intentions of the person who claps. Played hard and soft in relative degrees we see how dialogue of any nature might be possible.
A chequered grid is projected centre stage in 'Atari' neon green, drawn over in chalk then mysteriously numbered. Costumed in same fabric and styled to suggest their traditional dress, dancers Andrea Adidi, Geraldine Balcazar, Aletta Fauzi, Patrick 'Lucky' Lartey, Gregory Lorenzutti and Govind Pillai assume positions in the grid, taking turns to posit or provoke a gesture, spin or leap. Like jazz musicians they solo, challenge for space and movement intensity in competitive jams or move together in isolable, individuated frames—a spectacular aviary of limbs flicking, pounding, arching, reaching and bobbing.
Kinetically, Mother Tongue is a sculpture park of rich, exotic forms coming from Torres Strait, Chile, Indonesia, West Africa, Brazil and India. A distinct difference between genders exists in the dancers' use of space, weight, gesture and focus. The relationship of pelvis to the ground: shifting high and low for the men, contained and horizontal for the women. All styles sprout an ornamental display of head, arms and legs floating or flung from a chest buoyant and open toward nature and the heavens, face alive, engaged for interaction.
Clapping with vocal percussion becomes a careful conversation. Sitting in a semi-circle, flesh and floor become prime surfaces for polyrhythmic play forming on tongues, deeply in throats and on hands. Percussionist Tim Foley roams the globe to join the assorted chatter of nation leaders articulating their individuated timbre, tempo and tone in a united score.
With indubitable enjoyment we share in the exciting motion, shapes, forces and textures of these places embodied by these dancers. Since Paul does not innovate from appropriation, strict fusion or exploding traditions, and maintains the integrity of colliding cultural forms, her seeking "new choreographic futures" for intercultural dance proves an admirable challenge. There are moments in Mother Tongue when movement and gesture founded on the primordial geometries of collective motion and sound sublimely commune towards a unique horizon.
Mother Tongue, choreographer Annalouise Paul, performers Andrea Adidi, Geraldine Balcazar, Aletta Fauzi, Lucky Lartey, Gregory Lorenzutti, Govind Pillai, music Tim Foley, Greg Sheehan, lighting Toby Knyvett, costumes Tobhiyah Feller, Art Saranjit Bird, Bangarra Dance Theatre, Sydney, 3-5 Sept
RealTime issue #124 Dec-Jan 2014 pg. 33
© Jodie McNeilly; for permission to reproduce apply to realtime@realtimearts.net