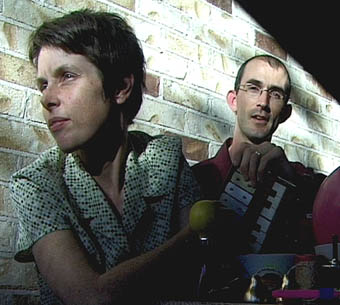 photo Russell Milledge
Vanessa Tomlinson, Erik Griswold, Clocked Out Duo
New music group Clocked Out—percussionist Vanessa Tomlinson and pianist Erik Griswold—has been stretching the perceived boundaries of music for over 10 years now. Their first coverage in the published archive of RealTime is in an article from 2001 by Alistair Riddell on Virtuosic Visions, a series of concerts at the Melbourne Museum where Tomlinson impressed with her signature performance, "Dear Judy," a solo for balloon, dedicated to American composer Judy Dunway (RT42).
Shortly after, Keith Gallasch commends their appearance at the Sydney Spring New Music festival (RT46), stating that Clocked Out "proved to be the most idiosyncratic concert of the festival, a striking and original fusion of minimalist and jazz (and other) impulses realised in piano (Erik Griswold) and percussion (Vanessa Tomlinson)."
What has been consistent in their output over the decade through their is a sense of play in cmbination with serious exploration, drawing influences from a wide range of sources yet somehow maintaining a clear focus. Russell Smith interviewed the couple in RT55 in which he states: "the remarkable thing about Clocked Out Duo's performances is not so much their wild eclecticism, but the way they maintain a strange cohesiveness and integrity."
This sentiment is echoed in a more recent review by Greg Hooper of the CD Foreign Objects in which he writes: "There are strange overlays—Griswold might play something dark and rhythmic on piano whilst Tomlinson sounds like she is walking around in a Foley room tapping whatever feels right. This is a real strength of an excellent CD—the coherent layering of consistent and inconsistent attributes into a coherent soundfield that is both abstract and concrete."
The key to this might be found in their dedication to exploratory processes as stated by Tomlinson in the RT55 interview: "Whether it's balloons, prepared piano or conventional instruments, the working process is the same. Often it's a case of one of us coming up with a musical idea, and the other failing to understand it. Then it becomes necessary to push it and play with it until it becomes something we can both work with."
Clocked Out is based in Brisbane, but have collaborated extensively within Australia and internationally. In RT85 Greg Hooper praises their efforts in bringing the music of little known French-Sovenian composer Vinko Globokar to Australian audiences. Their collaboration with Chinese composer Zou Xiangping from Chengdu in the Sichuan province is praised by Keith Gallasch both as a performance (RT90) and its translation to recording.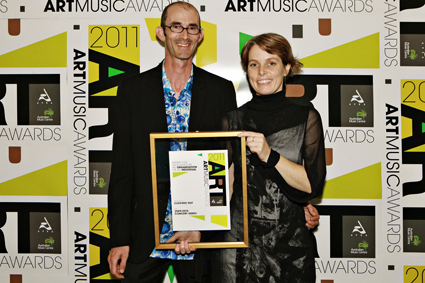 photo Prue Upton
Erik Griswold, Vanessa Tomlinson, Clocked Out
In the last few years Clocked Out have begun presenting concerts with interstate ensembles, essentially expanding the touring network. Through their Trilling the Wire Series they've mounted concerts with the Soundstream Collective (Adelaide), Decibel (Perth), Golden Fur and Quiver (Melbourne) and Ensemble Offspring (Sydney). Their efforts have not gone unnoticed—in 2011 they won the Award for Excellence by an Organisation or Individual for their annual programs as well as the Queensland State Award in the inaugural APRA/AMC Art Music Awards (see RT103).
But a tangible quality of the duo remains humility. As Greg Hooper stated in his RT107 review of the Trilling the Wire series in reference to a typographical feature of the program: "Lower casing the title fits nicely with Griswold's music and public persona (strengths as far as I'm concerned)."
Finally this archive collection also allows us to highlight the writing of one of our favourite reviewers, Greg Hooper, who, as Brisbane correspondent, has covered many of Clocked Out's activities. Hooper's open style and wit, yet incisive criticism makes for accessible and pleasurable reading, truly capturing the spirit of the artists and their endeavours.
You can download a track by Clocked Out via our 2009 soundcapsule.
Gail Priest
articles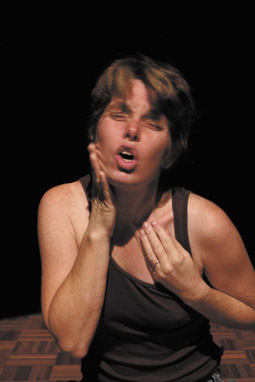 photo Sharka Bossakova
Vanessa Tomlinson, All Vinko: The Theatre of Music
listening anew to john cage
greg hooper, the cage in us, presented by clocked out
RealTime issue #109 June-July 2012 pg35
bracing new music & a new percussion ensemble
greg hooper: the trilling wire series
RealTime issue #107 Feb-March 2012 p42
emitting & sharing vibrations
keith gallasch: clocked out's the trilling wire series 2011
RealTime issue #105 Oct-Nov 2011 p41
clock work
greg hooper: clocked out duo, wake up!
RealTime issue #103 June-July 2011 p41
a winning year for innovators
keith gallasch: 2011 art music awards
RealTime issue #103 June-July 2011 p43
percussive acts of necessity
zsuzsanna soboslay: australian percussion gathering, 2010
RealTime issue #99 Oct-Nov 2010 p47
composed spontaneity
greg hooper: stockhausen: a message from sirius
RealTime issue #91 June-July 2009 p50
tuning the inner ear
keith gallasch: clocked out, the wide alley
RealTime issue #90 April-May 2009 pg. web
making music +
greg hooper sees clocked out enact globokar
RealTime issue #85 June-July 2008 p49
unexpected synergies
bernadette ashley at townsville's see hear now
RealTime issue #81 Oct-Nov 2007 p50
hear and now: terry riley in australia
geg hooper
RealTime issue #73 June-July 2006 p33
the bridge: between iron and flesh
mary ann hunter: bonemap, bridge song
RealTime issue #56 Aug-Sept 2003 p7-8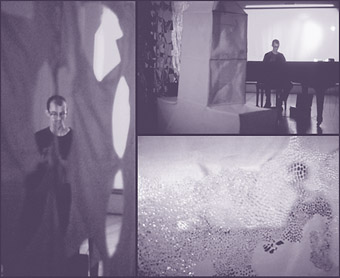 Erik Griswold, Sarah Pirie (Clocked Out Duo) & Craig Foltz Other Planes
how the balloon taught the piano to play
russell smith
RealTime issue #55 June-July 2003 p28
unexpected musics
undrew beck & bryce moore
RealTime issue #49 June-July 2002 p34
celebrating old growth and new
keith gallasch
RealTime issue #46 Dec-Jan 2001 p35
auricle +clocked out play with possibilities
alistair riddell, AUTONOMIC
RealTime issue #42 April-May 2001 p40
qbfm feature 2003 (currently not online)
high times
greg hooper:?topology, clocked out duo?australian, contemporary music market showcase,?spiegeltent, south bank, july 24
earbash cd reviews
clocked out
the wide alley
September 20, 2010 online e-dition
clocked out
foreign objects
September 7, 2010 online e-dition
sound sample
soundcapsule #1
featuring clocked out
December 2009, online e-dition