CD
www.clockedout.org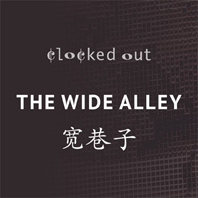 In March 2009 I was entranced by an Utzon Series concert at Sydney Opera House's The Studio in which Brisbane duo Clocked Out (Erik Griswold and Vanessa Tomlinson) realised a collaboration developed over 10 years with Chinese composer Zou Xiangping and performed with leading Australian and Chinese musicians.
The concert was an entertaining and nuanced exemplar of cross-cultural collaboration. I immediately longed to hear it again, so it was a pleasant surprise to recently receive a fine studio version recorded in Sydney only days after the concert.
The performances lose none of the spontaneity on CD that is requisite for conveying works drawing on and inspired by the traditional street music, opera percussion and folksong of the oldest neighbourhood of Chengdu in China's Sichuan province, melded here with Clocked Out and their ensemble's Western jazz and avant-garde roots.
As I wrote in my online review of the concert, "Tuning the inner ear," April-May 2009, "Clocked Out's approach displays a meeting of forms across cultures and musical languages but also allows the musics of Sichuan enough time-space to stand on their own: in the presentation of traditional works, in re-framings of native classics and in wilder experimental fusions where traditional instrumentalists reveal how they can transplant their virtuosity to new terrains."
My first-hearing responses to the compositions can be read in the concert review. What the CD confirms is just how engaging every composition is and that the performances are uniformly excellent. Soprano Tian Linping not only excels in the soaring vocal style of Chinese opera, but in "Picking Begonias" displays a local style Griswold describes as "a mix of high art with flutter tongue." As I wrote then, "The effect is of a lilting, gargling trilling complete with astonishing glissandi in a composition replete with passages where flute and erhu (Zhou Yu) intricately entwine."
Shi Lei's bamboo flute playing in "Happy Meeting" is magical, the range of notes and effects (astonishingly bird-like in "At Huang Si's House") suggest a more sophisticated, much less humble instrument. Zhou Yu's erhu playing evokes an eloquent, plangent singer in "Two Springs reflect the Moon." Peter Knight (trumpet), Adrian Sherriff (trombone) and Robert Davidson (bass) provide not only choral propulsion throughout but also moments of reflective lyricism in these democratic compositions.
Griswold's characterfully spare, incisive piano and Tomlinson's rich percussion partnering with Zou Xiangping and Zhong Kaizhi collectively provide supple textures and new spaces—the sheer musicality and detail of the percussion is finely captured in the recording of "Sichuan Opera Overture." As I wrote of the concert version, "Built around gong and cymbals the work engenders rich textures from seemingly limited means, adding timber percussion, then skins, erhu and flute, long bass notes, a call and reply passage and an epic march to the end. The beat is catchy but elusive; as Griswold declares, "the rhythms are unbelievably complex." Wide Alley was a wonderful concert; now it's an excellent CD, a tribute to a successful cross cultural collaboration and adventurous composers.
Keith Gallasch