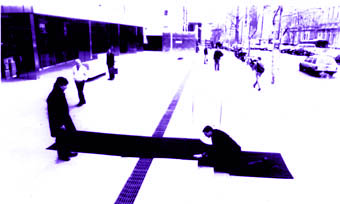 photo Pamela Graham
The Act of Being Inside Out
Growing up Greek-Australian in the suburbs of Adelaide did not give Christos Linou much social cachet. Never mind that Greece was the cradle of Western civilization, migrants are rarely credited with the achievements of their forebears. Not anticipating the middle-class nature of dance (an irony since most dancers are poor), he was nevertheless impelled to study at the Centre for Performing Arts in Adelaide. It took the encouragement of Jo Scoglio (formerly of Australian Dance Theatre) for Linou to feel entitled to choreograph work. Fifteen years later, he now relishes his role as a director in theatre, opera, performance, film and dance.
In 1989, Constantine Koukias, Artistic Director of IHOS Opera, saw Linou perform a "mad night" of film, spoken text, live music and dance. This led to several collaborations including Days and Nights with Christ (1997), performed in Hobart and Sydney. In that work, a counter-tenor hung upside down on a crucifix, over a mountain of salt. The imagery was not unlike that in Linou's Fiddle de Die (1998) which had him up a ladder, suspended and slightly unsafe in a work on AIDS and drug addiction. Linou also makes experimental films, sometimes projecting them onto the walls for his performance pieces.
Having spent time at community centres in his youth, Linou insists that the work he has made in such contexts is contemporary art. In 2000 he received Australia Council support for a choreographic residency at Footscray Community Arts Centre. His question, posed through the lens of cross-cultural dance, was whether it was possible to develop a national dance form that Australia could call its own. His short answer—no. Merging Chinese, Greek, Irish and Eastern European circular dance formations within abstracted gestures of contemporary dance, seeded a framework for a possible identifiable Australian dance which Linou imagines is a few generations away.
Linou's continuing interest in political and social issues is evident in ongoing collaborations with visual artist Robert Mangion. Their work began in 1999 with a life drawing class run by Mangion in which Linou performed slow-motion Butoh, trance and ritual dances with suspended projectors that generated images by Mangion, Man Ray, Picasso, Duchamp and Dubuffet. Their idea was to challenge themselves and the class, educating one another about crossing boundaries between visual art and performance. Their current project, Intertextual Bodies, works with the abrasive possibilities of disruption.
Linou and Mangion have created a number of Melbourne-based city actions. Linou calls this work in public spaces an "aesthetic protest," though one of its strengths is its inability to be clearly identified. For example, The Act of Being Inside Out was staged on the concrete forecourt of the County Court of Victoria. After establishing a pathway from the court's front door to the pavement, Mangion wrapped and safety-pinned Linou in a black cloth, rolling him along the ground. Fully expecting to be arrested, Linou was the temporary object of intense security interest. Then he was ignored. A resident alcoholic offered helpful advice throughout, while some passing junkies mimed a kick to his immobile body. Placing himself in a position of abject vulnerability, Linou refers to those bodies most at risk from the administration of justice.
Further actions, planned for the Stock Exchange, the Immigration Museum, the steps of Parliament and Flinders Street station, are variously titled The Act of Site Intervention, The Act of Subversive Ritual, and The Act of Refusing to Dance. Though lacking in obvious entertainment value, such works still need to gain the attention of passers-by. In one event Mangion posed as a decoy, tripping over Linou's body and dropping a sheaf of papers. People stopped to help, then found that Mangion had disappeared. For Linou and Mangion, these acts take studio space into the public sphere.
Not all city spaces are alike, nor are they constant over time. Public and institutional perceptions of safety, security and threat are currently in flux. It will be interesting to watch these future acts and the kinds of bodies they put under construction. While Christos Linou calls these "social scientific-art experiments," they are also civic interventions of an uncertain kind. Inasmuch as they are experimental, their outcome is unknown. Linou feels mature enough now to be, in Buddhist terms, empty-minded and open to the possibilities provoked by these works.
RealTime issue #53 Feb-March 2003 pg. 41
© Philipa Rothfield; for permission to reproduce apply to realtime@realtimearts.net