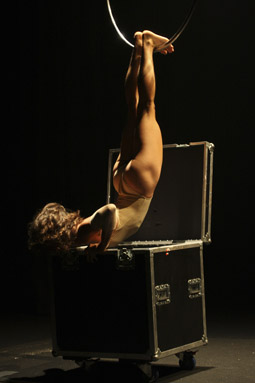 photo Justin Nicholas
Rachael Gibson, Lira
AT LEAST A QUARTER OF A CENTURY OLD, NEW CIRCUS IS NOW A BIT OF A MISNOMER. CURATED BY YARON LIFSCHITZ, NEW CIRCUS NOW WAS CIRCA'S SECOND ANNUAL SHOWCASE SEEKING TO UNDERWRITE THE PERSISTENT LIVELINESS AND HYBRIDITY OF AN ALREADY WELL-ESTABLISHED, CONTEMPORARY ART FORM THAT OFTEN SEEMS TORN BETWEEN ITS POPULAR ROOTS AND A HANKERING TO CONTINUE THE PROJECT OF MODERNISM, THE PROJECT OF NEGATION, BY OTHER MEANS. THIS ALWAYS PROMISED TO BE AN INTERESTING EVENING. AS WELL AS PROMOTING NEW ARTISTS AND ACTS, NEW CIRCUS NOW ALSO SERVED AS THE PILOT PROGRAM OF CIRCULATION—CIRCA'S NEW PRODUCTION HUB—THE IDEA BEING TO PROMOTE NEW WORKS, AND TO DEVELOP ARTISTS.
The first three acts provided an opportunity for individual members of Temptation to present solo performances. The first of these—Tissu—featured Alex Mizzen in an aerial act involving silks (tissu) from which a white chair was tied and suspended. On the minimalist soundtrack ("Democracy" from the Balanescu Quartet's Luminitza CD) the violins trace a series of high figures while viola and cello maintain the rhythm. Balanescu delivers his accented vocals almost as an authority figure, lending the whole piece the ambiguous quality of either a propaganda broadcast or protest via a loud hailer. Mizzen performed overall with fluid, strong, controlled movements that juxtaposed this unnerving music. However, there was a tentative quality in Mizzen's repeated, questioning glances as she sought to gauge a response from the audience. When she released the chair, she became correspondingly more at home in her aerial environment. But she insidiously gravitated back to earth as if drawn to the magnetic pull of the chair with all its queasy connotations of torture victims, and with the sly suggestion of a concommitant sense of relief. This short work, so confronting to our post-Abu Graib sensibilities, subtly wove Balanescu's caustic reflections on a liberated, democratic, post-Ceaucescu Romania into an unsettling and reverberative commentary on present times.
Li Pawson's Straps took a severely masculine view of human bondage. Lights and an edgy violin accompaniment provided the obstensibly dramatic setting. Bare torsoed, wearing prosaic jeans in place of tights, Pawson affixed wrist straps for his aerial act, one that he attacked with increasing fury. Part bovver boy, part modern gladiator, part corporate warrior, Pawson demonstrated both physical strength and power. He was an athlete in training. He wanted to subject, but in turn was subjected. Tangled in the rope, he became an icon of crucifixion. Dangling, he was a puppet. Frustrated, he restlessly paced, contemplating fresh attacks. He couldn't walk away. He took more risks, applied greater tests of strength. And his act was breathtaking. But was he spinning out of control? Far from being a hero, was he the epitome of an empty inner man? An automaton, as Erich Fromm expresses it, who, lacking spontaneous life of his own, takes as surrogate any kind of thrill: the thrill of drinking, of sports, of manipulating the stockmarket? Ironically, these substitutes are akin to the vicarious thrill and excitement we experienced watching Pawson perform. The more we admired his strength and skills, the deeper perhaps we fell into a trap cleverly contrived for us.
Lira was a change of pace. Annie Lennox sang "Everybody's Looking for Something" as a vamp in red wheeled on a stage box, kicked it contemptuously and exited. A gagged Rachael Gibson rose, blonde, glittering, holding on to a steel hoop a la aerialists of yore, posed rather than poised. Her routine was likewise subjected to the centrality of pleasing through conventionally glamorous pictures, which she achieved effortlessly. The hoop was not her partner but a perimeter, a form of restraint with which she had to negotiate. Her descent was headfirst, hanging, to a remix of "Strange Fruit", only to re-emerge from the box sans gag to rise again for a much more self-assertive routine, genuinely erotic, risky and adventurous. Her strength, agility and grace soared. On her descent, the vamp girl is flipped triumphantly into the box before Gibson exits.
The individual strengths of these three performers were not so much in evidence in the ensemble piece, Temptation, directed by Brian Lucas. This was a romp set in the playground of the jeunesse d'or. It had all the light and froth of a film by Chabrol but sadly, perhaps owing to opening night nerves, the performers couldn't quite find their feet. It depended on exquisite timing to keep it in the air, and the mix of dance and acrobatic skills didn't quite adhere. The opposite was the case in Floor Routine featuring Todd Sutherland and choreographed by Louise Delere. Here was the joy of effortless movement. Sutherland's background as gymnast as well as professional dancer stood him in good stead. In a pure dance piece that often literally upended the skyward tendency of Western ballet, a series of modified yoga-like flows conveyed in movement the sense of bas-relief or vase paintings on a curved surface—as if the fourth dimension of time was being visibly recreated from some archaic source.
Scattered Tacks, from Melbourne trio Skye Gellmann, Aelx Gellman and Terry Cat Silvertree was created in a squat and the absence of electricity caused this three person ensemble to improvise their own lighting with torches strapped to their heads. No extraneous effects. Fragments of a life obscurely shared were dimly recreated. The light distorted, flattened and sculpted identifiable shapes into pure, foreboding forms. A woman is dissected by light. She is shaken, bent, turned into a mower, energetically fucked. A man lies on the ground with a heaving stomach. Another man tenderly puts a tea bag in his mouth and a tea cup on his forehead. He rises and hops to a teapot balancing a juggling ball on his foot. He puts the teabag in the cup and pours water from the teapot. He performs an exquisite three ball juggling act, ultimately balancing balls along his spine. The woman picks up an onion, peels it and tosses skins like petals. She eats the onion with sensuous gusto, breathing deeply and exhaling fumes until she begins to convulsively sob as if for release from the cycle of increasingly pungent desire.
Yaron Lifschitz described Scattered Tacks as "one of the most challenging and significant pieces of New Circus to emerge in years." I would like to suggest another contender for such high stakes, not to be contrary, but to underscore what he clearly sees as the direction New Circus should be going. Sofia Woods' Blurred Lines was a standout in the line-up at the Brisbane Powerhouse last year. Scouting the possibilities for transformation, Blurred Lines was itself transforming. It encompassed circus and dance, utilising the trapeze as a poignant and risky vehicle for an inner balancing act while affectionately trying on for size self-parodying lesbian roles—butch, femme, drag king—setting them up for an hilarious and bawdy contest for dominance within her own psyche. But she took us to a deeper level through a series of morphing projections of her own 'bisexuality', akin to what Virginia Woolf called "the androgynous mind."
Woods' scenario of reflecting mirrors was eventually stripped away, arriving at the liberating moment of a return to and a rediscovery of the body, representing the kindling of the kind of desire that, as Hélène Cixous puts it, "wouldn't be in collusion with the old story of death." By wholly eschewing 'routines', Woods was able to create a complex movement vocabulary unto itself, at times suffused by a vertiginous, melancholic poetry revealed in momentary glimpses of other (discarded?) selves—a spasmodically dying swan on point, a shadow boxer or, most strangely, a lupine beast loping with forefeet of high-fashion shoes. Like Scattered Tacks, Woods' journey took on the risk of the other, of difference she was content to leave alone in the territory of the unknown, adding to, not subtracting from, the world's possibilities. This kindred metamorphosis of an art form seems to be the one Lifschitz endorses.
C!RCA: New Circus Now, curator Yaron Lifschitz, showcase director Anni Davey, Tissu; performer Alex Mizzen; Straps, performer Li Pawson; Lira, performer Rachael Gibson; Floor Routine, choreographer Louise Delour, performer Todd Sutherland; Temptation, director Brian Lucas, performers Alex Mizzen Li Pawson Rachael Gibson; Scattered Tacks, creators/performers Skye Gellmann, Aelx Gellman, Terry Cat Silvertree; Judith Wright Centre, Brisbane, March 10-14; Blurred Lines, created and performed by Sofia Woods, dramaturgical/directorial consultant Celia White, movement/choreographic consultant Dean Walsh, set design Greg Clarke, costumes Emma Ikin, AV digital design Jennifer Jackson, photographic images Kate Nutt, musical composer Pete Goodwin; Visy Theate, Brisbane Powerhouse, Aug 6-9, 2008.
RealTime issue #90 April-May 2009 pg. 47
© Doug Leonard; for permission to reproduce apply to realtime@realtimearts.net