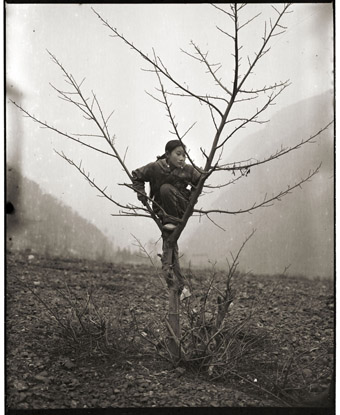 photo courtesy the artist
Girl and Tree, 2006, Adou
GIVEN THE ATTENTION AFFORDED CHINESE CONTEMPORARY ART OVER THE LAST DECADE, IT'S REMARKABLE HOW LACKING THE NATION IS IN PHOTOGRAPHIC INSTITUTIONS. "ON THE SURFACE CHINA SEEMS TO HAVE AN ABUNDANCE OF PHOTOGRAPHIC HISTORY. BUT IN FACT IT DOESN'T HAVE ITS OWN FOUNDATION OR SYSTEM—THERE ARE NO PHOTOGRAPHIC MUSEUMS, ARCHIVES, OR COLLECTIONS", ASSERTS PROMINENT CHINESE PHOTOGRAPHER RONG RONG. "BECAUSE CHINA LACKS THESE THINGS WE WANTED TO START AND SLOWLY BUILD THEM UP, SETTING UP A PLATFORM TO INTRODUCE PHOTOGRAPHY TO A BROADER AUDIENCE."
With this aim in mind, in June 2007 Rong Rong and his wife Inri created the Three Shadows Photography Art Centre on the north-eastern outskirts of Beijing. A custom-built complex designed by Chinese artist Ai Weiwei, the centre has staged a series of innovative group and solo exhibitions highlighting current trends and talent in China's emerging photographic art scene. The centre is much more than just a gallery however. A darkroom, digital studio, library, café and living quarters for four visiting artists round out what Rong Rong hopes will become a focal point of dialogue between China and the international photographic community. "We have already had six or seven foreign artists come through here", he says. "They can produce work and use the library and darkroom, but the most important thing is to communicate with local artists."
laying foundations
When asked why Chinese photography lags behind other visual art forms, Rong Rong replies thoughtfully. "Photography became an independent artform very late in China. Maybe this has something to do with the Chinese system, because photography has always served the government. In recent years it's become a bit better, but previous work had no artistic value."
To the extent that Chinese photography has an artistic tradition, Rong Rong has been a key player since his pioneering work in Beijing's 'East Village' in the early 1990s. An abandoned industrial area on what was then the fringes of the capital, the East Village was briefly home to an artistic community that created works now legendary in the annals of Chinese contemporary art. In 1993 Rong Rong set about documenting these activities with his camera. His images constitute the only record of performances such as 12 Square Metres (1994), which saw artist Zhang Huan sit naked in a squalid public toilet for an hour smeared in honey and fish oil, attracting an ever-growing swarm of flies.
After the East Village was broken up by police in mid-1994, Rong Rong moved to another Beijing fringe dwelling at Liulitun (Six Mile Village). He was eventually joined by Japanese photographer Inri, whom Rong Rong met while exhibiting in Tokyo in 1999. They commenced a fruitful, intensely autobiographical artistic partnership, their creations including a beautifully mournful series commemorating the demolition of their Liulitun home in 2003.
While Three Shadows has provided Rong Rong, Inri and other established local photographers with a more permanent artistic base, seeking out and encouraging younger artists is central to their aim of building a Chinese photographic tradition. "My own experience tells me that in a certain period of your career, being encouraged or complimented by others is very important, as is the chance to communicate with other artists", comments Rong Rong. To further this goal, the annual Three Shadows Photography Award was launched last year with a call for entries that attracted nearly 300 submissions. Judged by an international panel of curators and critics, first prize comprised a cash endowment of RMB 80,000 (around AUD$14,500).
The centre's curatorial team initially planned to select eight to ten finalists, but narrowing the field proved difficult. "When we saw how many good works there were, we eventually settled on 31," says Rong Rong. The finalists' work was unveiled at an award ceremony and exhibition entitled Points of Impact: China Through the Eyes of Young Photographers on April 25 this year.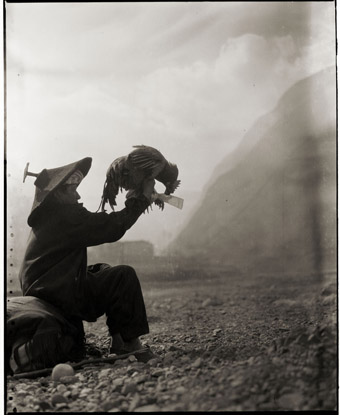 photo courtesy the artist
Witch and chicken, 2006, Adou
inner worlds
Like Rong Rong and other photographers of the 90s generation, the young artists on display in Points of Impact eschew broad social or political concerns, instead focussing on what Rong Rong describes as "their inner world." In this sense the work of the Three Shadows Award winner is typical.
Ostensibly Adou's winning series focuses on the Yi ethnic minority living around Da Liang Mountain in Sichuan. It's difficult to convey the atmosphere of the large, highly textured black and white prints, and unfortunately reproductions do not adequately capture the nuances of Adou's style. Unlike many earlier Han photographers, he does not attempt to romanticise a 'primitive' minority culture, nor is his work in any way an 'objective' ethnographic study. Rather, his images appear as fragments from a traveller's dream. Faces emerge with sudden clarity while others remain hazy and indistinct, lingering on the edge of memory. The inclusion of photographic 'faults,' such as bubbles, flares, scratches and smudges—products of Adou's habit of using expired stock—furthers the impression of an intermediate zone between past and present, reality and the imagination.
While talent scouting in southern China, Three Shadows curator Zhang Li discovered Adou selling his prints on the roadside. Back in Beijing, Rong Rong was immediately struck by the images. "I feel Adou's work has the weight of time and history in it", he enthuses. Rong Rong persuaded the unknown artist to reprint his photographs using hand-processing techniques, accentuating their foggy, textured quality. Adou's appearance in Three Shadows' Outward Expressions, Inward Reflections exhibition in 2008 marked his gallery debut.
In addition to the main Three Shadows Award, the Japanese Shiseido Foundation provided a RMB 20,000 (around AUD$3,600) prize to an emerging Chinese female photographer, which went to Beijing-based artist Zhu Hongling. Her set of eight slightly grainy black and white images of scenes around China were by turns amusing, grotesque and horrific.
Horse Head, Hebei Province, depicts an animal's severed head lying on an empty patch of ground, its frozen lips stretched back in anguish. The sense of life's frail impermanence forms a moving contrast to the blank, timeless observance of the surrounding hills. In opposition to this austere vision, Fat Woman on a Beach, Qingdao depicts an overweight lady facing a shoreline packed with bathers—an immodest picture of over consumption in a severely crowded land.
The most effective of Zhu's images is Elephant Acrobat, Beijing, depicting a lone animal seen from afar, balancing on a stool in a sandy expanse below a hill. Apart from two small trainers looking on, the landscape appears devoid of human life, until tiny figures observing the scene from the hillside become gradually discernable. The photograph conveys a sense of loneliness as well as absurdity, like the forgotten remnant of a long departed circus.
Not all the works on display were of the same quality. A prize of US$5,000 and a fellowship provided by the USA's Tierney Foundation went to Jiang Pengyi, whose colour photographs of abandoned objects on tabletops lacked the generative appeal of the other prize winners. Liu Yuan's prosaic colour shots of buildings and nature strips were similarly uninspiring.
Despite the varying quality of the finalists' work, many have attained a surprising maturity given their youth and China's lack of support for the photographic arts. The talent unearthed by the award demonstrates the importance of an institution like Three Shadows in a nation where governmental controls and a newfound thirst for wealth leave little room for the idealistic pursuit of art over commerce. Crucially for the ongoing development of Chinese photography, Rong Rong and Inri have created a space where local and international photographers can exchange ideas and celebrate a plurality of styles free from obligations to state ideology.
Points of Impact: China Through the Eyes of Young Photographers, Three Shadows Photography Art Centre, Caochangdi, Beijing, People's Republic of China, April 25–July 26
See a full interview with Rong Rong
RealTime issue #92 Aug-Sept 2009 pg. 16
© Dan Edwards; for permission to reproduce apply to realtime@realtimearts.net