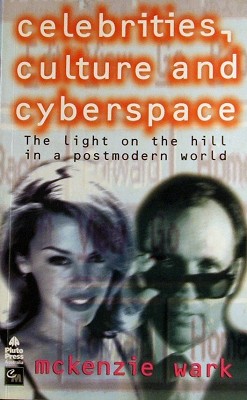 McKenzie Wark's ongoing contribution to a contemporary understanding of Australia's social and cultural condition cannot be underestimated. His third book, as its title indicates, paints a huge canvas and like most of his astute commentary in newspapers, academic journals and magazines, seeks to provoke reaction and stimulate further debate.
An amazing array of what at first appear to be unrelated topics make up this impressively researched opus. Both individually and collectively, the topics formulate important questions. There is suggestive analysis of the meanings generated by the likes of Kylie Minogue, Nick Cave, Peter Garrett, the Kellys (Ned and the 2 Pauls) and Natalie Imbruglia. There's also an assessment of the "post broadcasting" era we are fast approaching, which forcefully challenges the dominance of suburban myths and values.
At the core of these matters lies Wark's chief concern: that the ALP today has lost touch with what its constituents actually desire from everyday life. The answer lies, he argues, in an awareness and understanding of popular media-generated images through which people formulate ideas and aspirations.
Here indeed is a thinker who uses very broad brushstrokes in his view of the big picture. He examines the way new media technologies are embraced by a growing proportion of Australians as we approach the new millennium. Wark argues that being both more aware of and comfortable with cyberspace allows for a new way of seeing as well as providing newer forms of information. Yet to argue that this constitutes an end to the broadcasting age and presumably to the end of mass media is highly contentious.
There is little evidence presented here to suggest that the birth of new media automatically assumes the death or even the steady demise of old media. The internet, pay-TV and the phenomena of niche and narrowcasting may well mean that there are more choices than ever before. Yet this does not preclude the possibility that most of us will still get the majority of our news and information from traditional media sources. As he cites more and more examples of celebrity culture on mainstream TV networks, newspaper and magazine chains, Wark perhaps inadvertently proves that we are not in a post-broadcasting age.
His argument goes deeper when he proposes that those who inhabit and embrace "fortress suburbia" are largely resistant to social change in general and to new flows of information from cyberspace in particular. These citizens, he argues, are essentially inward looking, fearful of the massive changes which globalisation has brought and generally intolerant of difference. Meanwhile, those who dwell in inner city developments represent a new urban and outward looking generation who are much more adaptable to all forms of the massive changes occurring around them.
The problem with this analysis is twofold. There is no evidence presented which supports such generalisations about community attitudes, let alone usage of new media forms. A recent Rural Industries Corporation report notes that at least 20% of Australia's regional farming community is currently online (and for longer periods of time) while the national average is 18%.
The Australian Bureau of Statistics has indicated that generation Xers are leading the way in taking up rates and overall usage of the net. Wark seems to be suggesting that the propensity to embrace new media technologies results in new and dynamic flows of information which, in turn, allows forward, adaptive and more creative thought processes. Yet in very recent Newspoll findings these same 18-24 year olds are increasingly more fervent in their support of Prime Minister Howard. If he represents the most exciting and forward thinking federal politician to the most switched on media savvy generation ever known, Wark's overall argument loses some momentum.
There is no strong evidence to suggest that spending more time with new forms of information and entertainment correlates in any consistent way with specific attitudes or behaviour patterns to do with social, political and/or economic issues. Indeed an overview of many of the most popular chat-sites around the web reveals an amazing lack of tolerance, goodwill and openness to new agendas.
I remain unconvinced that place of abode, propensity to go online or indeed age—another of Wark's apparent obsessions (shared with Mark Davis)—have much on their own to do with the way we feel or behave. There are far too many other variables which come into play here.
Finally it is the political implications of Wark's acceptance of many of young ALP maverick Mark Latham's so called "third way" approaches which I find most troublesome. Much of the current economic orthodoxy shared by both major political parties is supported by Latham who goes further to urge continuous anticipation and positive adaptation to the ongoing changes brought upon us by the "natural" forces of globalisation.
These changes are somehow seen as inevitable, as consequences of the forces of nature. Those who oppose these seemingly gravitational movements are quite clearly naïve in clinging to tired, out-of-date social principles once endorsed by the Labor Party.
This brings us back to the question of how we relate to the celebrities we encounter in all vectors. Wark argues that the Labor Party must come to understand the needs and wants of its constituents by coming to terms with the meanings and messages we receive from our celebrities. But how all of this is supposed to connect to future ALP policy formation remains rather problematic.
Throughout his book Wark remains optimistic about the sweeping changes we are all experiencing. "I write for dancers not mourners", he stated in a recent Age interview. Clearly there are many of us who remain more sceptical about the directions we are heading in. Yet while we can disagree with and be puzzled by some of Wark's arguments, he has raised and made readily accessible many pertinent questions about crucial issues which affect us all.
McKenzie Wark, Celebrities, Culture and Cyberspace; The Light on the Hill in a Postmodern world, Pluto Press 1999
RealTime issue #32 Aug-Sept 1999 pg. 27
© John Schwartz; for permission to reproduce apply to realtime@realtimearts.net