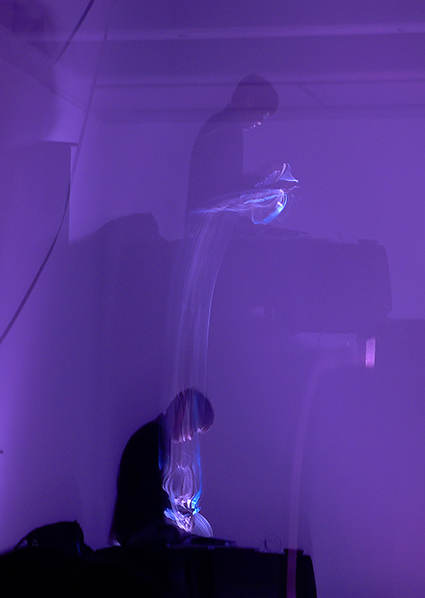 photo Paul Clipson
Makino Takashi
Celebrating 15 years of the Brisbane-based organisation Room40, founder Lawrence English decided to throw the main birthday party at Carriageworks in Sydney in the form of the Open Frame Festival. Lucky for us, as opportunities to see an impressive selection of international experimental electronic artists are all too rare in this town, where the venues (and/or event producers) are too big, too small or indifferent to the work.
Instead of the raked seating usual for performance and classical concerts, Bay 20 of Carriageworks is in hybrid configuration—part casual floor-sitting or lying down (which English requests us to do), part church congregation with two banks of padded benches for worshipping before a screen. Experimental music really does work better like this—the audience more relaxed and the sound from the eight speakers embracing us more evenly than in a sharp incline.
Night 1
The spatialised speaker rig is given its most thorough workout in the opening piece commissioned from Jim O'Rourke. O'Rourke, who doesn't leave his home in Japan, has sent through his composition which is diffused (spatialised) live by English. The palette is familiar, what we've come to expect from the early 21st century digital version of music concrete—creaks, crackles, scrapes, pings—sounds abstracted from their source with attention to listening for layering and texture as key to the experience. What is particularly engaging in this complex composition is the sense of structure, featuring several clear chapters; a range of dynamic shifts (not simply crescendos or dramatic loud to soft changes); and the play of sounds in space. At one point it seems the entire spectrum is full, flooded with bleeps and chirps and whizzes to a point of near saturation; at another we hear the dull thud of bass, as though from a party many miles in the distance; and at another we tingle at the tiny crackle and digital whispers playing out behind us. While the sounds and textures themselves are perhaps what we are accustomed to, this piece is very much about their meticulous and affecting deployment.
Japanese audiovisual artist Makino Takashi does leave home and is present to perform his piece Space Noise. Drawing on his work with telecine in the film industry, he projects a 16mm film over the top of digital video. The audience is given cardboard glasses with one darkened lens. Known as Pulfich 3-D this creates a very subtle and fascinating shift in depth perception triggered by lateral movement. Each of the images at first seems like some kind of intense film grain with splotches in blacks, greys, reds and yellows. Sometimes they look like worms or rhizomic roots, always in motion across the screen—a kind of a digital Jackson Pollock. Nearing the end, shadows seem to lurk beneath the static and eventually an actual image emerges—glistening sunlight on crashing waves—seemingly not beneath but between the layers of static. Takashi accompanies this with a continuous chunk of scratchy static and grain, already intense at the beginning, increasing incrementally with a remarkable level of control over the duration. While the visuality of the work may initially seem to dominate, this multitextured gravel and static composition creates a perfect agglutination of sound and image.
The following act continues the analogue projection fetish in the form of four 8mm projectors wrangled by Louise Curham with Chris Abrahams on piano. Projected onto the already characterful Bay 20 wall, Curham's mix of images drawn from found footage and hand-treated film stutter, blur and burn creating a composition that seems to be all about texture, surface and the shift from abstraction to figuration and back again. As the projectors start to whir, Abrahams plays a repeated note, synching in with the microrhythms of the machines. Soon the resonances collect and there are gentle feedback tones. Under these Abrahams starts his signature ostinatos that take on a momentum of their own, forming chordal swathes. In a first-time collaboration, these artists create a cohesive atmosphere while still pursuing individual trajectories.
New York-based William Basinski concluded the first evening of Open Frame playing a set of minimal loops with maximal resonances. To loping piano fragments he applies delays and reverb to massage out ringing tones, resonances and ghost pulses, generating an hypnotic universe. After lulling us for some 20 minutes the aura is ruptured by an angular, awkward orchestral loop launching in and out of a slow fade. It feels like an error, but I'm assured it is intentional—perhaps Basinski likes to both giveth and taketh away.
Night 2
The second evening introduces another duo commission, this one by percussionist Robbie Avenaim and composer Austin Buckett. Avenaim employs his Semi Automated Robotic Percussion System (SARPS), which uses an array of unattended drums—bass, snares and toms—played by robotic armatures. The piece begins with a single, regular beat, played on all the instruments for a long time—enough for us to really appreciate and dissect the nature of the sound, the attack, sustain, decay and release. Gradually a hum begins to build off the back of each beat—I suspect it's feedback crafted by Buckett. Then an eruption of superfast drumming, all the machines as one, and a huge drone emerges, continuing when the instruments stop. This is a remarkable chest cavity-vibrating tone—a hot bath that when it ends yields the sensation of emerging from something truly viscous. It was one of those visceral sound moments that will stay with me for some time.
You can read my response to Lawrence English's performance at the Unsound Festival in March in RealTime126, p11. Here it seems a little over-extended, the last 10 minutes not quite creating the intensity of the previous version, but when it gets big it's awesome, particularly when English plays the Wilderness of Mirrors material.
The final piece is Hypnosis Display, a 70-minute film by Paul Clipson with live soundtrack by Liz Harris (aka Grouper). Clipson uses mostly black and white 16mm film creating beautiful double exposures and overlays that play with form, composition and narrative via juxtaposition and association. Images— oceans, skyscrapers, forests, road markings, eyes, keyholes—and meanings slide over each other, ending in a late night Bokeh [the aesthetic of the blur. Eds] nightmare of slow exposure light streams and flames. Beneath this is a constant industrial rumble, wrapping around the drenched and dreamy fragments of Harris' looped voice and melancholy melodies. Played from a series of cassette tapes everything has a low-mid muffled quality and there is no direct diegetic sound, rather the scape exists on a parallel plane just implying the original sonic space. This creates an understated yet no less evocative soundscape for this haunting mediation on entropy.
Room40's birthday bash didn't so much go off with a bang, but rather with a contemplative but no less intense grate, grind and hum. Very well attended (where did all these experimental music fans come from?), the festival celebrated not only 15 years of Room40 but also reflected a certain maturation of this particular area of non-beat based electronic music and audiovision that we, for want of better term, call experimental. Perhaps we should start calling it textural music?
Room40 and Carriageworks, Open Frame, Carriageworks, Sydney, 30-31 July
RealTime issue #129 Oct-Nov 2015 pg. 41
© Gail Priest; for permission to reproduce apply to realtime@realtimearts.net