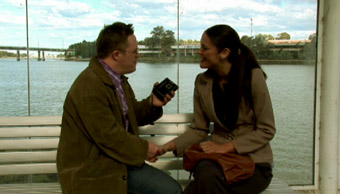 Be My Brother
Prior to a packed out industry drinks night in the foyer of the Chauvel Cinema in Sydney, Metro Screen showed a program of its 2008 short films, celebrating two wins in Tropfest 09.
In the whimsical The Last Cherry (director Lisa Kowalski; Raw Nerve program) a shoolgirl virgin decides it's time to have sex and hires a stud who turns out to be as innocent as herself. The encounter ends with sentimental hand holding—all this to the rousing accompaniment of "You're a dirty, dirty girl" and anxieties about herpes. Visually vivid and pop-videoish, and burdened with a taxing over-talkative voice-over, The Last Cherry works as either a naive or quite perverse take on the self-help film, wickedly creating more problems than it can solve.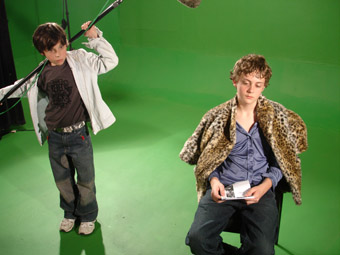 Dry Water
The 2009 Tropfest TropJr Winner, Dry Water: The Making of… (director 14-year-old Gabriel Colomb), is a droll mockumentary in which a self-obsessed film director, beret and all, alienates his initially loyal crew and much put-upon runner ("He wouldn't run, just jog!"). Director and crew are played by performers in their early teens, broadly aping adult behaviour and film industry stereotypes. The director's initial confidence becomes arrogance and finally despair, and there's no finished film to be seen—and no point to the making of 'the making of…" Dry Water is casual, confident filmmaking, produced during a Metro Screen Young Filmmaker school holiday workshop.
A Tenor's Tale (director Brendan Roberts as part of Certificate IV in Screen) is a straightforward documentary about a young man of partly Maori origin who rises from a despairing life on the streets of Sydney to a career in opera, finding his mother and extended family on the way. The singer's self-belief is almost overwhelming. His recommendation to 'just be yourself' in order to succeed doesn't altogether convince, given the nature of his former self (although we're spared the details). Instead of 'overnight success' myth making, A Tenor's Tale could have committed to probing just how the singer's talent was discovered, how he developed his voice and how his performances have been received. Instead we see him serenading tourists outside the Sydney Opera House. He certainly can sing, and the film is ably made, but begs a few too many questions.
This is 'Lexo' has been created from within a Sydney suburban community, Maroubra's Lexington Place, in a one-day filmmaking workshop. The participating youngsters ask older residents (two characterful men who hint at their prejudices and problematic backgrounds), young toughs and curious children their opinion of the place. Responses include: "bashings…just young guys on a mission", "it's fun but violent" and "it's only Lexo, it's just a brothel." The film's direct approach yields a rough charm and a sense of some very real people before the camera.
The highlight of the screening was Tropfest 09 Best Film, Genevieve Clay's Be My Brother, about a slightly uncomfortable bus-stop shelter encounter. A chatty, well-dressed young man with Down Syndrome irritates another young man while charming an attractive woman. On boarding the bus our charmer pays for and hugs the other man, who turns out to be his presumably embarassed but possibly loving brother. Economically staged and shot, and convincingly acted, Be My Brother manages to suggest much about its characters while generating both humour and tension. The film was funded by Metro Screen's Jump start program and Clay now has a Raw Nerve mentorship.
The screening selection on this Metro Screen industry drinks night revealed the various levels of ambition and accomplishment you'd expect as emerging filmmakers make their inevitably bumpy way to not just proficiency but insight and quality—some are well on their way, others are finding out just what it takes.
Metro Screen, Industry Drinks and Selected 2008 works: The Last Cherry, writer, director Lisa Kolwalski, producers Adam Marshal, Chantelle Robertson; Dry Water, The Making Of…, director Gabriel Colomb; A Tenor's Tale, director Brendan Roberts, producer Amy Le Brocq; This is "Lexo", crew Kel Henderson, Nioka Timberg, Afri Gregory, Tania Toman, Monica Gonzalez, Bowie Nash, Monica Nash; Be My Brother, writer, director Genevieve Clay, producer Eleanor Winkler; Chauvel Cinemas, March 3, http://www.metroscreen.org.au
RealTime issue #90 April-May 2009 pg. web
© Keith Gallasch; for permission to reproduce apply to realtime@realtimearts.net