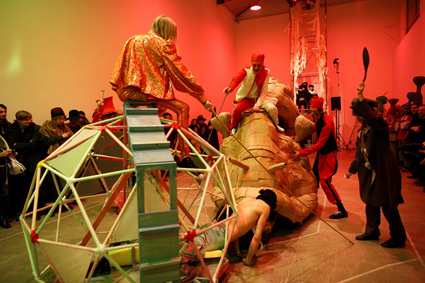 © the artist, courtesy Sadie Coles HQ, London
Marvin Gaye Chetwynd, The Snail Race, Galleria Massimo De Carlo, Milan, 06 March 2008
Campbelltown Arts Centre's forthcoming exhibition The List, is possibly their most ambitious project to date with 13 artists working with local community groups involving over 500 young people in total. Outcomes will take the form of video projects comprising an 80s TV musical based of Dante's Purgatorio created by Pilar Mata Dupont in collaboration with McCarthur Diversity Services (see our realtime tv interview); a work exploring feminist theories of objectivity by Kate Blackmore working with a group of young girls at Mission Australia Claymore; and new visions of utopia created by Zanny Begg and boys from the Reiby Juvenile Justice Centre in Airds. Adding an international edge to the exhibition is UK artist Marvin Gaye Chetwynd who is working with Campbelltown Performing Arts High School students to create both a live performance and a video piece.
Let's get the obvious question out of the way. Marvin Gaye is not her real name. She changed it in 2013. Prior to this she called herself Spartacus. In a BBC4 interview she says that the name changing is mainly a way to keep herself interested and amused. As Spartacus Chetwynd she made ripples in the visual artwork with her wild, anarchic performances and video manipulations of same and was nominated for the 2012 Turner Prize. The overall flavour of Chetwynd's work is carnivalesque with a heavy dash of popular culture and the occasional "libertine" or "racy" (her terms) top notes. While her name may change, the aesthetic of her work appears consistent and footage of her recent solo show at Nottingham Contemporary shows a joyously chaotic exhibition combining installation, video, performance with live green screen technology, a recreation of the Star Wars holiday special complete with ink Wookiees and Chetwynd's hand-made replica of the brain bug from Starship Troopers.
The work she is making for The List draws on a more "erudite" source, the Cretan fable of King Minos and the Minotaur. Working with high school students who are trained in acrobatics and aerial work, she will devise a performance based on the ancient ritual of bull leaping. At the time of this interview Chetwynd had just come from her first meeting with the students. She explains, "It's quite fun for me because I've never really worked with people who are trained in movement before… So rather than me having to accommodate my art practice to meet the needs of community in some way—to be helpful or inspiring to a group that doesn't necessarily have lots of access to the arts—it feels like I'm quite a spoilt bunny. I'm being welcomed to work with high school students and they're all totally busting to go and really happy to perform."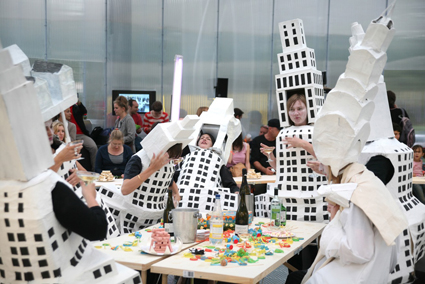 © the artist, courtesy Sadie Coles HQ, London
Marvin Gaye Chetwynd, Delirious, Serpentine Pavilion, London, summer 2006
The performance will stand on its own and a video also exhibited. Elements of the recorded work will also be integrated into Chetwynd's larger project, Hermitos Children 2 which will premier in London in October and includes a giant puppet bull. This relationship between live performance and documentation is integral to Chetwynd's practice. "I prioritise the live moment. I'm spontaneous and I want to have a natural high. I work very hard to make something happen where people really enjoy themselves and I don't really care if anyone has a document of it. But what's happened over 15 years of higher education and being analysed and being encouraged to do things that are for more high profile platforms is that I've learnt to protect myself and enable something that's intimate and totally surprising to continue to happen and to communicate on a more robust level. So what I've gone and done is to use techniques like Pasolini and other filmmakers. They use real live moments, something that really happened in history. Whether that's a gig of a famous band or a funeral of a famous political leader, it's a real documentation. So in my case it's the performances that I'm really doing and prioritising and loving doing and then I put a layer of narrative over the top of it with some amateur actors or some continuous story line so that what I'm hopefully doing is making a product that's enjoyable in its own right as a work—it becomes a film…I can hand copies of these films to institutions who need something to be shown 9-5 [and] at the same time I'm allowing myself to continue as someone who wants to work for the live moment."
So if liveness is the priority why does Chetwynd operate in a visual arts rather than theatre world? She says "those are the opportunities that have been offered to me. I still do live performances in a domestic interior, or on a street, or on a walk, like the Walk to Dover project. My inclination is to do things anywhere and I still do that. But the [performances] that are given the most attention and the ones that people know about are those that happen in galleries…The thing I know clearly is that I don't really like the proscenium arch and the set up of the platform being raised and the expectation of a professional, well rehearsed traditional play. I don't find that pressure welcome. I much prefer political street theatre or carnival—anything on street level. And I actually enjoy the awkwardness of an area to perform where people would be walking past rather than being invited and ticketed, and that doesn't lend itself to theatre."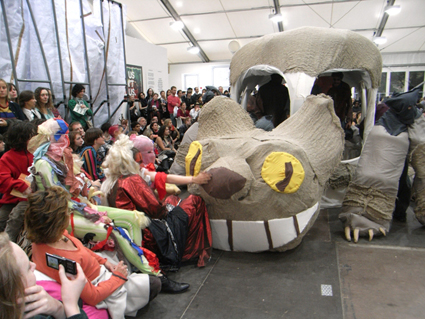 © the artist, courtesy Sadie Coles HQ, London
Marvin Gaye Chetwynd, The Cat Bus, A Tax Haven Run by Women, Frieze Art Fair, London 2010
Chetwynd is possibly the ultimate postmodernist, seeing her high literature and popular culture references as equal. I ask her what is it about the references she chooses that she finds significant. "Usually there's some really profound truth or interesting intellectual concept that you can tell is really within the popular cultural presentation. It really is there; I'm not making it up or putting it on it. I recognise it and the I just want to celebrate it."
Celebratory really is the best way to describe Chetwynd's work. Even via the mediation of YouTube this is glaringly apparent. Also apparent is Chetwynd's beguiling mixture of earthy groundedness and naughty trickster. In her closing comments Chetwynd suggests why her work has such boldness and buoyancy. "People find it strange that I don't seem to have any problem with crashing and burning or things going wrong. I just don't seem to suffer in the same way other people do. Experimenting in public—I really don't mind. I think of it as something totally worthwhile doing and totally fine, so that seems to be part of why I do this."
Chetwynd's work alone is reason enough to look forward to The List, but add the collaborative projects by 12 other leading artists and it's looking likely to be an extraordinary art experience.
Campbelltown Arts Centre: The List, artists Abdul Abdullah & Abdul Rahman Abdullah, Zanny Begg, Kate Blackmore, Marvin Gaye Chetwynd, Shaun Gladwell, Michaela Gleave, Uji Handoko Eko Saputro (aka Hahan), Robin Hungerford, Pilar Mata Dupont, Daniel McKewen, Tom Polo and George Tillianakis, 9 Aug-12 Oct, opening party with performances Friday 8 Aug, 6pm; http://www.campbelltown.nsw.gov.au/UpcomingExhibitions
RealTime issue #121 June-July 2014 pg. web
© Gail Priest; for permission to reproduce apply to realtime@realtimearts.net