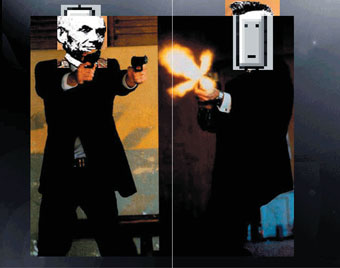 Abe Linkoln and jimpunk, screenfull.net: the book (www.screenfull.net) (2005)
We all know what slippery commodities innovation and creativity are. Despite the establishment of comfortable centres of excellence and well-resourced educational institutions, the 'it' factor often elusively springs, like a pop up window, from left field. After all, networked art itself first emerged in the gaps and margins of the military and educational internet and our first generation of Australian net artists like Francesca da Rimini, Ian Haig, Garry Zebbington, Mez, Graham Crawford, John Tonkin and myself, were all self-taught. In the mid 1990s it was a necessity to be innovative with online practices, and artists had the excitement and advantage of working in the uncharted territory of a fresh media.
A decade later things have changed. The net has been through a period of exponential growth, conformity, and inevitable bust. Now the network is firmly established as a way of life, disillusionment has been dusted off and more sustainable practices are emerging. But is innovative networked art still emerging locally and globally today?
Innovations
The answer is yes, and screenfull.net (expired), a collaborative blog which starts by promising the viewer "we crash your browser with content", is one example. It doesn't actually crash your browser, but it does confront the viewer with raucous and chaotic content, forcing a re-consideration of the multiple narratives with which we engage each day. This is not safe, clean, bland web design–it breaches good taste and sensible research practice, looking beyond the familiar to create its own rules of engagement.
The artists responsible–jimpunk (France) and Abe Linkoln (USA)–know their stuff, rigorously mashing theory, humour, hybrid-media immersion and larrikin impudence. Linkoln's previous curatorial projects display an intelligent understanding of, and inquiry into, the unique qualities and decade long history of networked art. Likewise jimpunk smartly exploits the Rococo potentialities of HTML, JavaScript and Flash to create sites that give you a scary and exciting media-rich roller coaster ride unlike anything you've experienced online before.
Learning networking
This generation of artists grew up with the network and are often being educated by experienced online practitioners. One of screenfull.net's authors is a graduate student at Colorado University's TECHNE practice-based initiative. The program was instigated by veteran net.artist Mark Amerika and encourages investigation into the complex and intuitive processes that revolve around emerging forms of knowledge in networked digital culture. The students built the course website, curate shows and conduct interviews with global practitioners, creating works for real world consumption rather than classroom assessment. In fact screenfull.net was recently recognised as the Graduate School's top research project over the usual winners from physics and engineering. When network art is positioned as a discrete discipline, retaining its unique language and strengths, rather than being squeezed into a scientific model, then an environment is created where innovation can be recognised and fostered.
Locally we are implementing similar strategies, such as Integrated Media Practice taught by Adrian Miles, himself the creator of the video blog or Vog, and Jeremy Yuille at RMIT. This course ensures students are multi-literate in network and software, utilising blogging, podcasting, videoblogging, and conducting collaborative research in an ongoing wiki (server software allowing users to freely create and edit web page content using any web browser). The crucial innovative factor is that students learn to operate within a network rather than learning to design work for networked display.
These focused but flexible environments encourage experimentation, and most importantly acknowledge failure as a crucial part of the innovation process. If we continually operate from a position where funded projects must have successful outcomes for the recipient to be re-funded, then spectacular failures from which innovative work often arises will be swept under the carpet. When research projects jealously guard their Intellectual Property, others waste time and money examining similar issues. We need visionary direction to nurture openness in our educational and research cultures. Mature policy makers understand that the creative process is playful, involving the sharing and breaking of things to create newness.
Australia out of step
While the emergence of innovative networked art is unpredictable, it may also never reach a wider Australian audience. Although networked art is a well established international genre, the same net artists who are shown globally in biennales, film festivals, and media exhibitions are rarely seen locally. In contrast, network art is promoted daily to 3 million commuters in the London Underground through Platform for Art Online. Net art and net communities account for 2 of the 5 major artform categories in competition in Austria's Ars Electronica, the largest annual media festival in the world. The Tokyo's NNT Inter-communication Centre (ICC), and Seoul's Art Centre Nabi, focus exclusively on media works, with internet and mobile art predominating. File in San Paulo, XX in Montreal…the list of dedicated networked exhibitions is extensive.
If networked art has such a prestigious international profile why is it different in Australia? Having recently sat on the jury for net.art commissions for New York based organisations Rhizome and Turbulence, and looked at hundreds of proposals from around the world, it was disappointing to see only a very few (but great!) proposals from Australia. What has happened? Australians used to be well-represented and universally regarded as innovators. It seems locally, there is a dampener on the otherwise vibrant world of networked art. Why does smart, fast, often funny, sometimes socially aware content and a unique low-resolution pixelated aesthetic generate an aura of poor cousin?
Several structural problems spring to mind. Funding bodies and commissioning organisations often profoundly misunderstand the media, a prime example being the AFC-ABC broadband initiative (RT66, p20). While the initiative funded important works such as UsMob, it missed the point that the internet is about 2 way interconnection between users. It is not an appropriate delivery platform for what would otherwise be CD-ROM, TV or film content. As well, user control and censorship are often the first concern of curators considering internet work, an unfortunate reflection of the 1950's morality pervading attitudes to art and film in this country. Yet the same censorship principles are not applied across the board, allowing open access, for example, to Bill Henson's undoubtedly scrumptious photographic teenage orgies at the Art Gallery of New South Wales.
Where do you get it?
Thankfully there are exceptions. The new spatial initiative (www.nga.gov.au/spatial) at the National Gallery of Australia displays a bold and changing program of net artists. dLux media arts actively promote the newest distributed media forms with d>Art, their annual exhibition of mobile, sound and web.art works. The Biennial of Electronic Arts Perth (BEAP) shows net art as a major stream of its program. Adelaide's Experimental Art Foundation (EAF) promotes networked art and Newcastle's Rocketart gallery shows networked art as part of emerging practice. Other institutions have experimented with the genre: Perspecta 99 at AGNSW had an online component, Experimenta has previously commissioned net art and I curated the networked section of 2004: Australian Culture Now at the Australian Centre for the Moving Image.
Network = the medium
However, a major obstacle to mainstream visibility is that networked art challenges the very foundations of the commodification of art, as it defies conceptions of uniqueness, stability and collectability. It is a practice that has never slotted neatly into existing institutional and cultural establishments. Sean Cubitt wrote in Annmarie Chandler and Norie Neumark's refreshing look at the precursors to online art practice, At a Distance: Precursors to Art and Activism on the Internet (MIT Press, 2005): "The network artist is not a person…authorship…is profoundly shared with the medium…The network is more than the medium: it is the very stuff of the work" ("From Internationalism to Transnations: Networked Art and Activism"). This requires a shift in our understanding of what art is, how it is delivered, and the fundamental principles of authorship and ownership.
As commercial galleries begin to exhibit the safer forms of new media like video, I wonder whether there is a space for networked art? There is both merit and danger in funding and curatorial policy which considers networked art as just another part of new media, just as there is danger in new media being considered simply part of the visual arts. These forms are each so significantly different, emanating from such radically oppositional positions and with often incompatible delivery modalities. Affirmative initiatives and supportive groupings are needed to ensure certain practices are not marginalised.
Possibilities
Let's hope, for example, that Sydney's ACP (Australian Centre for Photography) and Melbourne's CCP (Centre for Contemporary Photography), who include internet art in their expanded definition of photo-based practice but have no specific affirmative policy, get a significant level of proposals from network artists. Likewise the CarriageWorks at Eveleigh in Sydney, to house Performance Space from 2007, will be network cabled, and so could support highly experimental networked performance and exhibition projects.
Most heartening is that our younger curators, from independents such as Thea Bauman and Rebecca Cannon, to the directors of Electrofringe and Next Wave festivals, actively promote the full spectrum of networked art: games, internet, performance, sound and mobile works. By nurturing networked practice now, we create an environment where innovation is possible, and emerging artists won't have to leave the country to find creative and financial support. Otherwise we will wake up to an online world of overseas content, intellectual narrowness and aesthetic poverty.
As Sean Cubitt predicts: "We have the future to build. It will be global, networked, and utterly new, or it will not be the future at all."
RealTime issue #67 June-July 2005 pg. 25
© Melinda Rackham; for permission to reproduce apply to realtime@realtimearts.net