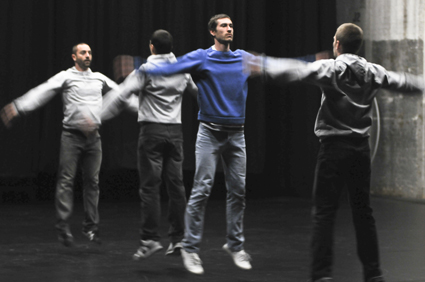 photo Heidrun Löhr
Jay Robinson, Adam Synnott, Lee Serle, Alisdair Macindoe, Bromance
BROMANCE—A NON-SEXUAL, INTIMATE RELATIONSHIP BETWEEN TWO MEN; A FRIENDSHIP, BOND OR PLATONIC MALE CRUSH; BROTHERS IN ARMS EMBRACING THE OTHER.
Identified as a late 20th century cultural phenomenon, bromance has an extensive history (just think Ancient Greece or the Odd Couple). Dancers Alisdair Macindoe and Adam Synnott—a not so odd couple—have drawn on their experiences of growing up with brothers to create a concatenation of impressions in a stark space: hoodies, sneakers, flashes of bald fluorescence; an ejaculating electronic score; and the coupling of four 'brother' men.
Dancers Lee Serle and Adam Synnott stand in the emptiness of a warehouse. Nine fluorescent lights illuminate a greyish, industrial colour palette. Together they walk purposefully in lines. Together they jog, extend an arm and slap a thigh, perforating the silence. Rubber squeals on tarkett—a slow game of squash on a court without walls. I think of Lucy Guerin's Untrained; perhaps it's the casual wear and young lads pairing off (Lucy Guerin Inc: the hub of bromances?), but something more 'dancerly' registers with their gestures: poise, precision and timing.
Serle and Synnott spatially map a distinct grid, marked by an easy rhythm; eyes never meet in their columns of breath and silence. Little deviates. Once recorded sound (by Macindoe) is introduced, we hear the first few words of vocalised text. The environment thickens with scenarios morphing between line runs, leaps of joy and contracted shrugs of disappointment like spectators at a sporting match. A second couple enter—Macindoe and Robinson—out of phase with the original pair, but in time together. The symbiosis is viral.
A highlight is the star jump warm-up. Extended arms like blades are propelled from shoulder joints. The exaggerated exercise whips up a steady rhythm, tilted torsos on slightly altered planes. A windmill in a strong gale, sails disengaged, the cubist machine functions perfectly in this logic of experience. The abstraction moves me.
Tension exists between constructed moments of bromancing and material that appears to have emerged from time spent devising/rehearsing together. The former is expressed by clumsy representations of predictable scenarios in episodic tableaus that go on too long. The boys freeze frame in portholes of light. Their blokey grabbing, reaching and exaggerated Goya-like expressions prick through the darkness. A single figure peels off from the group, fists swing like pendulums, a low centre of gravity. Extended arms fold through his soup of self-made isolation. Feet direct leg lines, tugging and drawing out wider arcs. I enjoy the deliberate movement, but the transitions are too tight between lighting states and spatial formations for more meaningful image making. The weakness of the tableau section points towards the need for deeper exploration of the theme, or an irrevocable investment in the sparse simplicity of choices effectively performed to this point— dramaturgically a choice of less is more, or more needs to be done. The final tableau strengthens this section. Bodies upstage centre, baroquely entwined, scratch over points on individuated pathways. The forward, backward retrograde provides a more visually textured image than the stylised approach. Subtlety exceeds exaggeration.
Mention must be made of a simultaneously spoken word duet—a true testament to rehearsal style bromancing. On a train speaking about fears and sexual relations, eating sushi: no "slushy tuna from a can," then "there goes the psycho guy" who's "really freaking out the passengers." The boys are "super-prepared" in their flawless recital. The audience giggles. Red Yamahas. Red Yamahas. Must "check out their number plates!" but not before we decode their handshake; it's a fine moment of touch, camaraderie and invention.
In some sections, the choreography takes on a slumped krumping style: chest popping like a cockerel through stooped shoulders, ballasted by a fluid torso. Arms gesticulate wildly to trace a 'me-out to the world' intentional structure, juxtaposed with the flutter of smaller geometries detailed in fingers and wrists—ready to poke tidily away into one's pocket.
Frisbee-ish green sponges glide in steady trajectories like bouncing balls from an old Atari game. The blank space and diverse lighting choices (Synnott) generously move us through a man-scale video game, deviance in a darkened alley (sudden surveillance with a roving spot), to a final steady portrait of two figures encased in the hoop of a looping, beating light, pixellated into mere spectres while the flanged vocals of a singer repeat the lyric "brother man" with all the right wrongness of synthetic-pop music.
As a Next Wave co-commission, Bromance celebrates contemporary dance finding pace with innovative lighting practices in its stagecraft rather than as a progression of the form. With partnered ease, the four brother men offer a generous peek into their studio collaborations. I look forward to their next co-creation.
Dancer Lee Serle has received a 12-month Rolex Arts Initiative award for mentoring by choreographer Trisha Brown in New York. For details see in the loop – july 26.
Bromance, choreography, direction, sound Alisdair Macindoe, choreography, video effect designer Adam Synnott, performers Alisdair Macindoe, Jay Robinson, Lee Serle, Adam Synnott, costumes Paula Levis, producer Lucy Guerin Inc, commissioned by Next Wave, Lucy Guerin Inc and Performance Space; Performance Space, CarriageWorks, Sydney, June 2-5
RealTime issue #98 Aug-Sept 2010 pg. 24
© Jodie McNeilly; for permission to reproduce apply to realtime@realtimearts.net